The Ohio State Department of Otolaryngology – Head and Neck Surgery had much to celebrate in FY22. We earned the No. 11 spot in the Blue Ridge Institute for Medical Research rankings; we were named the No. 5 otolaryngology residency program in the nation by Doximity Residency Navigator; and, once again, we were named among the top 20 ENT programs in the country by U.S. News & World Report. I'm grateful for these outstanding achievements and am excited to share these additional highlights.
Research and innovation
For the last five years, our team has worked to improve our research funding portfolio and become a national leader in the advancement of otolaryngology. I'm so pleased that our NIH funding increased to $5.5 million in FY22, helping us jump 11 places and earn the No. 11 spot among ear, nose and throat programs in the 2021 Blue Ridge Institute for Medical Research rankings. This substantial funding increase was due in part to a second R01 grant for $1.9 million earned by Kai Zhao, PhD, as well as a $2.3 million R01 grant earned by Ruili Xie, PhD. I also attribute this achievement to our internal grant review committee, led by Shuman He, MD, PhD. This team ensures that our submissions are strong from the start, and their work is paying off. I thank each team member for their time and commitment.
Clinical practice
Clinical growth across our department has skyrocketed since 2021, due in part to our expansion efforts throughout central Ohio. This includes the addition of three new ENT clinic locations, as well as new faculty members specializing in allergy, head and neck oncology, laryngology, otology and rhinology.
To meet additional access demands in 2022, we proudly welcomed Catherine Haring, MD, to our Division of Head and Neck Oncology and Chris Brooks, MD, to our Division of Allergy and Immunology. We also expanded the clinical and educational footprint of our Division of Facial Plastic and Reconstructive Surgery, taking facial reanimation and aesthetic surgeries to a community-based, outpatient setting. We're actively recruiting research and clinical faculty members for our otology, allergy and general otolaryngology divisions, and hope to grow our vestibular offerings in FY24.
Education
Our residency program continues to grow in size and reputation, now in its fifth year of transition from four to five residents per year. The outcomes of this expansion have been tremendous, including helping us improve in the Doximity Residency Navigator survey results to rank No. 5 among all otolaryngology residency programs in the United States. I thank program director Brad deSilva, MD, for his unwavering guidance of these efforts, as well as his work to begin the application process that could allow us to expand to six residents per year. This addition, if approved, would make our residency program one of the largest and most comprehensive in the nation, and we're excited for those possibilities.
Leadership and recognition
In addition to their clinical and academic responsibilities, our faculty members remain committed to embracing leadership opportunities. I'm proud to announce that Matt Old, MD, was appointed the David E. Schuller, MD, and Carole Schuller Chair in Otolaryngology for our department. In addition, Meredith Lind, MD, was named education coordinator for the AAO-HNS; Minka Schofield, MD, was named chair of the Women in Otolaryngology section of the AAO-HNS; and Apoorva Ramaswamy, MD, was appointed co-chair of the Diversity, Equity and Inclusion Committee for the Dysphagia Research Society. A complete list of our team's new leadership roles can be found on page 52 of this report.
I'd also like to extend congratulations to Edward Dodson, MD, who recently received the Distinguished Award for Humanitarian Service from the AAO-HNS. This prestigious award is given to an academy member who displays honesty, integrity, devotion to humanity and a self-giving spirit, which couldn't be more fitting of Dr. Dodson's personality. This work he's done and the lives he's changed through Project Ear is beyond commendable, and we're so lucky to call Dr. Dodson a friend and colleague.
Philanthropy and capital improvements
The Ohio State University has one of the most comprehensive health sciences campuses in the nation, and we continue to grow with more than $3 billion planned for capital investments. In coming years we'll have a new interdisciplinary health sciences center, an 820+ bed inpatient tower, new outpatient care centers and an interdisciplinary research building.
Philanthropic funding for the divisions of Head and Neck Oncology and Skull Base Surgery are also leading to many clinical and medical advancements, including 3D medical models to improve head and neck cancer care, additional research for adenoid cystic carcinomas and novel therapeutic vaccines and adoptive cell therapies for human papillomavirus-caused oropharyngeal cancers.
I hope that 2023 will be another productive year for us all. On behalf of the Department of Otolaryngology – Head and Neck Surgery, please enjoy our annual report.
Sincerely,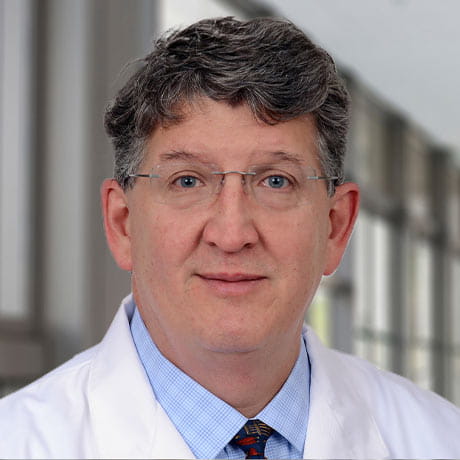 James Rocco, MD, PhD
Professor and Chair, Department of Otolaryngology – Head and Neck Surgery
The Ohio State University College of Medicine
The Mary E. and John W. Alford Research Chair in Head and Neck Cancer
Director, Head and Neck Disease-Specific Research Group
The Ohio State University Comprehensive Cancer Center - Arthur G. James Cancer Hospital and Richard J. Solove Research Institute