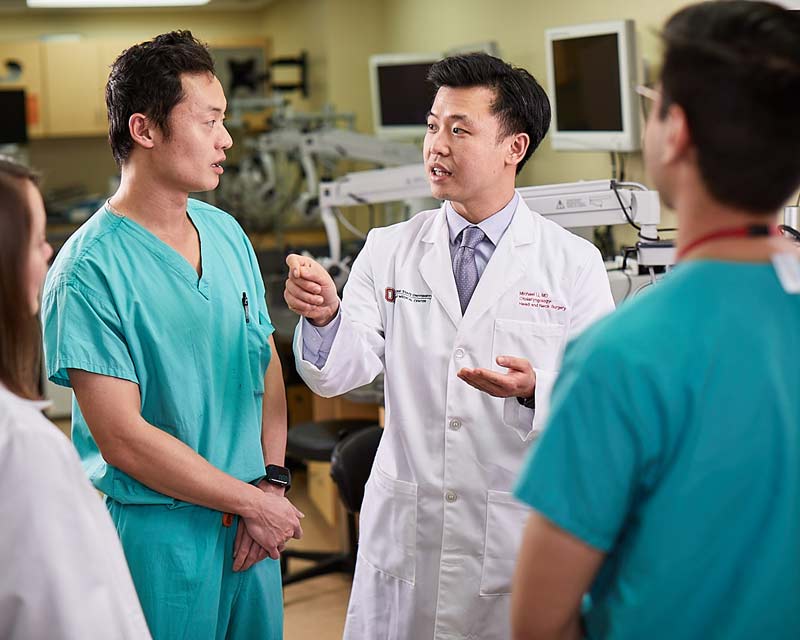 The first year of residency can feel overwhelming. In addition to learning how to be a doctor in a clinical setting, residents also need to learn where the supply closet is, how to navigate referrals, training requirements, the rotation schedule, cross-department communication and many other topics that don't come up in medical school.
"New residents can feel like they're on an island," says Brad deSilva, MD, clinical associate professor and director of the residency program for the Department of Otolaryngology – Head and Neck Surgery at The Ohio State University College of Medicine.
The department is trying to eliminate that isolation by creating a novel mentorship program to support its most recent class of otolaryngology residents.
"Mentorship has been a hot topic in medicine over the last 10 years," says Rishi Sethia, MD, chief resident of the department. "There have been publications on promotion for academic physicians when they have sponsors and how mentorship can improve advancement and engagement."
Sharing a learned experience
The first-of-its-kind program, spearheaded by Drs. deSilva and Sethia, pairs each of the five incoming otolaryngology residents with third-year residents for a multi-year, structured mentorship program. Then, after two years, the mentees will become mentors to the new class of residents.
"It's beneficial to have someone who has been through the rigors of residency in a recent timeframe," Dr. Sethia says. "They've been through the challenges and benefits and can share those experiences with new residents."
The program includes a formalized curriculum with recommended structured conversations for quarterly meetings between mentor and mentee. The goal is for the junior residents to have a person to reach out to when they have questions.
Through the experience, Dr. deSilva hopes, junior residents can adapt more easily to becoming resident physicians. "It's a sort of buddy program where they can have someone to call to discuss topics like life in medicine, navigating relationships and even housing and where to live. They can always reach out to their faculty mentor or program director, but this relationship is meant to be more peer-to-peer."
Dr. Sethia shared that when one resident had a challenging case in which a patient outcome didn't go as planned, their mentor resident provided comfort, guidance, reassurance and career support to help them learn from the experience.
"They'd gone through similar scenarios and were able to share that things get better," Dr. Sethia says. "Even though this was a challenging time, they were able to shed light on the bigger picture."
The program also naturally supports patient care and safety. "If a resident comes in and they've been shown the ropes, they're more likely to be successful in patient encounters from a safety and process improvement standpoint," Dr. deSilva says.
Supporting residents holistically
The mentorship program started in June 2022, when the new class of residents arrived on campus. It was particularly helpful this year since the academic health center had not hosted in-person interviews in two years, and it was the faculty's first time meeting the residents in person.
"Ohio State cares about mentorship, recognizes the benefits of it and puts resources toward supporting mentorship and wellness and social events," Dr. deSilva says. These events include a Super Bowl chili cookoff, an annual tailgate ahead of an Ohio State football game and a tennis tournament to raise funds for the Department of Otolaryngology team participating in Pelotonia, a bicycling fundraising event for cancer research.
This novel mentorship program is an addition to existing faculty mentorship programs that, while not ubiquitous in residency programs, are more common. It's also additive to a biannual meeting Dr. deSilva holds with each resident class. The tiered approach means residents have a faculty mentor with whom they can discuss career, fellowship and other strategic questions, and another person who can help with preparing for a case or answering a one-off question.
Growing the program
Initial feedback has been positive, and new residents seem enthused that there's a program in place with a formalized connection for them to have questions answered. However, to make sure the program is effective, Dr. Sethia implemented a survey to measure wellness, burnout and perceived value of the mentoring relationship among residents.
Eventually, the pair hopes similar peer-to-peer mentoring will be present at otolaryngology programs across the country. "By publishing our findings, we can provide a model that other institutions or departments can utilize," Dr. deSilva says.
"The resources required are minimal," Dr. Sethia adds, "but the impact is great."