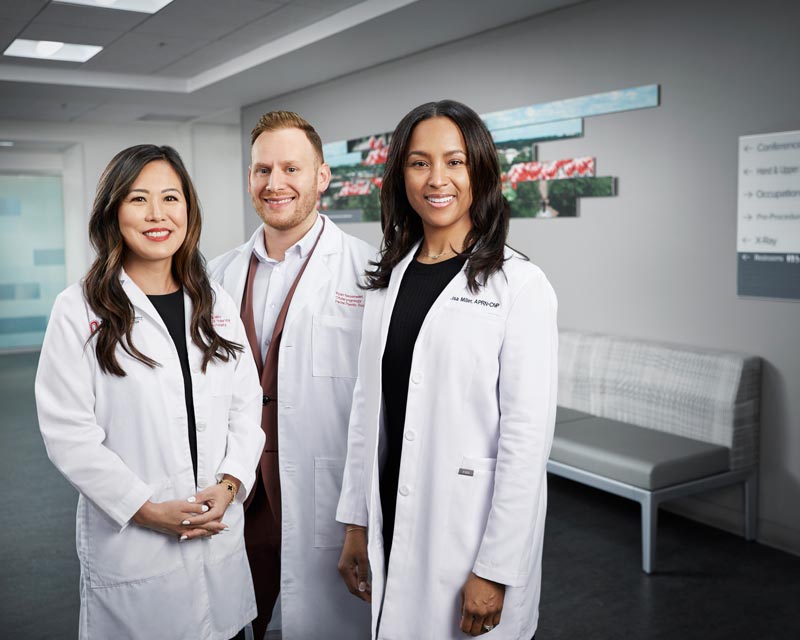 The Division of Facial Plastic and Reconstructive Surgery at The Ohio State University Wexner Medical Center has expanded to take outpatient care to ambulatory care locations across central Ohio, with two new sites opening in the last year alone. The division is part of the Department of Otolaryngology – Head and Neck Surgery at The Ohio State University College of Medicine.
"We have an amazing team of clinical faculty who take the comprehensive care of an academic setting —including close collaboration with other divisions at Ohio State — to where our patients are," says James Rocco, MD, PhD, professor and chair of the Department of Otolaryngology – Head and Neck Surgery. "With this expansion, we bring great outcomes with easier patient access in a personalized, comfortable environment."
The division is expert in providing high-quality care for patients while implementing translational research in three main areas: facial reanimation, gender-affirming care and aesthetic surgeries. Located at a tertiary care center, the division is equipped to manage both the depth and volume of complex and routine cases.
"This expansion has benefited patients because we provide the advanced care that doesn't normally come in a community, outpatient setting close to home," says Division Director Leslie Kim, MD, clinical associate professor in the Department of Otolaryngology – Head and Neck Surgery. "We strive to provide the best evidence-based medicine and innovative approaches, which is the benefit of going to an academic health center. These ambulatory centers are the best of both worlds."
The department, which already boasts six fellowship programs for different specialties, is a top residency program destination for residents. That academic focus is expanding with the recent approval of a facial plastic and reconstructive surgery fellowship program, which will add to the expertise from both a clinical and research perspective.
This fellowship, directed by Dr. Kim and co-directed by community facial plastic surgeon Sumit Bapna, MD, will "offer fellows a unique opportunity to work both in private practice and academic medicine, enabling them to train in the full breadth of facial plastic surgery," Dr. Kim says.
Patients also benefit from translational research from a major research university, which implements consistent adaptation and innovation of new surgical techniques. The team is looking at different approaches to evaluate patient satisfaction, ease of recovery and quality-of-life outcomes, including perioperative pain control measures with multimodal approaches.
Facial reanimation
The Ohio State Wexner Medical Center is a leader in the region in facial paralysis reanimation treatment, with patients coming from across the country to receive care from Dr. Kim, who is just one of a few facial nerve specialists in the country.
Gender-affirming care
Ryan Nesemeier, MD, clinical assistant professor in the Department of Otolaryngology – Head and Neck Surgery, is working to grow the division's gender-affirming care practice into a center of excellence with multidisciplinary collaboration with urology, primary care and other areas. Dr. Nesemeier specializes in surgeries that feminize or masculinize the face and neck to help patients address gender dysphoria.
"Many of these surgeries are not covered by insurance," Dr. Kim says. "Dr. Nesemeier has been advocating for this coverage to better support gender-affirming treatments for patients coming from across the country for care. This helps ensure patient insurance claims are not denied for the treatment they need."
Aesthetic surgery
In addition to the two surgeons on the team, the division also includes a nurse practitioner. Lisa Miller, APRN-CNP, spent a decade working in dermatology and brings a unique set of experiences and expertise to the facial plastics team. The group collaborates to provide the full range of surgical and nonsurgical options to support patients, including rhinoplasty, functional nasal airway surgery, aging face surgeries, implants, skin cancer reconstruction, facial reanimation, facial trauma and nonsurgical options like neurotoxin, fillers and skin resurfacing.
"What I'm really proud of is that we have been able to grow a significant volume across the board on all surgeries, but especially cosmetic surgery," Dr. Kim says. "These surgeries are historically a challenge in academic centers. Ohio State has supported us in building out a cosmetic service line, and volume has exponentially grown."
With the expansion of the Ohio State Wexner Medical Center's ambulatory sites across the region, the department is also looking to add another surgeon in the next year to support the community-based approach and continued growth of the division's offerings.