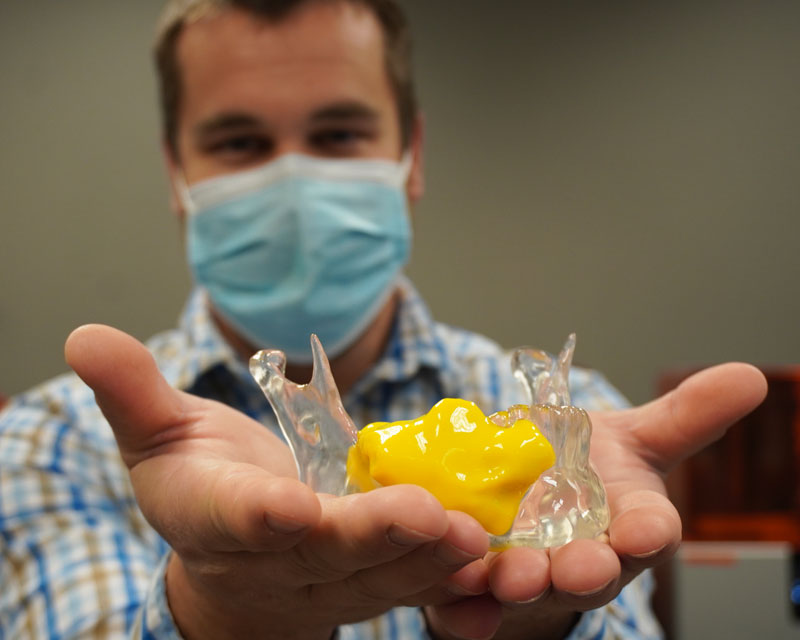 Clinical research and advanced medical education have been critical to developing new treatments and surgeries to increase the survival rate for . Thanks to philanthropic support, the Division of Head and Neck Oncology in the Department of Otolaryngology – Head and Neck Surgery at The Ohio State University Comprehensive Cancer Center – Arthur G. James Cancer Hospital and Richard J. Solove Research Institute (OSUCCC – James) has been at the forefront of these efforts. Here are some of the many transformative gifts that are making a difference in our patients' lives.
New professorships
This year, John Olsen, MD, and Christine Olsen made two donations to the department: a $1 million gift to create a professorship within the Department of Otolaryngology – Head and Neck Surgery and another $1 million gift to create a professorship within the Department of Radiation Oncology. Dr. Olsen is a retired chair of the Ohio State Department of Radiology and a grateful patient of Ohio State's head and neck oncology group. The Olsens were moved to make the donation based on the care Dr. Olsen received from Amit Agrawal, MD, and John Grecula, MD.
Adenoid cystic carcinoma research
Santino Carnevale lost his father to adenoid cystic carcinoma when he was 4 years old. At age 9, Santino decided to help other patients with cancer and their families, and since then, he's raised more than $135,000 for head and neck cancer research at Ohio State. It started with a lemonade stand and bake sale. Now, seven years later, Santino hosts many other fundraising events and initiatives to support the Head and Neck Cancer Strategic Initiative Fund in his father's name. In 2022, the Central Ohio Association of Fundraising Professionals honored him with the Outstanding Youth in Philanthropy Award. But Santino isn't slowing down, because more research is needed.
Santino's fund has made it possible for researchers to build an extensive database of crucial patient information and clinical trials, resulting in very interesting results from nontraditional drugs. Researchers are now harvesting adenoid cystic tumors and testing the efficacy of diabetes medications like metformin on these rare tumors.
"Adenoid cystic carcinoma is a very rare tumor, but we see a large volume of patients with these tumors at Ohio State," says Matthew Old, MD, director of the Head and Neck Cancer Program and director of the Division of Head and Neck Oncology at the OSUCCC – James. "Santino's support allows us to do the type of research that is difficult to do anywhere else. As a result, we have several active bench-to-bedside studies that directly benefit patients at Ohio State."
Immunological research
Andreas Wieland, PhD, assistant professor of Otolaryngology – Head and Neck Surgery in the Division of Head and Neck Oncology, is studying how novel immunotherapeutic interventions, including therapeutic vaccines, immune checkpoint blockades and adoptive cell therapies, impact human papillomaviruses and oropharyngeal cancers. His work is funded by Pelotonia, a three-day fundraising event that includes cycling, entertainment and volunteerism. Since its founding in 2008, Pelotonia has raised more than $258 million for cancer research.
Every gift saves lives
The Multidisciplinary Head and Neck Cancer Fund is also critical for training and assisting researchers in collecting crucial data for grants. This fund consists of smaller gifts from the community and supports head and neck oncology research, education, clinical programs and related activities such as multidisciplinary or novel approaches to therapeutics, robotics and reconstruction.
"When you are dealing with cancers that are considered rare, like head or neck tumors, and with national research funding being tough, it makes philanthropy even more important to carry out our mission of finding a cure and a better way to treat these cancers," Dr. Old says.
He offers the example of former patient Terry Keegan who developed squamous cell carcinoma of the head and neck more than 14 years ago. Even after surgery, radiation and chemotherapy, his cancer stubbornly kept reappearing. But he wouldn't give up, and neither would his Ohio State doctors. Terry signed up for multiple clinical trials, including the department's first immunotherapy drug trials. He defied the odds and is now cancer-free. His recovery is also being used to inform and improve Dr. Wieland's immunotherapy research.
Terry is a shining example of how philanthropic efforts are driving head and neck cancer research at Ohio State, helping to enrich and prolong patients' lives with powerful innovation, new medications and treatments.