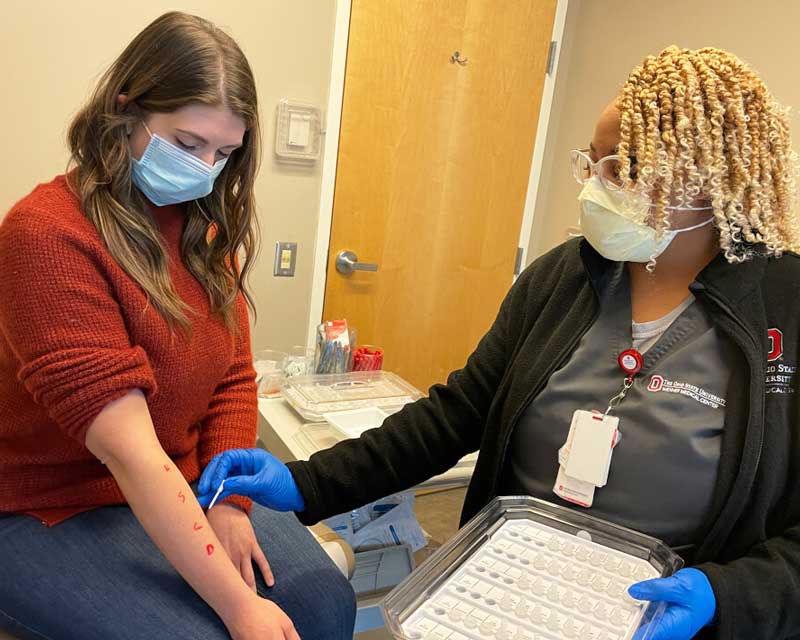 A newer type of allergy treatment The Ohio State University Wexner Medical Center plans to offer in mid-to-late 2023 may dramatically shorten treatment time and hasten symptom relief while reducing the risk of anaphylaxis. It could be especially helpful for patients who can't undergo or successfully complete other types of immunotherapy.
The treatment, intralymphatic immunotherapy, has been studied for decades, but it's been gaining traction only recently, being offered in a limited number of allergy practices around the country.
"It won't be for everyone, for a variety of reasons, but providing patients more options is always our goal," says Casey Curtis, MD, interim director of the Division of Allergy and Immunology in the Department of Otolaryngology – Head and Neck Surgery at the Ohio State Wexner Medical Center. "This gives us one more therapeutic tool to provide relief for our patients."
Increasing patient convenience
Traditional subcutaneous immunotherapy, while very effective, isn't always convenient. Patients must visit their allergist's office at least weekly for many months. This can be especially challenging for those who must travel great distances or have difficulty leaving work or school. Even with treatment, people don't get better quickly.
"A lot of times, symptom improvement doesn't happen for a year or two after starting treatment," says Christopher Brooks, MD, clinical assistant professor in the Department of Otolaryngology – Head and Neck Surgery at the Ohio State College of Medicine and one of the physicians who'll be offering intralymphatic immunotherapy. "Then, to get lasting relief, patients must continue periodic shots for four to five years. It's a very time-consuming therapy."
Intralymphatic immunotherapy requires just three allergen injections, which are delivered into an inguinal lymph node. The treatment is easier for patients and allows them to receive symptomatic relief in a fraction of the time.
An excellent safety profile
Physicians administer the injections with ultrasound guidance provided by a technician. One injection is given every four weeks for 12 weeks. Patients must remain in the office for observation after each injection, but because the injections are delivered directly into the lymph nodes, the doses are often smaller than those of traditional allergy shots. There is also less risk of severe complications, such as anaphylaxis.
Mild side effects, such as redness, swelling and mild discomfort at the injection site, are possible, but they also tend to be less severe than with subcutaneous therapy.
"The safety profile seems to be very good," Dr. Curtis says.
Intralymphatic immunotherapy can be offered for many types of environmental allergies and may be helpful for symptoms such as nasal and sinus difficulties, coughing and watery eyes. It may also help with asthma control. Typically, patients notice improvement shortly after their third injection.
The treatment is being studied for food allergies.
Expanding treatment options
The allergy team at Ohio State is partnering with Auni Allergy to offer this treatment, which includes proprietary allergen formulations. Auni Allergy was founded by Amber Patterson, MD, a world-renowned allergy and immunology expert and former allergy fellow of the Department of Otolaryngology – Head and Neck Surgery at the Ohio State Wexner Medical Center.
The treatment will be offered to adults, with qualifications allowing for an even larger pool of patients than exists today.
"Over time, we might feel comfortable giving this type of immunotherapy to patients who may otherwise not have been able to get traditional allergy shots," Dr. Brooks says.
While the injections will not be offered to children, there's hope that may be a future possibility.
"From an immune system standpoint, theoretically, it should be just as effective because children's immune systems are more malleable," Dr. Brooks says. "But it's still a newer therapy, so the trials don't have as much data yet for really young kids."
Innovative care
Because intralymphatic immunotherapy is not yet approved by the Food and Drug Administration, patients must pay out-of-pocket. Each treatment costs $1,100, making the total for the three-injection series $3,300.
"It's a lot of money, but for some people, it's worth it, or it's not that much more than they have to pay for traditional allergy shots over time if they have a high-deductible plan," Dr. Brooks says.
After adding the costs that a patient might pay for travel, medications, office visits for allergy symptoms and additional expenses over years for other treatments, the three-injection method could actually save money.
While those with allergies are likely to benefit from the new treatment, their physicians may, too. When patients require fewer visits, doctors have more time and flexibility for those receiving other types of therapy.
Still, providing innovative patient care is what it's all about.
"Our physicians are really excited about offering new treatment modalities and continuing to provide the best and safest care for our patients," Dr. Curtis says.