About Buckeye Paws
Buckeye Paws was initiated in March 2020, with the mission of supporting the mental and emotional health of staff at The Ohio State University Wexner Medical Center through highly trained, certified therapy dog-handler teams.
Due to the success of the program and support from President Kristina M. Johnson and the Buckeye Paws Advisory Board, in March 2022, Buckeye Paws announced their expansion to provide therapy dog assistance to students, faculty and staff of The Ohio State University.
The dogs of Buckeye Paws are certified through Canine Good Citizen (CGC) and the Alliance of Therapy Dogs (ATD).
Meet the Team
Brienne
Brienne is a Yellow Labrador Retriever named after Brienne of Tarth, a Game of Thrones character. Brienne was born January 21, 2017. Her best friend is her fur brother, Henry, and her favorite treat is pineapple. Brienne's handler is Beth Steinberg.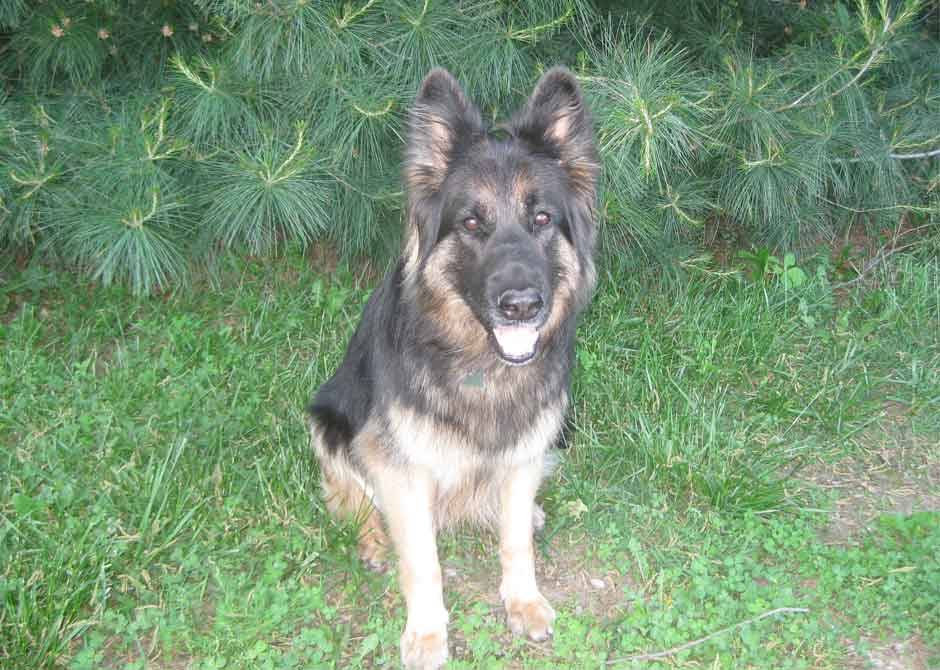 Ellie
Ellie is a German Shepherd. She was born April 20, 2013. Ellie's hobbies include playing ball and swimming in the creek with her fur family Tucker, Cassie and Jewellz. Ellie was a gift from Guide Dogs of America to handler, Emily Lewis, to aid in her recovery after being diagnosed with breast cancer in 2013. Ellie's therapy dog career technically began at 8 weeks old!
Radar
Radar is a Labrador Retriever. He was born on July 23, 2014. Radar's hobbies include camping, taking long walks and spending time with his family. Radar's favorite toys are deer antlers and his best friend is Mattis K9 from the Franklin County Sheriff's Office. Radar's handler is ReNea Owens.
Shiloh
Shiloh is an English Cream Golden Retriever. He was born September 3, 2017. Shiloh's best friends are his fur brother, Grady, and cat, Izzy. Although he isn't sure Izzy likes him. Shiloh's favorite toy is his Billie bear and his special talent is that he can do an Elvis impersonation! Shiloh's handler is Mary Justice.
Crockett
Crockett is an English Setter. His "gotcha day" is September 16, 2017. Crockett's backstory is tough, he was picked up malnourished by animal control in South Carolina. "He is a real Cinderella story of resilience and also overcoming a rough past to bring help and healing to others, which personifies what OSUMC strives to do," says handler, Susan England. Crockie's favorite toy is blue dog, he loves to snuggle and he loves to chase and bark at squirrels with his three English Setter siblings.
Ellie
Ellie is a Border Collie mixed breed. She was born on February 19, 2015. Ellie was adopted at 8 weeks old from Sierra's Haven for New and Used Pets in Portsmouth, OH. She was one of 14 puppies in her litter. She will retrieve her Kong or catch a Frisbee all day long. She loves running along the beach and chasing birds. At the end of the day, her favorite thing to do is be next to her humans. Ellie's handler is Judy Lima.
Ashby
Ashby is a sweet and gentle Golden Retriever. He was born on August 3, 2016 in California and moved to Columbus, Ohio when he was 3 months old. He was named after Ashby Lake in Ontario, Canada, where he enjoys going to vacation at his family's cottage - he loves to swim and play fetch in the water! His favorite toy is his green snake. He absolutely loves all humans and dogs and is in heaven when he gets to cuddle and be petted. Ashby's handlers are Sharon and Brian Clark.
Charmin
Charmin is a Great Pyrenees/Shepherd mix. She was born on February 6, 2020. Charmin was rescued from a high-kill shelter in southern Ohio in March of 2020 and at the start of the pandemic (hence the name Charmin!). She and three other littermates were dropped off at just 7 weeks old and were luckily brought to Columbus by Colony Cats & Dogs rescue. Charmin now lives with two fur sisters and enjoys trying to get them to play with her non-stop. She truly loves everybody and everything – except maybe baths! Charmin's handler is Beth Becker.
Rocky
Rocky is a Boxer. Rocky had a difficult upbringing in an abusive home. He was rescued by Canine Castaways in Indiana and was adopted by his handler, Jeannette, on March 13, 2019. Rocky loves his squeaky balls, running with his mom and snuggling with his sister, Raven. Rocky's handler is Jeannette Elum.
Hudson
Hudson Hetzel-Hausmann is a Golden Retriever. He was born on November 9, 2018. Hudson's favorite activity is fetch, he can retrieve his ball all day long! He would do anything for a puppuccino from Starbucks. Whether it's flying to Miami Beach to dig in the sand or burying himself in piles of Ohio snow, Hudson is always down for an adventure! Hudson's handlers are Gabby Hetzel and Jake Hausmann.
Annie
Annie (Golden Dancing Annie of Sunbury) is a Havanese. She was born on February 3, 2015. Annie has a laid back personality. She loves people and seems to have a sixth sense about them. She will do a turnaround dance if there are treats involved! Annie's handler is Mary McRury.
Ziggy
Ziggy is a Goldendoodle. He was born on June 19, 2016. Ziggy loves to play ball, go for walks and run with any dog that is able to keep up with him. He also likes to steal flip flops and take them into the backyard so that someone will chase him! Ziggy's handler is Mandy Richards.
Cooper
Cooper is a F2 Goldendoodle. He was born on April 20, 2020. Cooper loves riding the car, especially going through drive thrus because he knows all the places that will give him treats! He doesn't understand how big he is and loves to sit on your lap. Cooper's handler is Jen Swift.
McDuff
McDuff is a Labrador Retriever and Golden Retriever cross. He was born on April 29, 2016. Originally born into the Canine Companions for Independence assistance dog program, McDuff had a change of career in 2018 and was adopted to become a pet dog and therapy dog on the side. McDuff loves to help out in the kitchen by picking up crumbs and using his "push" command to close cabinet doors and drawers. His favorite toy is his Kong (filled with food) and his favorite activity is "zooming" around the yard with his dog friends. McDuff's handlers are Morgan and Keith Kerns.
Cascade
Cascade is a Greyhound. She was born on November 15, 2014. Cascade is a retired racing greyhound, and although still pretty fast when she wants to be, she is mostly a couch potato now! Cascade is also blood donor at the OSU Veterinary Hospital and when she is really happy she "chatters" her teeth, which is the greyhound way to "purr." Cascade's handler is Carrie Anne Thomas.
Bridger
Bridger is a Silver Labrador Retriever. He was born on March 28, 2019, so still a puppy in his mind. Bridger is 80lbs of loving Labrador that cannot get close enough to you as you pet him and loves to play with his Hedgehog and ball toys. He enjoys swimming in the summertime or chasing his German Shepard rescue sister, Myla, through the back yard at top speed. Bridger's handler is John Antonelli.
Ashby
Ashby is a Labrador Retriever. He was born on April 19, 2019. Ashby was originally born into the Canine Companions for Independence program but changed professions when he was adopted and became a therapy dog. Ashby has numerous fur siblings and human siblings. He loves to hike, camp and play with squeaky toys. He will never miss a meal or an evening walk! Ashby's handler is Ann Smith.
Dexter
Dexter is a basset hound mix born October 28, 2011. He is named for the hit showtime series 'Dexter!' Dexter is new to Ohio and he can run an 8 minute mile on his tiny legs. He has traveled across the country visiting at least 30/50 states, 3 countries and numerous national parks. His photo is from the top of the space needle in Seattle! He enjoys long walks around the neighborhood and hates when him pawrents leave him home alone. Dexter's handlers are Hannah Entwistle and Dan Morgan.
Wally
Wally is a Shih Tzu. He was born on March 21, 2018 in the Buckeye State of Ohio. He was named after his dad's favorite Nascar driver "Rusty Wallace." Wally loves to play with his stuffed babies and take a leisurely float on his raft in the pool during the summer. Wally wants to be held and cuddled. If you stop giving him attention, he will let you know that it is time for you to resume. Wally's handler is Kelli Stoner.
Vegas
Vegas is a Mini Goldendoodle. She was born on May 13, 2016. Vegas's full name is Vegas Bella Johnson. She loves to swim, her favorite toy is a tennis ball and her favorite bedtime snack is orange cream yogurt. Yum! Vegas's handler is Sheila Johnson.
Finn
Finn is a Labrador Retriever (Red) born on December 9, 2020. Finn loves sticks (the bigger the better) more than any other toy but food will forever be his favorite. When he must settle for toys, he loves stuffed squeaker toys and will often bring you two at a time. He loves attention and sometimes gets jealous of his brother, a cat named Dexter. Finn has been working toward his goal of joining the Buckeye Paws team since he was brought home January 2021. Finn's handler is Jillian Maitland.
Opie
Opie is Golden, Pekingese, Basset mix that was born on October 4, 2018. Opie was adopted from a local dog rescue called Speak! for the Unspoken. He is a long-haired low rider with an overbite. Opie is a happy, chill guy that loves food and napping almost as much as he loves people. Opie's middle name is Juan (Star Wars fans will get that reference). Opie's handler is Rolanda Castle.
Stella
Stella is a Belgian Malinois born on October 31, 2018. Stella's favorite toy is a tennis ball or her training tug. She loves to go everywhere with her dad but specifically loves the river and swimming! She went to the ocean one time on a camping trip and loved playing in the waves. Whatever the adventure, she is always ready! Stella's handler is Ben Hamlin.
Ellie
Ellie is a Shih Tzu, Dachshund, Chihuahua mix born on August 1st, 2020. Ellie was a rescue from the Columbus Humane Society. She loves to run, loves to play, loves to run and play. Her free time is spent watching birds and squirrels out the window. Ellie loves people and is so excited for her new job with Buckeye Paws! Ellie's handler is Jackie Buck.
Iroh
Iroh is a Golden Retriever born on January 10, 2021. Iroh loves going to the dog park and camping! He loves to play tug of war with his toys and playing fetch. He enjoys getting Pup Cups from Dairy Queen and KONGS filled with peanut butter. He's very cuddly and affectionate at home when he's not running around the back yard. Iroh's handler is Jeremy Ogden.
Sign up for a visit from the Buckeye Paws program
The Wexner Medical Center launched Buckeye Paws, an innovative animal-assisted therapy program, on March 6, 2020. Targeted specifically to help improve staff, faculty and student resilience, certified therapy dogs visit to provide comfort and emotional support.
An expansion into The Ohio State University was launched on March 7, 2022. President Kristina M. Johnson supports the Buckeye Paws expansion as it provides an example of how the university supports the health and safety of the community. The university is committed to a culture of caring and meeting Buckeyes where they are.
Visits may be requested and scheduled by emailing BuckeyePaws@osumc.edu. There's no charge for the visit and the dogs will come to you.
Within The Ohio State University Wexner Medical Center, Buckeye Paws are not able to visit Peri-op, Procedural and Oncology (James) units 11, 12, 14, 15 and 16.
We understand that people may have personal, cultural and medical reasons for avoiding or disliking dogs or pets. We're cognizant of these issues and will avoid these interactions. The program follows ATD's guidelines as well as a strict policy to ensure safe contact for everyone.
Be part of the program
Current openings: Dog-handler Team for The Ohio State University only
You must bring your own dog. Prior to being accepted to the Buckeye Paws program, each dog-handler team must pass a temperament test with the Buckeye Paws Master K9 Trainer and have Canine Good Citizen (CGC) certification and Alliance of Therapy Dogs (ATD) certification. If the Master K9 Trainer recommends additional training before being accepted into the program, that will be at the cost of the dog's owner.
There is just something about a dog's presence that calms people, brightens their mood, and allows them time to decompress, even if only for a quick moment. When I get a surprise visit from Shiloh or Brienne it is the best part of my day! Thank you BUCKEYE PAWS! Kristina Layton MS, RN Director of Nursing – Medical-Surgical Department
On a long, stressful day in the ICU, when these dogs come in, people's moods change in an instant. They bring so much joy and make us all so happy. They give us a burst of energy. Caitlin Eilbacher Nurse, ICU
How to give
Buckeye Paws Program Fund - 317037
This fund supports the certified therapy dog program through The Ohio State University and The Ohio State University Wexner Medical Center. Funds to be used for, but not limited to, programming, research, training, education, supplies, and equipment.
Events
Paws and Pints

Wednesday, April 27th from 5:00-8:00 pm
Land-Grant Brewery, 424 W. Town Street, Columbus, OH 43215
"Weather Permitting" All dogs and humans welcome in the beer garden. 10% of the entire day's proceeds will benefit Growlers Dog Bones.

Pause 4 Paws

Tuesday, April 26th from 11:00-11:45 am
Architecture Library, 275 W. Woodruff Avenue, Columbus, OH 43210
https://library.osu.edu/events/pause-4-paws-and-study-break-spots-during-finals

Pause 4 Paws

Tuesday, April 26th from 12:00-12:45 pm
Fine Arts Library, 1871 N High St, Columbus, OH 43210
https://library.osu.edu/events/pause-4-paws-and-study-break-spots-during-finals

Ohio State De-Stress Fest with Barnes & Noble

Tuesday, April 26th from 1:00-3:00 pm
Barnes & Noble – The Ohio State University Bookstore, 1598 N. High Street, Columbus, OH 43201

Pause 4 Paws

Friday, April 29th from 1:00-3:00 pm
18th Avenue Library, 175 W. 18th Avenue, Columbus, OH 43210
https://library.osu.edu/events/pause-4-paws-and-study-break-spots-during-finals

Pause 4 Paws

Friday, April 29th from 2:00-4:00 pm
Thompson Library, 1858 Neil Avenue, Columbus, OH 43210
https://library.osu.edu/events/pause-4-paws-and-study-break-spots-during-finals
News
Buckeye Paws Program Shakes Away Stress
This Adorable Pup Spends His Days Cheering Up Hospital Staff, And Now He's Internet Famous For It
Ohio Hospital Uses Dogs to Help with Healthcare Worker Burnout
Hospital Dog Gets The Cutest Name Tag To Prove He's Officially Staff
Buckeye Paws Program Provides Therapy Dogs To Frontline Healthcare Workers
Buckeye Paws Program a Relief for Frontline Health Care Workers
Wellness Wednesday: Banning 'Step Therapy' For Cancer Patients
Buckeye Paws Program helps Wexner healthcare workers de-stress
Buckeye Paws Therapy Dogs Help Hospital Workers De-Stress
Helping Frontline Workers interview on NBC4
Buckeye Paws Celebrates One-Year Anniversary
The Best Medicine
How Columbus health care pros are faring in yet another COVID year — therapy dogs help
Buckeye Paws helps alleviate stress of Wexner Medical Center nurses during pandemic
Ohio State Wexner Medical Center's Buckeye Paws program expanding to university
Therapy dog program expands on Ohio State University campus
Buckeye Paws expands to support students, faculty and staff on campus
Ohio State brings therapy dogs to campus
OSU Wexner Medical Center's Buckeye Paws program expanding to university
MEET THE BUCKEYE PAWS DOGS WHO PROVIDE COMPANIONSHIP, SERVICES TO OHIO STATE