Working in healthcare, staff anxiety levels can be intense at times. The aim of the Buckeye Paws program is to help bring staff to a more stable state after high-stress situations. Buckeye Paws, is a therapy dog program for the faculty, staff and student, within the medical center's Stress, Trauma and Resilience (STAR) Program. The dogs of Buckeye Paws are certified through the Alliance of Therapy Dogs (ATD), and the program follows ATD's guidelines.
Meet the Team
Brienne
Brienne is a Yellow Labrador Retriever named after Brienne of Tarth, a Game of Thrones character. Brienne was born January 21, 2017. Her best friend is her fur brother, Henry, and her favorite treat is pineapple. Brienne's handler is Beth Steinberg.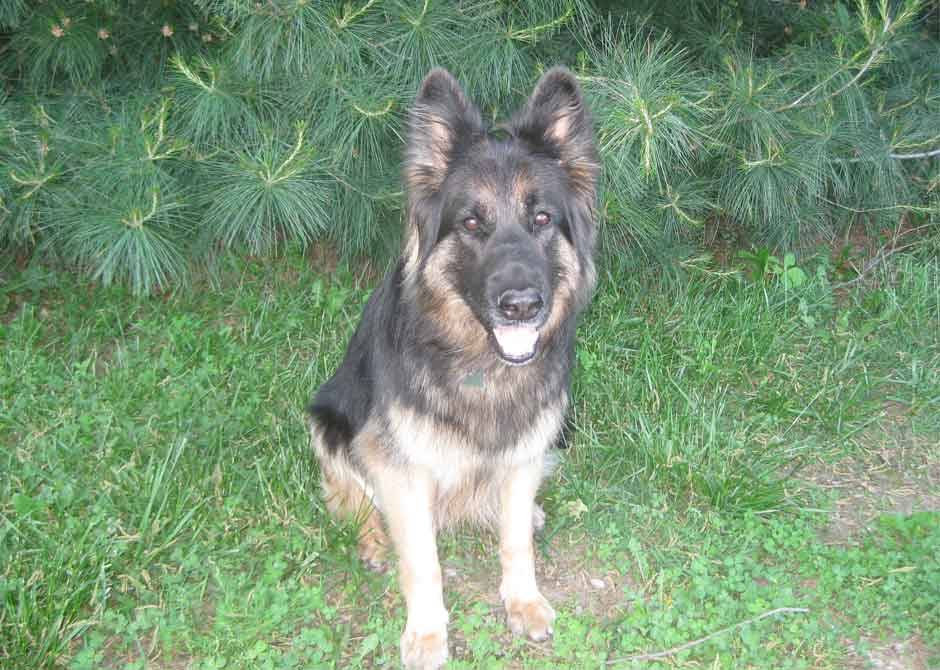 Ellie
Ellie is a German Shepherd. She was born April 20, 2013. Ellie's hobbies include playing ball and swimming in the creek with her fur family Tucker, Cassie and Jewellz. Ellie was a gift from Guide Dogs of America to handler, Emily Lewis, to aid in her recovery after being diagnosed with breast cancer in 2013. Ellie's therapy dog career technically began at 8 weeks old!
Radar
Radar is a Labrador Retriever. He was born on July 23, 2014. Radar's hobbies include camping, taking long walks and spending time with his family. Radar's favorite toys are deer antlers and his best friend is Mattis K9 from the Franklin County Sheriff's Office. Radar's handler is ReNea Owens.
Shiloh
Shiloh is an English Cream Golden Retriever. He was born September 3, 2017. Shiloh's best friends are his fur brother, Grady, and cat, Izzy. Although he isn't sure Izzy likes him. Shiloh's favorite toy is his Billie bear and his special talent is that he can do an Elvis impersonation! Shiloh's handler is Mary Justice.
Sign up for a visit from the Buckeye Paws program
The Wexner Medical Center launched Buckeye Paws, an innovative animal-assisted therapy program, on March 6, 2020. Targeted specifically to help improve staff, faculty and student resilience, certified therapy dogs visit to provide comfort and emotional support.
Visits may be requested and scheduled by emailing BuckeyePaws@osumc.edu. There's no charge for the visit and the dogs will come to your department.
Buckeye Paws are not able to visit Peri-op, Procedural and Oncology (James) units 11, 14, 15 and 16.
We understand that people may have personal, cultural and medical reasons for avoiding or disliking dogs or pets. We're cognizant of these issues and will avoid these interactions.
Be part of the program
We're looking for dog-handler teams to join Buckeye Paws. There are strict requirements for dog-handler teams in the Buckeye Paws program to ensure patient, visitor and staff safety, therapeutic benefit and regulatory compliance. For questions regarding requirements, please contact Buckeye Paws at BuckeyePaws@osumc.edu.
Interested staff should complete Buckeye Paws Intake Form.
There is just something about a dog's presence that calms people, brightens their mood, and allows them time to decompress, even if only for a quick moment. When I get a surprise visit from Shiloh or Brienne it is the best part of my day! Thank you BUCKEYE PAWS! Kristina Layton MS, RN Director of Nursing – Medical-Surgical Department
On a long, stressful day in the ICU, when these dogs come in, people's moods change in an instant. They bring so much joy and make us all so happy. They give us a burst of energy. Caitlin Eilbacher Nurse, ICU