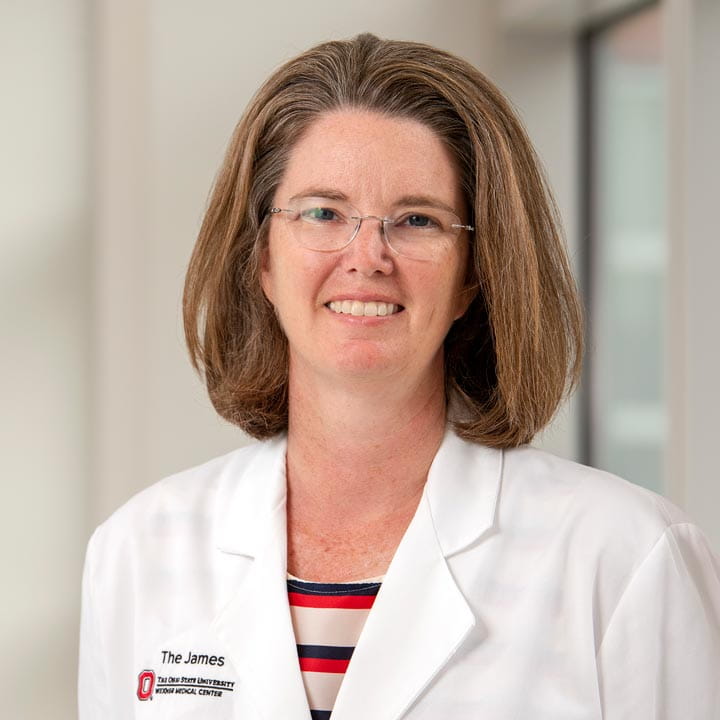 Dr. Miller strives to be compassionate yet transparent. "I want patients to have a realistic understanding of the road ahead," she says. "They need to understand the treatments they may endure and the potential impact on their quality of life, especially when faced with aggressive cancers."
Dr. Miller treats patients with benign and malignant disorders of the thyroid, parathyroid and adrenal tumors, as well as some additional neuroendocrine tumors. She's also co-director of Ohio State's new Comprehensive Adrenal Program and serves as division director of clinical operations for Surgical Oncology.
"Ultimately, the more surgical approaches, intraoperative maneuvers and treatments you know, the more you have to offer," she says. "I always keep my eye on what colleagues in other disciplines are doing and try to pick up tips and tricks from them. I'm also grateful to have been asked to lead the adrenal cancer section of the American College of Surgeons Operative Standards for Cancer Surgery, so that the critical elements of resection of adrenal cancer can be disseminated to all surgeons, hopefully leading to better conduct of operations for adrenal cancer and long-term outcomes. I believe in always looking for the next small step to continually improve whatever I, my group or our national and international organizations are studying. "
Most of Dr. Miller's research over the years has focused on clinical and translational research within the field of endocrine surgery. "I have been fortunate to have been part of a wonderful multidisciplinary research group for most of my career, and we have made some wonderful discoveries about adrenal cancer and its treatment that have positively impacted patient outcomes," she says. "Currently, we are working on initiating a surgical clinical trial at Ohio State for adrenal cancer patients at high risk for peritoneal recurrence. I am also leading an effort for the American Association of Endocrine Surgeons to begin to establish video review of minimally invasive adrenalectomy to improve surgeon performance in the operating room."
Dr. Miller found the field of medicine appealing because of the opportunity it presents to help people, but also because she loves the constant learning and challenges. "I was a very good athlete growing up, very results-oriented, and an EMT/firefighter before going to medical school," she explains. "So with all of those things put together, surgery seemed a natural fit. And I love endocrine surgery for the careful thought it requires, the detailed anatomy and fine dissection necessary in the neck and the complex abdominal operations involved with adrenal cancers."
Throughout her career, Dr. Miller has also discovered real comradery in endocrine surgery. "I'm fortunate to have had great mentors and a great team around me that has allowed me to build a successful practice over the years," she says.
Dr. Miller completed medical school at the University of Cincinnati, followed by a general surgery residency at University of Texas Southwestern Medical Center and a fellowship in endocrine surgery at University of Michigan Hospitals. She joined Ohio State in 2020. "After being gone for 20 years, it's nice to be back in the Buckeye state and part of a department undergoing enormous growth in all facets of the tripartite mission that emphasizes clinical care, research and education," she says. "Go Buckeyes!"
You can follow Dr. Miller(@OSUEndoSurgBSM) on Twitter.