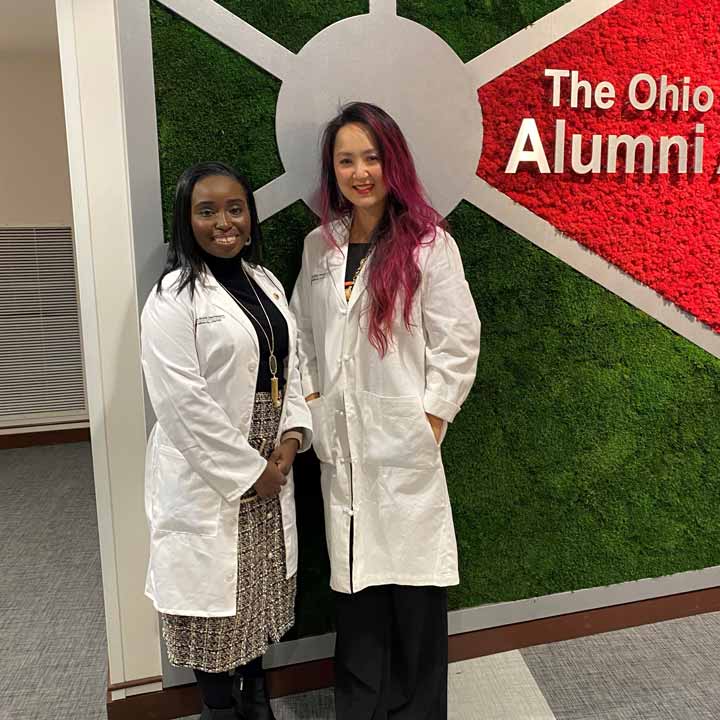 These postdoctoral individual awards provide an important opportunity for our residents to serve as PIs. Framing this level of accomplishment on a national basis, only nine NIH F32 awards were given to surgical trainees in the two-year period of 2018-2019 – and now Ohio State has two. Even the application process itself offers valuable experience with writing research proposals, and the department provides mentorship and critical peer review from initial proposal through project completion.
These two distinguished awards are the first NIH grants for Ohio State general surgery residents.
Jing Han, MD, has received an NIH Service Research Award from the National Institute of Allergy and Infectious Diseases for "The molecular and spatial interactions between antibody suppressor CD8+ T cells and B cells that regulate alloantibody production after transplant." This 15-month, $74,958 award commenced April 1, 2021, with an anticipated total of $103,668.
In addition, Ruth Ackah, MD, has received a two year, $74,958 NIH National Service Research Award from the National Heart, Lung, and Blood Institute for "Embryologic origins of aortopathy: Biomechanical characterization of aortic aneurysms in the NOTCH1 mutant model." Funding began Sept. 1, 2021, with an anticipated total of $148,020.
Ohio State will continue to support other general surgery residents interested in research as well. The Department of Surgery's Professional Development and Research Training Program (RTP) is designed to facilitate the transition to a career as a surgeon-scientist investigator and educator in academic medicine. RTP participants dedicate one to three years, without clinical responsibilities, to research education and training.
Based on the individual's area of interest, this includes a mentored research project and completion of an advanced degree such as a Master of Medical Science, which has tracks for translational, clinical, health services and medical education research; a Master of Public Health; Master of Business Administration; or an alternate Master of Science degree, such as the Master of Science in Anatomy. Residents apply for extramural funding from sources that may include institutional T32 training grants, The Ohio State University Pelotonia Fellowship Program for cancer research, individual postdoctoral NIH F32 grants, mentored diversity supplement awards to PI-funded R01s, medical society awards and the University Fellowship Award.
Learn more about Ohio State's RTP here.