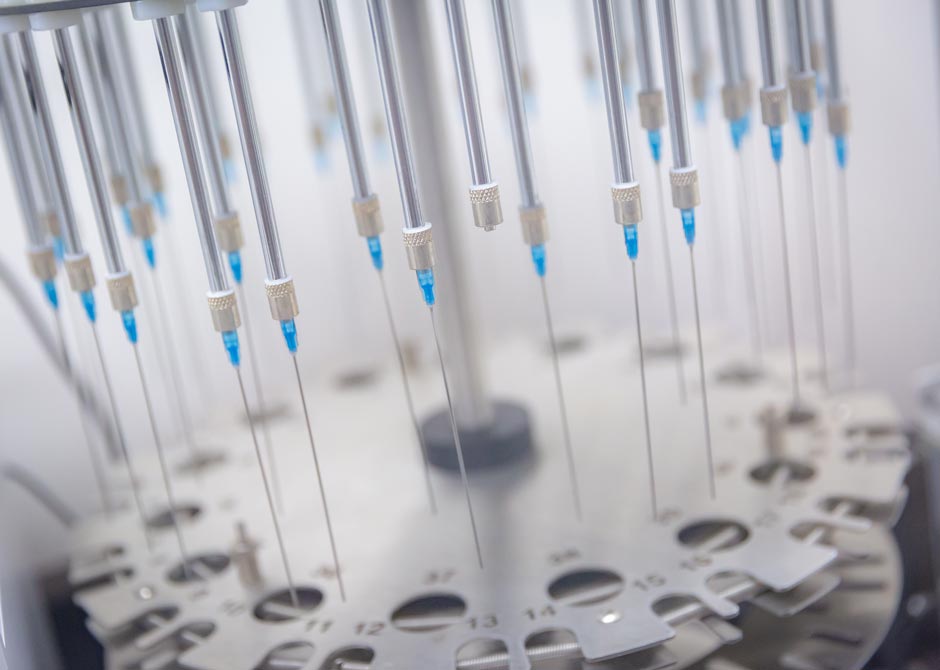 As a team, we're always pushing for the next discovery, which is why the Ohio State Department of Surgery has committed significant time, talent and facilities to the research process. We encourage our researchers, including residents and fellows, to continue questioning and probing for new discoveries to transform patient lives.
Fueling even more discovery
In 2015, we were ranked 25th in National Institutes of Health (NIH) research funding. With resolve and focus, we've made steady progress since:
2015 – No. 25
2018 – No. 18
2022 – No. 6
Our university supports significant research as well
The Ohio State University is one of only a few universities in the U.S. that, in a single location, houses 15 different colleges, including seven health science colleges and a college of agriculture. This gives us all the tools that are needed — the creative minds, the expertise, the experience and the world-class facilities — to discover innovative solutions to complex problems.
In 2021, Ohio State invested:
$1.236 billion in total R&D expenditures
$581 million in federal R&D expenditures
Supporting big ideas
Department of Surgery initiatives:
Center for Research, Education and Advancement of Transdisciplinary Exploration (CREATE) supports interprofessional project teams to streamline product and technology development and save costs.
Master of Medical Science degree – Surgery trainees interested in a research career can pursue with a curriculum track in either basic/translational science or clinical science.
University research offices – Our scientists find support from specific university offices, including The Ohio State University Office of Research, as well as from dedicated offices for sponsored programs, clinical trials, research compliance, responsible research practices, technology and commercialization, and research information technology.
Center for Clinical and Translational Science (CCTS) provides financial, organizational and educational support to biomedical researchers by leveraging expertise from the 18 colleges and schools across the university, including scientists and clinicians from the seven health science colleges, the College of Engineering, the Wexner Medical Center and Nationwide Children's Hospital, community health and education agencies, business partnerships and regional institutional network partnerships.
Developing a passion for research
Big ideas can come from anyone, so our residents and fellows are actively involved in research that appeals to them personally — even as principal investigators themselves. As a recent example, resident Jing Han, MD, received a $103,668 NIH Service Research Award from the National Institute of Allergy and Infectious Diseases.
State-of-the-art spaces
Our Innovation District provides collaborative space for learning, research and ideas to thrive:
Interdisciplinary Research Facility provides 305,000 square feet where students, academic researchers, city leaders, Fortune 500 businesses and new start-ups — just steps away from each other — have the potential to share promising new ideas and accelerate discovery. Opening 2023.
Interdisciplinary Health Sciences Center provides 220,000 square feet of collaborative space and innovative technology for learning across the colleges of Medicine, Nursing, Pharmacy, Dentistry, Optometry, Public Health and Veterinary Medicine. Opening 2024.
Biomedical Research Tower is currently the largest research facility on The Ohio State University campus; includes the Imaging Core Facility, which provides researchers high-resolution imaging using a variety of different instruments. Several Department of Surgery research laboratories are also located in BRT.
Formal team seminars and faculty research meetings
To foster ongoing collaboration and discussion, researchers in the Department of Surgery – including faculty, trainees and staff – can participate in our quarterly research seminar series. Designed to serve as an essential "primer" of processes and an opportunity to develop contacts for research-related activities, the seminars are intended to enlighten and enhance cooperation and compliance across the entire research team. We've also organized a formal biannual research-focused faculty meeting to highlight topics of interest to research faculty, and continually improve our research program and plan for future growth.
Pioneering methods to improve transplant outcomes and donor organ utilization
The COPPER laboratory, led by co-directors Sylvester Black, MD, PhD, and Bryan Whitson, MD, PhD, is a model of collaboration, with investigators in thoracic and abdominal transplantation, biochemical engineering, biomedical engineering, mechanical engineering, molecular biology and physiology working together to expand the science of endothelial cell repair in ischemia reperfusion and exploit ex vivo perfusion to assess, repair and modify donor allografts. With their guidance, the Ohio State Comprehensive Transplant Center was the first in Ohio to offer extended ex vivo perfusion, a process that uses a mechanical system to respirate, warm, nourish and repair donor lungs outside the body, thus improving the odds that they can be used for transplant. Learn more at medicine.osu.edu/copperlab.
Directly linking the Department of Surgery with other scientists
With an organizing principle that "no one of us is as bright as all of us," the Center for Research, Education and Advancement of Transdisciplinary Exploration (CREATE), led by director Sylvester Black, MD, PhD, establishes project teams that include health care providers, academic and clinical faculty, students, partners from private industry, engineers and inventors. Its aim is to support research partnerships that can streamline product and technology development, facilitate consultation and save costs. Innovative solutions currently being explored include alternative energy-sourced mechanical ventilation for austere environments, the use of virtual reality in critical care settings and the benefits of Vamos Mobility in critical care. Learn more about CREATE at medicine.osu.edu/create.