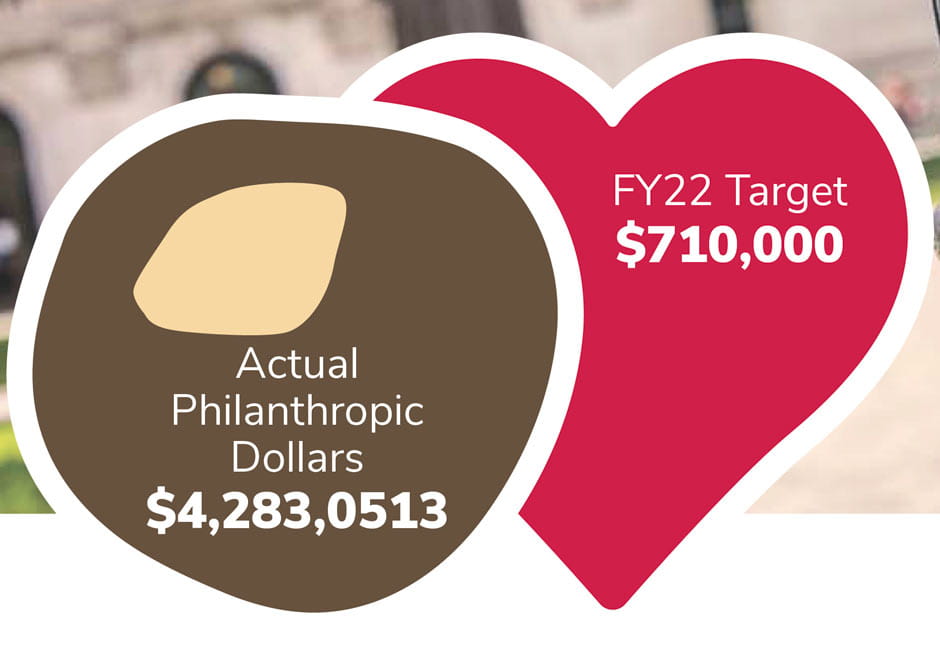 The Ohio State Department of Surgery has concluded another extremely successful annual philanthropic drive, and we're humbled by the incredible generosity of our corporate and individual donors. We're motivated by their enthusiasm and pledge to do everything possible to maximize their donations to improve patient lives, conduct transformative research and train the next generation of Buckeye surgeons.
Remarkable results
FY2022 goal to raise $710,000 in donations for the Department of Surgery
Every surgical division achieved or surpassed its FY2022 philanthropy goal, exceeding our target and raising $4.28 million
Staying connected
While the pandemic still presented us with challenges this past year, we continued to cultivate relationships with our donors by providing them with Surgery Updates with Dr. Pawlik to highlight the exciting work happening in the Department of Surgery.
These video updates included:
The importance of the new 26-story University Hospital project, by Carrie Sims, MD, PhD, and Wendy Wahl, MD.
Bradley Needleman, MD; Chris Ellison, MD, the Robert M. Zollinger Professor of Surgery Emeritus; and Mary Pat Borgess, MD, sharing why they donate and the importance of endowed professorships.
Our department's efforts in keeping diversity, equity and inclusion at the forefront of patient care, featuring our department's vice chair of DEI, Sabrena Noria, MD; The Ohio State University College of Medicine finance manager, Booker Wooten; general surgery resident, Amblessed Onuma, MD; and critical care surgeon, Brett Tracy, MD.
Thanks to donor generosity, we hosted a Department of Surgery Showcase, a virtual event that was attended by both donors and patients. Presentations included:
Carrie Sims, MD, PhD, sharing the importance of the Division of Trauma, Critical Care and Burn and its impact on central Ohio.
Benjamin Poulose, MD, talking about the Center for Abdominal Core Health and the challenges of opioid use in surgery patients.
Bradley Needleman, MD, demonstrating the da Vinci robot and discussing the benefits of minimally invasive surgery.
If you'd like to explore our programs or make a donation to advance surgical programs and research, please visit medicine.osu.edu/surgerygiving.
New professorship honors Adenil Day
Thanks to a generous donation from the Brighter Days Foundation, we've established the Adenil Day Designated Professorship at The Ohio State University Comprehensive Cancer Center – Arthur G. James Cancer Hospital and Richard J. Solove Research Institute (OSUCCC – James).
The inaugural professorship has been awarded to Robert Merritt, MD, director of the Division of Thoracic Surgery and clinical professor of Surgery. A designated professorship such as this is among the highest honors bestowed upon a physician.
Adenil Day was the mother of PGA golfer Jason Day. She died in March of 2022 after a five year battle with lung cancer. Her family said they established the professorship with her in mind, saying they wanted "to honor and celebrate her as the matriarch of our family and the foundation, as well as to help carry on the lifesaving research and care in thoracic surgery and oncology."
The professorship aligns with one of the foundation's missions, which is to continue advancing both thoracic oncology research and thoracic surgery at the OSUCCC – James.
The foundation's hope is that this professorship and paying honor to Adenil will move us one step closer to a cancer-free world.