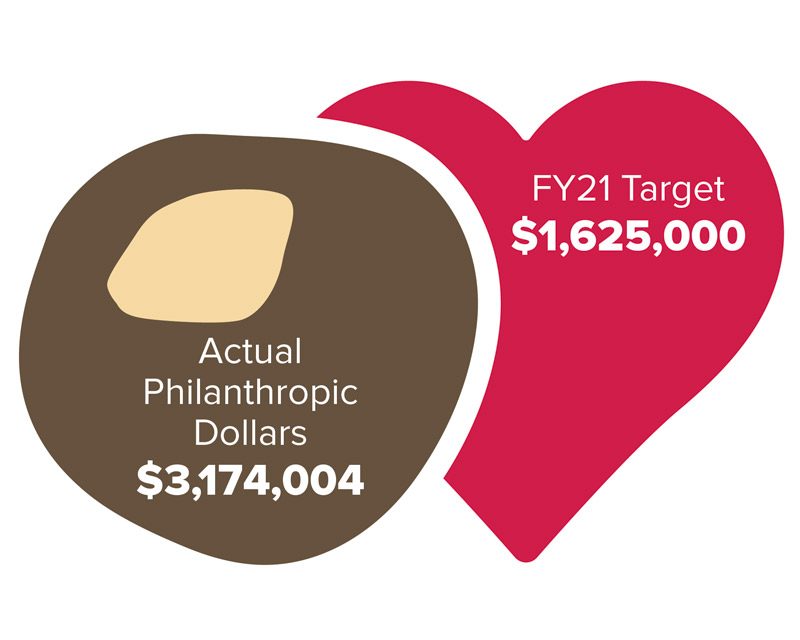 The pandemic forced a shift to virtual meetings and engagements for our philanthropy efforts, but we discovered the power of strong relationships during uncertain times.
Focusing on smaller, more targeted audiences, including both corporations and individuals, we creatively employed videos and virtual events to inform and engage potential donors from a distance.
The results were heartening.
We started Fiscal Year '21 with a goal of raising $1.625 million in donations for the Department of Surgery. We ended up raising $3.174 million, or 95% more than our target!
The virtual events revealed how engaging and inspiring our faculty can be when their innovation, foresight and knowledge is highlighted. We hope to expand the visibility of our department so potential donors can envision the difference their philanthropy can make. As we look forward, we are energized to continue the push for additional donations in support of our research, Global Surgery Residency Program — which is gearing up for new travel possibilities — and endowed positions to retain and attract the best and brightest surgeons and researchers.
If you'd like to explore more about our available programs or make a donation to advance surgical programs or research, please visit medicine.osu.edu/departments/surgery/giving.
Stevens Family makes generous gift to Comprehensive Transplant Center
George Stevens describes his son John's path to a heart transplant in a way that only a parent can. He talks about the struggles and the challenges, but also the joy and relief when it was his turn to get a new heart. During this entire time the staff at The Ohio State University Wexner Medical Center was always very caring and helpful as John's medical condition worsened. For most anyone undergoing a major transplant, this is a once in a lifetime experience and neither the patient nor the family know exactly what to expect. This experience was made much less stressful by the kind, courteous attention of every member of the hospital staff.
It's that appreciation that led the Stevens family to make a very generous gift in support of the Comprehensive Transplant Center. It is their hope that their philanthropy "will enable others to have the same positive experience with their medical issues." Their support will help fund groundbreaking research, education for the transplant surgeons of the future, and outstanding patient care. "It means the world to know that he has a new lease on life."