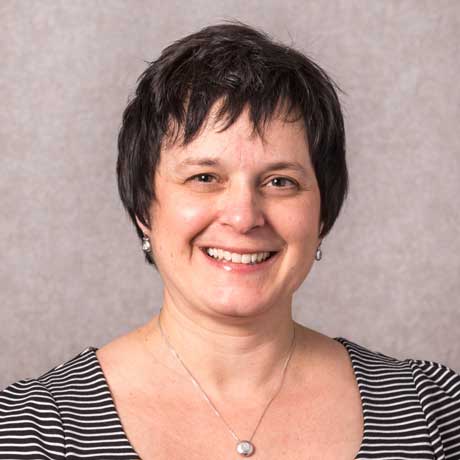 Associate Professor, Division of Human Genetics, Department of Internal Medicine
Director, Genetic Counseling Graduate Program
Associate Director, Division of Human Genetics
Division of Human Genetics
2012 Kenny Road
Columbus, OH 43221
Phone: 614-293-6694
Email: dawn.allain@osumc.edu
Licenses and Certifications
Certified Genetic Counselor, American Board of Genetic Counseling, 2016
Licensed Genetic Counselor, State Medical Board of Ohio, 2013
Specialty Interests
Genetic counseling service delivery models, genetic counselor credentialing, genetic services billing, and reimbursement, genetic counselor and health professional education, adult medical genetics
Clinical Interests
Ms. Allain provides genetic counseling services to patients in the Adult Genetics and Genomics Program, as well as the Nisonger Center's Interdisciplinary Developmental Clinic.
Education
BS: Biology, University of New Hampshire, 1989
MS: Genetic Counseling, Northwestern University, 1993
Professional Activities
Ms. Allain is a Past-President (2003-2004) and previous board member (2000-2006) of the National Society of Genetic Counselors (NSGC). She was also founding board member and past Vice-Chair of the Genetic Counseling Foundation. She has been a member of NSGC since 1991, and has been active in the development of the Society's educational programs serving as co-chair of the Annual Education Conference in 2002 and as chair of the Annual Education Conference Subcommittee (2000-2002). She was a founding member and past co-chair (2009-2010) of the NSGC's Personalized Medicine Special Interest Group (SIG), as well as a founding member of the Metabolic SIG and Education SIG. She is the past chair of the NSGC Jane Engelberg Memorial Fellowship Advisory Group and Licensure Subcommittee. She has also served on the NSGC Billing and Reimbursement Task, Technical Expert Research Panel, the gene patenting and nondiscrimination position statement work-groups, and the NSGC Ethics Advisory Group. She is a recipient of the NSGC's 2008 Strategic Leadership Award and the NSGC's 2011 Jane Engelberg Memorial Fellowship. Ms. Allain currently serves on the Accreditation Council for Genetic Counseling Board of Directors, is the current Chair of the ACGC Program Review Committee, and a member of the ACGC Executive Committee. She is also a current member of the ASHG Program Committee.
Since beginning her career as a genetic counselor, she has continually worked on efforts to achieve genetic counselor state licensure, institutional credentialing, and CMS recognition in order to enhance access to genetic counseling services. As such, Ms. Allain's research and professional activities have centered on access to and delivery of genetic counseling services.
Chapters in Books

Clinical Services

Editorial Activities

Journal Articles

Reference Works

Softwares

Presentations

Technical Reports

Unpublished Works
Advising
Advising
Undergraduate Advising Narrative

Noteworthy Graduate Narrative

Master Graduate Advising

Academic Advisees