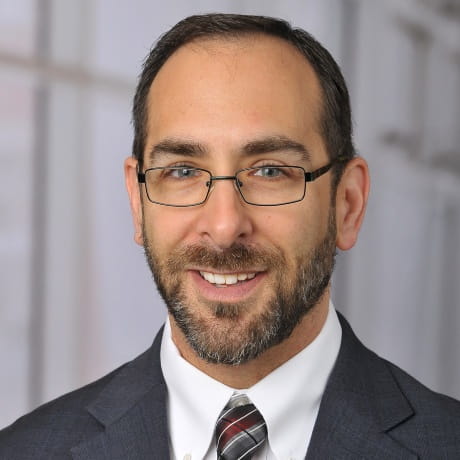 As a pulmonary and critical care physician, my clinical practice is comprised of general outpatient and inpatient care for patients with acute or chronic lung disease and the care of patients in the medical intensive care units at The Ohio State University Wexner Medical Center. I also have an active research program focused on the cellular and molecular underpinnings of chronic fibrotic lung diseases such as Idiopathic Pulmonary Fibrosis with the long term goal of identifying novel therapeutic targets that will improve the lives of patients. I strive to communicate in a direct, honest and compassionate manner, to complete a thoughtful and reasoned diagnostic assessment and to partner with patients to determine the optimal therapies. Ultimately, my goal is to combine the best medical evidence with each patient's goals and preferences to personalize the care of each patient.
Outside of work, I enjoy time with my wife and my two daughters. I enjoy sports, especially baseball, football, college basketball and gymnastics. Originally from the west suburbs of Chicago, I am a passionate Cubs and Bears fan. I enjoy exercising regularly, occasional travel, and Star Wars, Avengers, LoTR and GoT.
Highlights
Division Director, Division of Pulmonary, Critical Care and Sleep Medicine (2020)
Director, Interstitial Lung Disease Program
Endowed Professorship in Pulmonary Research
Research Funding from National Institutes of Health (2005-current)
Fellow of the American Thoracic Society (2018)
Editorial Board Member: The American Journal of Respiratory Cell and Molecular Biology (since 2017) and The American Journal of Pathology (2009-2021)
Deputy Editor (2017-2019), Associate Editor (2016-2017) and Editorial Board Member (2019-present) of Respirology: the Official Journal of the Asian Pacific Respiratory Society
Sequence Director, M1 and M2 Respiratory Sequence (physiology and pathophysiology), University of Michigan Medical College (2015-2019)
Fellow of the American College of Chest Physicians (2008)
T. Franklin Williams Scholar of the Association of Specialty Professors (2008)
Recipient of the Dalsemer Award for Research in Interstitial Lung Disease from the American Lung Association (2006)
Medical Staff Award for Clinical Excellence, Rush Medical College (1998)
Alpha Omega Alpha, Rush Medical College (1998)
Phi Beta Kappa, Syracuse University (1993)
Research Interests
Mechanistic regulation of fibroblast survival and function by soluble and extracellular-matrix derived signaling during lung injury, repair and resolution, with a focus on how these mechanisms contribute to the pathogenesis of fibrotic lung diseases such as idiopathic pulmonary fibrosis (IPF).
Education and Training
MD, Rush Medical College, Chicago, IL 1998
Residency, Internal Medicine, Department of Internal Medicine, Rush Presbyterian-St. Luke's, Medical Center, Chicago, IL 2001
Fellowship, Pulmonary & Critical Care Medicine, University of Michigan Health System, Ann Arbor, MI 2004
Clinical and Research Fellow, Division of Pulmonary & Critical Care Medicine, University of Michigan, Ann Arbor, MI 2004
Postdoctoral Research Fellow, Pulmonary & Critical Care Medicine, University of Michigan, Ann Arbor, MI 2006
Certifications
National Board of Medical Examiners – Medicine 01/2001-present
American Board of Internal Medicine, Internal Medicine - Internal Medicine 08/2001-12/2011
American Board of Internal Medicine, Pulmonary Disease - Subspecialty Pulmonary Disease 11/2003-11/2023
American Board of Internal Medicine, Critical Care Medicine - Subspecialty of Critical Care Medicine 11/2004-11/2024