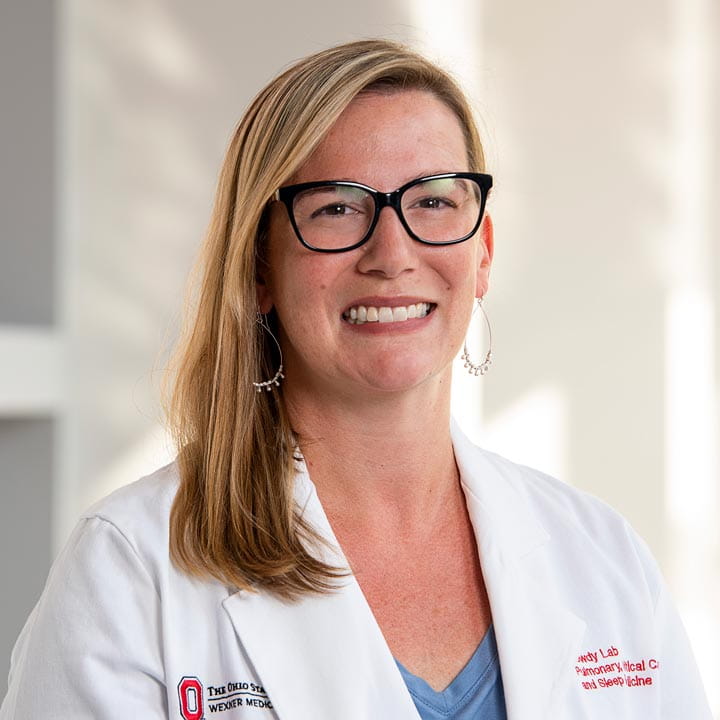 Associate Professor of Internal Medicine, Courtesy Faculty member in the Department of Microbial Infection and Immunity
473 W. 12th Ave.
Room 507
Columbus, OH 43210
614-685-0212
Kymberly.Gowdy@osumc.edu
Follow on Twitter: @GowdyKymberly
Biography
Dr. Gowdy is an Associate Professor at The Ohio State University (OSU) where she leads a research program in the Department of Internal Medicine focused on how air pollutants can influence chronic lung diseases, both infectious and inflammatory. Her research has resulted in more than 50 research publications with that include her trainees and various extramural and intramural grants. Dr. Gowdy is an ad-hoc reviewer for multiple study sections (American Thoracic Society, American Heart Association) and is a standing member of SIEE standing NIH study section. She also is active in journal peer reviews including her role as Associate Editor for Toxicological Sciences and an Editorial Board member for Journal of Immunology, American Journal of Physiology-Lung Cellular and Molecular Physiology, Life Sciences, and Frontiers in Immunology. In addition to her research career, Dr. Gowdy is passionate about mentoring, career development, and teaching the next generation of toxicologists. She started the Eastern North Carolina Chapter of Graduate Women in Science in 2016, a chapter that now has more than 100 members. She has mentored numerous research faculty, postdoctoral fellows, graduate students, and undergraduates. She also currently contributes to the biomedical and toxicology curriculum at OSU for graduate and public health students. Lastly, she is currently the Vice President of the Society of Toxicology Inhalation and Respiratory Specialty Section.
Research Interests
Our lungs are constantly being challenged by environmental exposures (air pollutants, particulate matter, noxious gases, allergens, viruses, bacteria, etc). The central focus of our research is to explore and identify novel mechanisms of how environmental exposures can lead to lung and/or cardiovascular disease pathogenesis. We also have a great interest to understand how environmental exposures can alter the pulmonary immune response, making the lung more susceptible to infection. Of particular interest is determining the role of scavenger receptors in preventing infectious and inflammatory lung diseases. Our research, is currently funded by the National Institutes of Health, and we collaborate with multiple investigators at Ohio State University, Nationwide Children's Hospital, Duke University, National Institutes of Environmental Health Sciences (NIEHS), University of North Carolina, and Vanderbilt University to collectively understand the health risks associated with environmental exposures. Our research provides fundamental information from basic and translational models of lung disease. More information on our research program can be found here: http://www.gowdyenvironmentallunglab.com/
Current Research
Uncovering molecular mechanisms by which air pollution increases susceptibility to pulmonary infections.
Understanding the influence of lipid mediators on the pulmonary inflammatory response following air pollution exposure
Evaluating how dietary fatty acids mitigate/influence environmental lung diseases.
Active Funding
1R01ES031378-01
Title: Dietary DHA mitigates ozone induced pulmonary inflammation
Principal Investigator: Kymberly Gowdy, PhD
1R01ES028829-01A1
Title: Novel role for CD163 in ozone induced alterations of pulmonary immunity
Principal Investigator: Kymberly Gowdy, PhD
Education
Postdoctoral Fellowship, Laboratory of Respiratory Biology, NIEHS/NIH, Research Triangle Park, NC
Postdoctoral Research, Duke University Medical Center, Durham, NC
PhD: North Carolina State University, Raleigh, NC
MS: North Carolina State University, Raleigh, NC
BS: Virginia Polytechnic Institute, Blacksburg, VA
Honors
Young Investigator Award, Inhalation and Respiratory Specialty Section, Society of Toxicology, 2017
Outstanding Young Investigator Award, Immunotoxicology Specialty Section, Society of Toxicology, 2016
Career Development Award, Center for Human Health and the Environment, 2015 & 2018
Walter A. Rosenblith New Investigator Award, Health Effects Institute, 2015
Publications
Scavenger Receptor BI Attenuates IL-17A-Dependent Neutrophilic Inflammation in Asthma. Reece SW, Varikuti S, Kilburg-Basnyat B, Dunigan-Russell K, Hodge MX, Luo B, Madenspacher JH, Thomas SY, Tokarz DA, Tighe RM, Cook DN, Fessler MB, Gowdy KM. Am J Respir Cell Mol Biol. 2021 Jun;64(6):698-708. doi: 10.1165/rcmb.2020-0007OC.PMID: 33647226
Sex Differences in Pulmonary Eicosanoids and Specialized Pro-Resolving Mediators in Response to Ozone Exposure. Yaeger MJ, Reece SW, Kilburg-Basnyat B, Hodge MX, Pal A, Dunigan-Russell K, Luo B, You DJ, Bonner JC, Spangenburg EE, Tokarz D, Hannan J, Armstrong M, Manke J, Reisdorph N, Tighe RM, Shaikh SR, Gowdy KM.Toxicol Sci. 2021 Aug 30;183(1):170-183. doi: 10.1093/toxsci/kfab081.PMID: 34175951
Sex Modifies Acute Ozone-Mediated Airway Physiologic Responses. Birukova A, Cyphert-Daly J, Cumming RI, Yu YR, Gowdy KM, Que LG, Tighe RM.Toxicol Sci. 2019 Jun 1;169(2):499-510. doi: 10.1093/toxsci/kfz056.PMID: 30825310
Specialized Pro-Resolving Lipid Mediators Regulate Ozone-Induced Pulmonary and Systemic Inflammation. Kilburg-Basnyat B, Reece SW, Crouch MJ, Luo B, Boone AD, Yaeger M, Hodge M, Psaltis C, Hannan JL, Manke J, Armstrong ML, Reisdorph N, Tighe RM, Shaikh SR, Gowdy KM.Toxicol Sci. 2018 Jun 1;163(2):466-477. doi: 10.1093/toxsci/kfy040.PMID: 29471542
Previous Appointments

Publications