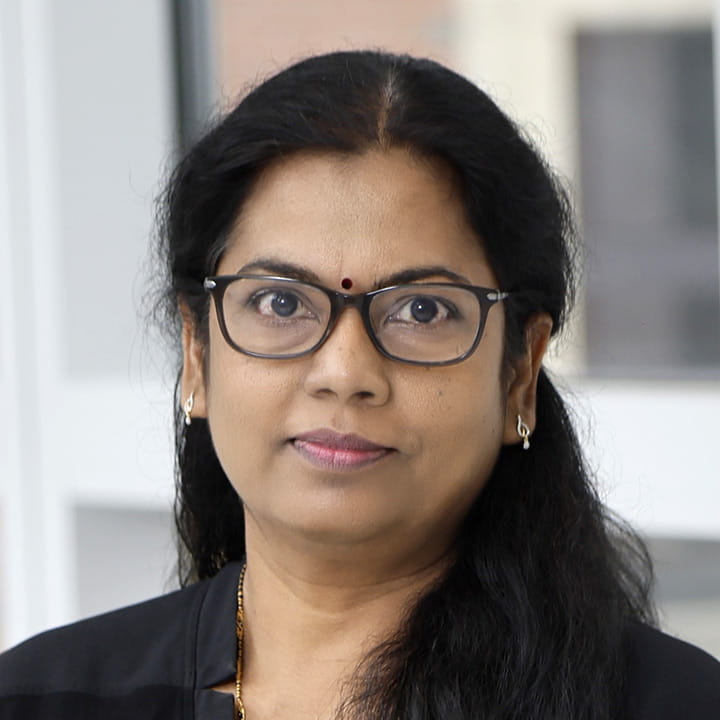 Research Assistant Professor
473 W 12th Ave
Columbus OH 43210
614 292 3834
manjula.karpurapu@osumc.edu
Education and Training
PhD: University of Hyderabad, India
MSc: University of Hyderabad, India
Research Interests
My research aims to understand the molecular mechanisms of pulmonary inflammation and how it resolves. Specifically, I investigate transcriptional gene regulation, macrophage-lung structural cell interactions, and the role of extracellular vesicle cargo in ARDS pathophysiology.
Peptide inhibitors to target Calcineurin-NFATc3 signaling.
Extracellular vesicles in ALI/ARDS.
PU.1- DNA binding interactions.
Metabolites of arachidonic acid in inflammation.
Funding
AHA Scientist development grant (PI) 2017-2020
NHLBI-RO1 HL137224 (Co-I) 2022-2025
Select Publications
Nirujogi TS, Kotha SR, Chung S, Reader BF, Yenigalla A, Zhang L, Shapiro JP, Wisler J, Christman JW, Maddipati K, Parinandi NL, Karpurapu M. Lipidomic Profiling of Bronchoalveolar Lavage Fluid Extracellular Vesicles Indicates Their Involvement in Lipopolysaccharide-Induced Acute Lung Injury. J Innate Immun. 2022 Apr 1:1-14.
Dougherty PG, Karpurapu M, Koley A, Lukowski JK, Qian Z, Srinivas Nirujogi T, Rusu L, Chung S, Hummon AB, Li HW, Christman JW, Pei D. A Peptidyl Inhibitor that Blocks Calcineurin-NFAT Interaction and Prevents Acute Lung Injury. J Med Chem. 2020 Nov 12;63(21):12853-12872.
Nie Y, Nirujogi TS, Ranjan R, Reader BF, Chung S, Ballinger MN, Englert JA, Christman JW, Karpurapu M. PolyADP-Ribosylation of NFATc3 and NF-κB Transcription Factors Modulate Macrophage Inflammatory Gene Expression in LPS- Induced Acute Lung Injury. J Innate Immun. 2021;13(2):83-93.
Karpurapu M, Lee YG, Qian Z, Wen J, Ballinger MN, Rusu L, Chung S, Deng J, Qian F, Reader BF, Nirujogi TS, Park GY, Pei D, Christman JW. Inhibition of nuclear factor of activated T cells (NFAT) c3 activation attenuates acute lung injury and pulmonary edema in murine models of sepsis. Oncotarget. 2018 Jan 25;9(12):10606-10620.
Ranjan R, Deng J, Chung S, Lee YG, Park GY, Xiao L, Joo M, Christman JW, Karpurapu M. The transcription factor nuclear factor of activated T cells c3 modulates the function of macrophages in sepsis. J Innate Immun. 2014;6(6):754-64.
Karpurapu M, Ranjan R, Deng J, Chung S, Lee YG, Xiao L, Nirujogi TS, Jacobson JR, Park GY, Christman JW. Krüppel like factor 4 promoter undergoes active demethylation during monocyte/macrophage differentiation. PLoS One. 2014 Apr 2;9(4):e93362.
Karpurapu M, Wang X, Deng J, Park H, Xiao L, Sadikot RT, Frey RS, Maus UA, Park GY, Scott EW, Christman JW. Functional PU.1 in macrophages has a pivotal role in NF-κB activation and neutrophilic lung inflammation during endotoxemia. Blood. 2011 Nov 10;118(19):5255-66.
Cheranov SY, Karpurapu M, Wang D, Zhang B, Venema RC, Rao GN. An essential role for SRC-activated STAT-3 in 14,15-EET-induced VEGF expression and angiogenesis. Blood. 2008 Jun 15;111(12):5581-91.
Chava KR, Karpurapu M, Wang D, Bhanoori M, Kundumani-Sridharan V, Zhang Q, Ichiki T, Glasgow WC, Rao GN. CREB-mediated IL-6 expression is required for 15(S)-hydroxyeicosatetraenoic acid-induced vascular smooth muscle cell migration. Arterioscler Thromb Vasc Biol. 2009 Jun;29(6):809-15.
Karpurapu M, Wang D, Singh NK, Li Q, Rao GN. NFATc1 targets cyclin A in the regulation of vascular smooth muscle cell multiplication during restenosis. J Biol Chem. 2008 Sep 26;283(39):26577-90.