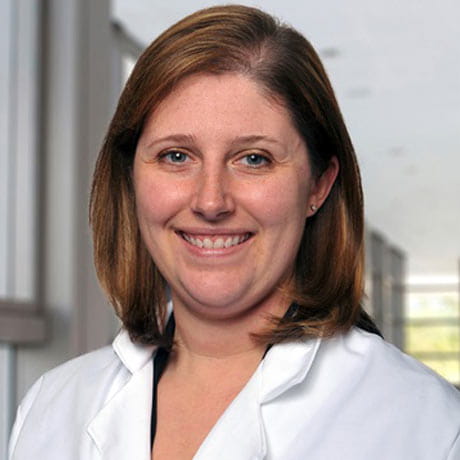 Lab: 355 DHLRI
Office: 405A DHLRI
614-292-6578
Megan.Ballinger@osumc.edu
Biography
I received a bachelor's degree in Biological Sciences from the University of Toledo where I became interested in a career in basic/translational research while working in a molecular parasitology lab investigating how to inhibit pharyngeal pumping as a mechanism to eliminate nematodes from the gut. From there, I traveled north to the University of Michigan and graduated with a PhD in Immunology. My research focused on the role of lipid mediators in regulating lung host defense function of macrophages and neutrophils following bone marrow transplantation. I remained at the University of Michigan and completed two postdoctoral research fellowships focused on understanding innate immunology within the lung microenvironment. My first postdoc focused focusing on cAMP signaling pathways in regulating macrophage phagocytosis and killing of bacteria. Then I switched my focus to understanding the role of Toll-like receptor signaling after hyperoxia in a model of non-infectious lung injury. In 2014, I secured a faculty position at The Ohio State University in the Department of Internal Medicine and Division of Pulmonary, Critical Care and Sleep Medicine. My research has focused on investigating the role of macrophages in regulating chronic lung disease, such as pulmonary fibrosis and asthma.
Research Interests
Macrophage Immunology
Pulmonary fibrosis
Toll-like receptor signaling
Allergic inflammation and asthma
Current Research
Investigating the role of IRAK-M in regulating pulmonary fibrosis
Understanding macrophage-fibroblast interactions in the setting of pulmonary fibrosis
Investigator mechanisms of ozone-induced allergic inflammation that cause asthma exacerbations
Active Funding
NIH/NHLBI R01HL141217
The Pivotal Role of Macrophages in Regulating Pulmonary Fibrosis
OSU President's Research Excellence Accelerator Award
Development of novel targets for preventing mechanically induced injury in lung fibrosis patients
OSU Dean's Development Grant
TSLP mediates asthma exacerbation following ozone exposure
NIH/NHBLI F32HL164020
Influence of macrophage-fibroblast interaction and mechanotransduction on fibrotic progression
NIH/NHLBI R43HL165998
The role of Oxy210 in regulating pulmonary fibrosis
Education
Post-doctoral Research Fellowship: University of Michigan, Ann Arbor, MI
PhD: Immunology Program in Biomedical Sciences, University of Michigan, Ann Arbor, MI
BS: (Honors)-Magna Cum Laude, Major: Biological Science; Minor: Biochemistry University of Toledo Toledo, OH
Honors
American Journal of Cell and Molecular Biology Top Review Award, 2021
ATS Allergy, Immunology and Inflammation Early Career Achievement Awardee, 2019
Jo Rae Wright Award for Outstanding Science, American Thoracic Society, 2016
Parker B. Francis Fellowship, 2012
Internal Medicine Research Day Abstract Finalist, 2010
Keystone Symposium Scholarship Winner, 2009
Hartwell Foundation Fellowship , 2008
The Miller Fund Award for Innovative Immunology Research, 2005
Graduate of University of Toledo Honors College, University of Toledo, 2002
Sullivan Research Fellowship, 2000
University of Toledo Academic Scholarship, University of Toledo, 1998
Publications
Reader BF, Sethuraman S, Hay BR, Thomas Becket RV, Karpurapu M, Chung S, Lee YG, Christman JW, Ballinger MN. IRAK-M Regulates Monocyte Trafficking to the Lungs in Response to Bleomycin Challenge. J Immunol. 2020 May 15:204(10):2661-2670.
Lee YG, Reader BF, Herman D, Streicher A, Englert JA, Ziegler M, Chung S, Karpurapu M, Park GY, Christman JW, Ballinger MN.Sirtuin 2 enhances allergic asthmatic inflammation JCI Insight. 2019 Jan 22. pii: 124710. doi: 10.1172/jci.insight.124710.
Neagos J, Newstead MW, Zheng X, Huang S, Standiford TJ, Ballinger MN. The induction of tolerance in alveolar epithelial cells in response to TLR ligands. Am J Respir Cell Mol Biol. 2015 Dec;53(6):872-81
Ballinger MN, Newstead MW, Zheng X, Bhan U, Mo XM, Kunkel SL, Moore BB, Flavell F, Christman JW, Standiford TJ. IRAK-M promotes alternative macrophage activation and fibroproliferation in bleomycin-induced lung injury. J Immunol. 2015 Feb 15;194(4):1894-904.
Ballinger MN, Newstead MW, Zeng X, Bhan U, Horowitz JC, Moore BB, Pinsky DJ, Flavell RA, Standiford TJ. Critical role for IRAK-M in regulating antioxidant production during hyperoxic lung injury J. Immunol 2012 Jul 1;189(1):356-64.
Journal Articles

Presentations