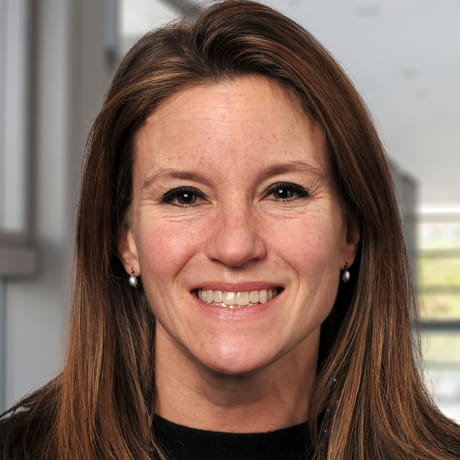 Research Interests
Breathing disorders (airway stenosis, vocal cord dysfunction, use of jet ventilation)
Smoking-related vocal cord disorders
Recurrent respiratory papillomatosis and HPV vaccination
Professional voice users (singers, teachers, etc)
Swallowing disorders
Education
Undergraduate
BA, Dartmouth College | Sept 1996 - June 2000
Major: English
Concentrations: Spanish, Anthropology

Universitat Central de Barcelona (under the auspices of Dartmouth College) | Jan - March 1998
Spanish concentration: coursework in art, architecture, literature, and language

University of the West Indies (under the auspices of Dartmouth College) | Aug - Dec 1999
Post-Colonial Literature concentration: coursework in West Indian literature

Professional
Fellowship training in Laryngology under Dr. C. Blake Simpson, University of Texas San Antonio | July 2011 - June 2012

Residency training in Otolaryngology, Ohio State University Medical Center | July 2006 - June 2011

MD, University of Cincinnati College of Medicine | Aug 2002 - June 2006
Contact Information
Email:
Laura.Matrka@osumc.edu
Phone:
614-366-2092 or 614-293-0363
Research Projects
Research Projects
Current Research

Cricopharyngeal Dysfunction and Esophageal Diverticulum Prospective, Multi-Institutional Study
Description: A prospective, multi-institutional surgical dysphagia outcomes for Zenker's esophageal diverticulum.

Voice Outcomes Following Transcutaneous Steroid Injection for Vocal Fold Nodules Combined with Voice Therapy Compared to Voice Therapy Alone
Description: A prospective, randomized trial investigating whether injection of dexamethasone into the vocal cords at site of nodules leads to improved rates of resolution over voice therapy alone.

Customized Tracheostomy Fistula Plug
Description: A study looking at a customized silicone plug designed to seal a tracheocutaneous fistula by plugging the hole connecting your windpipe to your skin.

Predicting Need for Prolonged Ventilation in Hospitalized Patients
Description: A study comparing the predictive value of the i-TRACH scale vs a modified i-TRACH scale including BMI in predicting length of oral intubation

Prescribing Patterns of Narcotics Following Tonsillectomy and Laryngologic Surgery
Description: A study evaluating whether physicians over-prescribe narcotics after tonsillectomy. A second study evaluating laryngologic surgeries is underway.

Understanding Subglottic Stenosis and the Disease that Cause it
Description: A collaboration with rheumatology colleagues investigating the diagnosis delay in autoimmune or idiopathic subglottic stenosis

Lupus and Vasculitis Registry and Rheumatology and Immunology Biorepository
Description: A registry and tissue bank enabling study of autoimmune and idiopathic subglottic stenosis, among many other disorder

Does therapy for PVFMD provide benefit to patients with comorbid COPD?
Description: A study showing that COPD patients appear to benefit from laryngeal control therapy at similar rates to the broader PVFD population.

The utility of computational fluid dynamics in laryngotracheal stenosis
Description: A pilot study comparing CFD indices among a normal control, an airway stenosis patient, and post-resection airway in same patient.

The effect of a multidisciplinary airway conference on management decisions and treatment outcomes
Description: A study of outcomes associated with surgical management of airway disease after implementation of a multi-disciplinary group.

Cricopharyngeal Dysfunction and Esophageal Diverticulum: a Prospective, Multi-Institutional Study Proposal
Description: Comparison of surgical approaches to CP hypertrophy and Zenker's diverticulum

Botox Use in Refractory Paradoxical Vocal Fold Motion Disorder
Description: Case series of patients treated with botox injection for dyspnea related to paradoxic vocal fold movement.

Histopathology of Vocal Fold Pyogenic Granuloma: A 10-Year Retrospective Review
Description: Retrospective review of a rare pathology and comparison to other types of granulomas affected the vocal folds.

Characteristics of patients undergoing arytenoidectomy with and without tracheostomy for bilateral vocal fold immobility
Description: Retrospective review assessing the factors that determine whether arytenoidectomy can be done safely without a tracheostomy. Multi-institutional collaboration with U Texas in San Antonio.

Jet Ventilation in Airway Surgery. PI: Laura Matrka, MD
Description: A review of complications and predictors of success in endoscopic airway surgery for tracheal stenosis.

Complications of in-office laryngologic procedures in patients on anticoagulation therapy
Description: A review of safety and outcomes of office procedures performed on patients who are anticoagulated.

Use of adjuvant therapy in recurrent respiratory papillomatosis
Description: A review of RRP cases requiring cidofovir injection and success rates with various treatment regimens.

Characterizing Risk Factors Associated with Tracheal Stenosis Following Tracheostomy
Description: A review of all patients undergoing tracheostomy at OSU in recent years to determine our rate of development of tracheal stenosis and the factors that influence it.

Clinical Outcomes of Polypoid Corditis Patients
Description: A retrospective review of 400 patients with polypoid corditis that examines rates of dysplasia and malignancy, among other clinical factors.

Treatment Alternatives in Adult Rare Disease; Assessment of Options in Idiopathic Subglottic Stenosis
Description: A multi-institutional prospective study collecting comprehensive clinical data on patients with Idiopathic SGS.

Laryngeal Injuries in the Intubated ICU Patient
Description: A prospective trial documenting laryngeal injuries occurring after intubation in ICU patients at various timepoints. IRB approved, accruing patients. Recipient of FAME Short Clinical Project Competition award.

Additional Research

Development of an Adult Laryngeal Papilloma Tissue Cell Line and Mouse Model Description:

Establishment of a tissue bank of papilloma specimens, with plan to expand to pediatric population if successful.

Botulinum Toxin Injection for Aphonia after Total Laryngectomy Description:

A retrospective study of Botox dosages and success rates of office Botox injections used to treat aphonia after total laryngectomy in voice prosthesis users.

Association Between Personality Traits and Voice Therapy Compliance and Outcomes in Patients with Benign Voice Pathology and Paradoxical Vocal Fold Dysfunction Description:

Prospective cohort assessing the association between personality traits as determined by the Big Five Inventory and voice therapy compliance and outcomes in patients with benign voice pathology or paradoxical vocal fold dysfunction.

Expanding Otolaryngology Coverage with Use of Telemedicine at a Tertiary Care, Academic Medical Center Description:

Pilot study to determine feasibility of a telemedicine platform used in the care of Otolaryngology patients.

Outcomes of Voice Therapy in Singers with Muscle Tension Dysphonia Description:

A retrospective review of efficacy of voice therapy for MTD in singers.

Expansion of Study: Does Treatment of Paradoxical Vocal Fold Motion Disorder Lead to Decreased Medication Use? Description:

Collecting additional data on PFT patterns in patients treated for PVFMD in relation to their asthma medication use. Also collecting longer-term follow-up data on these patients, including ER visits and healthcare utilization patterns. This is a follow-up of initial prospective observational study investigating asthma medication use prior to and 6 months after diagnosis and treatment of Paradoxical Vocal Fold Motion Disorder.
Research Accomplishments
Research Accomplishments
Publications

Calamari K, Politano S, Rygalski C, Brannan Z, Matrka L. Predictive value of difficult airway identifiers for intubation-related complications in the ED. Laryngoscope Investigative Otolaryngology.

Gelbard A, Anderson C … Matrka L, Francis D. Association of Social Determinants of Health with Time to Diagnosis and Treatment Outcomes in Idiopathic Subglottic Stenosis. Ann Otol Rhinol Laryngol 2021 Feb 25;3489421995283. PMID 33629608. doi: 10.1177/0003489421995283. Online ahead of print.

K Calamari, S Politano, Matrka L Can the EDI distinguish PVFMD from airway stenosis in obese patients? Ann Otol Rhinol Laryngol. 2021 Feb 1;3489421990154. PMID 33522261. doi: 10.1177/0003489421990154. Online ahead of print.

Ivancic R, Matrka L, Wiet G, Puckett A, Haney J, deSilva BW. Reduced asthma medication use after treatment of pediatric paradoxical vocal fold motion disorder. Laryngoscope 2020 Dec 4. PMID 33274767. doi: 10.1002/lary.29283. Online ahead of print.

Politano S, Morell F, Calamari K, deSilva B, Matrka L. Yield of Imaging to Evaluate Unilateral Vocal Fold Paralysis of Unknown Etiology. Laryngoscope 2020 Oct 3. PMID 33009830. doi: 10.1002/lary.29152. Online ahead of print.

Silverman DA, Lin C, Matrka LA. Paratracheal phlegmon following in-office steroid injection for idiopathic subglottic stenosis. Otolaryngology Case Reports Volume 16, September 2020, 100192. DOI 10.1016/j.xocr.2020.100192

Nyirjesy S, Matrka L. Spontaneous Regression of Recurrent Respiratory Papillomatosis with HPV Vaccination: A Case Study. Journal of Voice. 2020 Sep 2;S0892-1997(20)30302-7. DOI: 10.1016/j.jvoice.2020.08.013. PMID: 32891477

Straub JM, Calamari KA, Shin TJ, Janse SA, Forrest LA, deSilva BW. Matrka L. The Safety of In-Office Laryngologic Procedures During Active Antithrombotic Therapy. Laryngoscope Investigative Otolaryngology. 2020 Sep 2;5(5):890-894. doi: 10.1002/lio2.451. eCollection 2020 Oct. PMID: 33134536

Kuhar H, Heilingoetter A, Bergman M, Worobetz N, Chiang T, Matrka L. Otolaryngology in the Time of Corona: Assessing operative impact and risk during the COVID-19 Crisis. Otolaryngology–Head & Neck Surgery. 2020 Aug;163(2):307-315. doi: 10.1177/0194599820930214.

K Calamari, S Politano, Matrka L. Does the EDI remain predictive of airway stenosis in obese patients? Laryngoscope. 2021 Mar;131(3):606-609. doi: 10.1002/lary.28850.

Straub J, Shao D, Matrka L. Obesity as a Predictor of Prolonged Mechanical Ventilation. Otolaryngology–Head & Neck Surgery. 2020 May 19:194599820923601. doi: 10.1177/0194599820923601

Gelbard A, Anderson C … Matrka L, Francis D. Comparative Treatment Outcomes for Patients With Idiopathic Subglottic Stenosis. JAMA Otolaryngol Head Neck Surg 2019 Oct 31;146(1):1-10. doi: 10.1001/jamaoto.2019.3022

Ivancic, R, Iqbal, H, deSilva,B, Pan, Q, Matrka, L. Immunologic tolerance of low-risk HPV in recurrent respiratory papillomatosis. Clinical and Experimental Immunology. DOI: 10.1111/cei.13387 Manuscript ID: CEI-2019-8010.R1. Impact factor 3.53

Matrka L, Morrell F. Diagnostic Studies in Work-Up for Bilateral Vocal Fold Paralysis: When and Why. Decision Making in Vocal Fold Paralysis. Eds Amin MR, Johns MM. 2019 Springer.

Matrka L, Soldatova L, deSilva B, Traetow D. Airway Surgery Communication Protocol: A Quality Initiative for Safe Performance of Jet Ventilation. Laryngoscope. 2020 Feb;130 Suppl 1:S1-S13. doi: 10.1002/lary.28271. Epub 2019 Dec 4.PMID: 31800103

Choo S, Nogan S, Matrka L. Postoperative prescriptions and corresponding opioid consumption after tonsillectomy. Accepted for publication 7/2019 by Otolaryngology – Head and Neck Surgery 2019 Jul 30:194599819866823. doi: 10.1177/0194599819866823. PMID:31361554

Phillips R, Seim N, Matrka L, Essig G. Patient Cost Savings Associated with an Outpatient Otolaryngology Telemedicine Clinic. Laryngoscope Investigative Otolaryngology. 2019 April;4:234-240. doi: 10.1002/lio2.244
Mason E, McGhee S, Zao K, Chiang T, Matrka L. The Application of Computational Fluid Dynamics in the Evaluation of Laryngotracheal Stenosis. Annals of Otology, Rhinology & Laryngology. 2019 Jan 28:3489419826601. doi: 10.1177/0003489419826601 PMID:30688077 Imp factor 1.513

deSilva B, Crenshaw D, Matrka L, Forrest A. Vocal Fold Botulinum Toxin Injection for Refractory Paradoxical Vocal Fold Motion Disorder. Laryngoscope. Vocal fold botulinum toxin injection for refractory paradoxical vocal fold motion disorder. 2018 Dec 13. doi: 10.1002/lary.27471. [Epub ahead of print]PMID:30548857

Philips R, Chorath K, deSilva B, Forrest L, Simpson B, Matrka L. Multi-institutional evaluation of medialization laryngoplasty in the elderly. Otolaryngology – Head and Neck Surgery 2018, December 11. doi:10.1177/0194599818817762. Imp factor 2.44

Yiu Y, Fayson S, Smith H, Matrka L. Implementation of routine HPV vaccination in the management of recurrent respiratory papillomatosis. Annals of Otology, Rhinology & Laryngology. 2018, December 29. doi: 10.1177/0003489418821695. Imp factor 1.513

Yiu Y, Tibbetts KM, Simpson CB, Matrka L. Shar Pei Larynx: Supraglottic and Postcricoid Mucosal Redundancy and Its Association With Medical Comorbidities. Ann Otol Rhinol Laryngol. 2018 Nov 7:3489418810893. doi: 10.1177/0003489418810893. [Epub ahead of print]PMID: 30403146

Li M, Yiu Y, Merrill T, Yildiz V, deSilva B, Matrka L. Risk Factors for Post-tracheostomy Tracheal Stenosis. Otolaryngology - Head Neck Surg. 2018 Oct;159(4):698-704. doi: 10.1177/0194599818794456. Epub 2018 Aug 21. PMID:30130451

Phillips R, deSilva B, Matrka L. Jet Ventilation in Obese and Morbidly Obese Patients. Laryngoscope. 2017 Dec 30. doi: 10.1002/lary.27059.PMID:29288493 Imp factor 2.2

Ivancic R, Pan Q, deSilva B, Matrka L. Current and Future Management of Recurrent Respiratory Papillomatosis. Laryngoscope Investigative Otolaryngology. 2018 Jan 14;3(1):22-34. doi: 10.1002/lio2.132.

Philips R, Matrka L, Essig G et al. Developing a Synchronous Otolaryngology Telemedicine Clinic: Prospective Study to Assess Fidelity and Diagnostic Concordance. Laryngoscope 2018 May;128(5):1068-1074. lscope-17-0917.R1 Imp factor 2.2

Kramer S, deSilva B, Forrest A, Matrka L. Does Treatment of Paradoxical Vocal Fold Motion Disorder Decrease Asthma Medication Use? Laryngoscope 2017 Jul;127(7):1531-1537. doi: 10.1002/lary.26416 PMID:27861929 Imp factor 2.2

Soldatova L, DeSilva B, Matrka L. Rate of New Findings in Diagnostic Office Bronchoscopy. The Laryngoscope 2017 Jun;127(6):1376-1380. doi: 10.1002/lary.26310 PMID: 27696422 Imp factor 2.2 Cover article

Soldatova L, Hrelec C, DeSilva B, Matrka L. Can PFTs Differentiate PVFMD from Subglottic Stenosis? Annals of Otology, Rhinology, and Laryngology 2016, Vol. 125(12) 959–964. PMID:27553595 Imp factor 1.4

Matrka L, Li M. Laryngeal Fracture following Violent Sneeze: Management and Biomechanical Analysis. OTO Open. 2018 Feb 14;2(1):
2473974X18757741. doi: 10.1177/2473974X18757741. eCollection 2018 Jan-Mar. PMID:30480206

Matrka L, Ulmer T. Head, Ear, Eye, Nose, and Throat Disorders. In: Rivers C, Dietrich AM, eds. Dr Carol Rivers' Preparing for the Written Board Exam in Emergency Medicine (8th edition). Ohio Chapter, American College of Emergency Physicians, Ohio. 2016;3.

Matrka L, DeSilva, B. Vocal Fold Injection. In: Carrau R, Howell R, eds. Comprehensive Management of Swallowing Disorders. 2016.

Matrka L. Paradoxic Vocal Fold Movement Disorder. In: Calhoun K, ed. Otolaryngol Clin North Am. 2014 Feb;47(1):135-46. doi: 10.1016/j.otc.2013.08.014. Epub 2013 Oct 23. Review.PMID:24286687Imp factor 1.6

Matrka L, Ulmer T. ENT Emergencies. In: Rivers C, Dietrich AM, eds. Dr Carol Rivers' Preparing for the Written Board Exam in Emergency Medicine (7th edition). American College of Emergency Physicians, Ohio. 2014;2.

Matrka L, Simpson CB, King M. The Larynx (Hoarseness). In: Usatine R, ed. The Color Atlas of Family Medicine (2nd edition). McGraw Hill. 2013;2:220-226.

Matrka L, Simpson CB. Phonomicrosurgery for Benign Laryngeal Pathology. In: Saavedra Ortega M, ed. Treaty of Laryngology. Editorial Amolca. In publication

Matrka L, Simpson CB. Anterior Glottic Stenosis. In: Friedman, M and Damron E, eds. Operative Techniques in Otolaryngology – Head and Neck Surgery. 2012;23(2):111-116.

Scaduto M, Matrka L, Wakely P, Shah M, Ozer E. Poorly-differentiated small cell neuroendocrine carcinoma of the submandibular gland: A case report. Ear Nose Throat J 2012 Apr;91(4):E10-3. PMID: 22522359 Imp factor 0.7

Meacham R, Matrka L, Wakely P, Ozer E, Schuller DE, Agrawal A. Neuroendocrine carcinoma of the head and neck; a 20-year Case Series. Ear Nose Throat J. 2012 Mar;91(3):E20-4. PMID: 22430343 Imp factor 0.7

Matrka L, Steward DL, Shah A, Nikiforov U. Pharmacodynamic effect of iopanoic acid as preoperative management of progressive amiodarone-induced thyrotoxicosis. Ear Nose Throat J 2008 87(12):702-4. PMID: 19105148 Imp factor 0.7
Additional Information
Additional Information
Academic Appointments

Associate Professor,

June 2012 - present

Department of Otolaryngology - Head and Neck Surgery

The Ohio State University College of Medicine

Sept 2012 - present

Nationwide Children's Hospital

December 2012 - present

Fayette County Memorial Hospital

Awards and Honors

Professional

Nominated to speak as an ally on panel, "What Does it Take to be a Racial Ally?": 2021 Annual Education Symposium "Disrupting Racism in Health Science Education and Research: Enhancing Our Skills as Educators", Jan 2021
Castle Connolly Exceptional Women in Medicine award 2020, Dec 2020
Invited Lecturer, Johns Hopkins Grand Rounds, Laryngology Division, Oct 2020
Named to Castle Connolly's Top Doctors 2019, 2020, Oct 2019
Invited guest faculty for University of Wisconsin-Madison Laryngeal Dissection Course,

May 2019
Top Otolaryngologist award, Women in Medicine, Oct 2019
Program Planning Committee, Triologic Society, 123rd Annual Meeting,

Oct 2019 - Apr 2021
Invited Lecturer/Visiting Professorship: Hospital Salvador Bienvenido Gautier departamento de Otorrinolaryngologia Cirugia de Cabeza y Cuello Republica Dominicana, Feb 2019
Triological Thesis accepted by Triological Society Council, January 2019
Top 10% in Patient Satisfaction 2018 (Press Ganey), December 2018
Co-chair of Early Career Laryngologists' group, 2017-2018
Top 10% in Patient Satisfaction 2016 (Press Ganey), December 2016
FAME Short Clinical Project Competition awardee,

October 2016
Exceptional Physician Peer Award, OSU Medical Center,

August 2015
Member, American Bronchoesophageal Association,

June 2015
Post-graduate Member, American Laryngologic Association,

May 2014
Course Faculty: Fall Voice 2016, 2017; Advanced Practices in Voice and Dysphagia 2017, 2018, Oct 2016-Feb 2018

Residency

Recipient of William H. Saunders Research Competition Award,

Jun 2010
93rd and 95th percentiles on Otolaryngology Training Examination,

Mar 2009-2010
Recipient of AAO-HNS Humanitarian Travel Grant and Triologic Society Resident Travel Award, Feb 2009

Medical School

Recipient of the Christian R. Holmes Award: awarded to the member of the graduating class whose performance and academic achievement best exemplifies the importance of excellence in the
discipline of Otolaryngology, June 2006
Junior year nomination for AOA,

May 2005
Charlotte Schmidlapp Scholarship finalist, Apr 2005

Undergraduate

Magna cum laude, Jun 2000
Named a Tucker Fellow by the philanthropic organization Tucker Foundation, Dec 1998
Academic citations in Medical Anthropology and Native American Student, Mar 1999