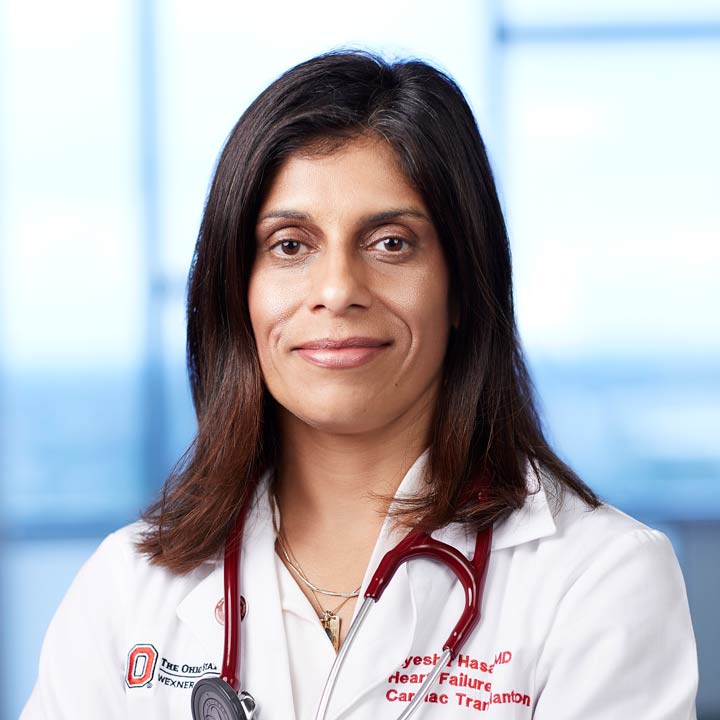 Director, Heart Failure and Transplant Fellowship Program
Associate Professor - Clinical, Cardiovascular Medicine
I started as a faculty member of the Department of Internal Medicine at Ohio State in the heart failure section of cardiology in July 2006. Initially, I performed device implants in the electrophysiology lab based on training for both heart failure and defibrillator/biventricular pacing implants. After three years, I began focusing on our heart failure program. In 2010, I became the medical director of the Cardiac Transplant Program and director of the Advanced Heart Failure and Transplant Fellowship Program. In October 2011, I was promoted to associate professor of clinical internal medicine.

Since 2010, I have published 14 peer-reviewed manuscripts, three book chapters and two editor-reviewed manuscripts. One chapter is in the cardiology textbook, Hursts: The Heart, on diagnosis and management of heart failure, for which I wrote the device-based therapy section for the 12th and 13th editions.

Given my initial training with ICD and CRT implants, I started a CRT non-responder clinic in which I use echo to adjust pacer programming of AV, VV delays to improve cardiac output in patients who have not benefitted clinically or by echo after biventricular pacing in heart failure. I developed the protocol for echo optimization, and also gained medical center approval for this to be recognized an official privilege in echo reading (limited Doppler for echo optimization). From my CRT and heart failure experience, I have served on adverse events adjudication committees for three device trials and been invited by Medtronic for the PROMPT trial (CRT after MI), REVERSE post-approval study (CRT in mild heart failure) and the PSR Sure Scan Post Approval Study, which consist of only two to three heart failure cardiologists.

As the medical director of the Cardiac Transplant Program since 2009, I have worked with our team to improve volume and outcomes in the recent years. Our annual volume was 10-14 transplants per year during 2010-13 (CMS requirement is minimum of 10 per year). Through overhauling our program in the past few years, we reached 19 annual transplants in 2014 and 25 in 2015, while improving our one-year survival. Prior to 2014, our program exceeded 20 annual transplants only twice since starting in 1986.

Under my leadership as the heart failure fellowship director, we obtained ACGME accreditation in 2013, the first year any U.S. heart failure program could be approved.

I have served as section editor for Current Heart Failure Reports, the Nonpharmacologic Therapy section since 2011 (an invited annual position). Since 2015, I have been an editorial board member for the Journal of Cardiac Failure. Membership is by invitation for U.S. and international heart failure cardiologists. I am co-chair of the medical center's Heart Failure Operations Council. I have served on the United Network for Organ Sharing Region 10 Heart Review Board for the past six years. I am also the Ohio State heart transplant representative for the Ohio Solid Organ Transplantation Consortium, which involves reviewing and approving all patients listed at any of the six adult/children heart transplant programs in Ohio.
Research Interests
Optimization of cardiac resynchronization devices
Device therapy for heart failure, including biventricular pacing, hemodynamic monitoring and ventricular device support
Most of my research projects have focused on invasive hemodynamic monitoring in heart failure. I have co-authored publications on the Parachute device (a ventricular partitioning device in anterior myocardial infarction and heart failure), hemodynamic monitoring with the Cardiomems device and phrenic nerve stimulation in the treatment of central sleep apnea in heart failure.

I have worked with various devices for assessing heart failure filling pressures, including RV, LA and PA pressures. I was the primary investigator at Ohio State for the Cardiomems device, starting with implanting all three patients in the feasibility study in 2006 and all 18 enrolled in the Champion trial. This is the first invasive hemodynamic monitoring device to be approved for managing chronic heart failure patients in the ambulatory setting, and Ohio State has been nationally recognized for our role with this device in heart failure management.

I also had a primary role in post-implant management based on pulmonary artery pressures for treatment versus control patients. It was FDA-approved in May 2014, and I implanted the first sensor in the U.S. in June 2014.

I have been involved in more than 30 additional trials as a co-investigator during my career at Ohio State, most of which involve participating in follow-up research visits for heart failure assessment and clinical management. We were the top enrolling site for EchoCRT, which evaluated CRT in narrow QRS patients to try to expand indications. I was the principal investigator on this trial and gave a lecture at the European investigator's meeting in Rome on how to perform echo optimization for the study protocol.
Current Research
I am studying phrenic nerve stimulation in the treatment of central sleep apnea in heart failure. I implanted a temporary lead to stimulate the phrenic nerve in the feasibility study patients, and am now the Ohio State principal investigator on the pivotal trial. We have presented multiple abstracts (six total), and I was co-author on the published manuscript on this treatment.
Active Funding
My research activity includes serving as principal investigator on 23 trials since starting as faculty, with funding totaling $1.4 million from industry-sponsored trials.

PubMed articles
Education
Medical Degree: West Virginia College of Medicine
B.Land.Arch: Robert C. Byrd Health Sciences Center of West Virginia University
B.Land.Arch: The Ohio State University
Residency: Internal Medicine, West Virginia University
Fellowship: Heart Failure and Transplantation, The Ohio State University Wexner Medical Center
Fellowship: Cardiovascular Medicine, West Virginia University School of Medicine
Honors and News
2015 Best Doctors List, Best Doctors, Inc.
2014 Best Doctors List, Best Doctors, Inc.
2013 Best Doctors List, Best Doctors, Inc.
2010 Best Doctors List, Best Doctors, Inc.
Certificate of Excellence, Outstanding Achievement in Patient Service, 2010
Leadership in Cardiology Award, 2005