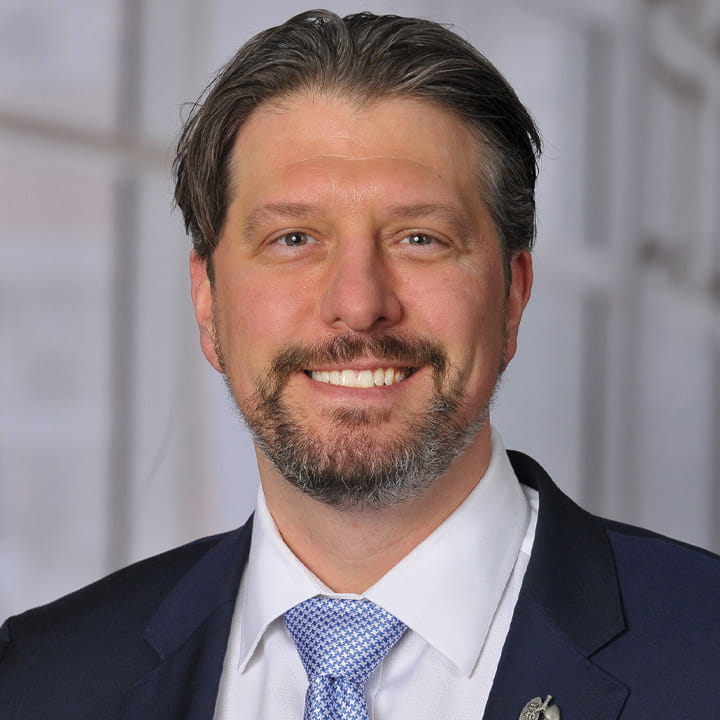 Co-Director, Heart and Vascular Center
Co-Director, COPPER Lab (Collaboration for Organ Perfusion, Protection, Engineering and Regeneration for lung transplant, extra-corporeal life support and pulmonary thromboendarterectomy programs)
Director, Thoracic Transplantation and Mechanical Circulatory Support
Vice chair of Innovation and Translational Research, Department of Surgery
Jewel and Frank Benson Family Research Professor
Professor of Surgery, Division of Cardiac Surgery
Assistant
Michelle.Keith@osumc.edu
Bryan A. Whitson, MD, PhD, is a cardiothoracic surgeon at The Ohio State University Wexner Medical Center Division of Cardiac Surgery and serves as Director, Section of Thoracic Transplantation and Mechanical Circulatory Support. He has 30 United States and international patents, several grants and more than 150 publications. He has presented nationally and internationally. Additionally, he co-directs The Collaboration for Organ Perfusion, Protection, Engineering and Regeneration (COPPER) Laboratory at Ohio State, which brings together transplant surgery, endothelial cell biology and biomedical engineering expertise to further organ perfusion and recovery research.
Research Interests
Ischemia reperfusion and surgical stress response
Organ regeneration and modification
Medical device design
Mechanical circulatory support
Surgical education
Current Research
Solid organ transplantation is limited by a donor organ shortage and the long-term consequences of immunosuppression on the recipient and rejection of the transplanted organ. Approaches to expand the donor organ pool and to mitigate acute organ injury related to transplant will improve overall success. Our research focuses on the identification of molecular mechanism of transplant procurement related ischemia reperfusion injury and approaches to mitigate reperfusion injury in lung (as well as liver and heart) transplantation. Ex-vivo organ perfusion technology serves as a platform to:
Develop metrics to assess organ function
Mitigate acute organ injury and recondition organs
Repair endothelial cell membrane damage
Modify or protect the organ to enhance resistance to future injury
As these mechanisms are elucidated, the use of molecular or gene delivery approaches to modify the allograft through the use of ex-vivo perfusion, as a platform for organ modulation and regeneration, enables us to repair damaged organs and thus improve outcomes and expand the lung donor pool. A more thorough understanding of the ex-vivo organ perfusion and the ability to modulate organs has cross applicability to cardiopulmonary bypass, cancer, trauma, vascular surgery and other solid organ transplantation.
Research Techniques
Rat lung perfusion
Murine and rat lung transplantation
Porcine lung perfusion and transplantation
Cell culture
Molecular biology and analytics
Ischemia reperfusion modeling
Active Funding
Preservation and rescue of the lung donor allograft for transplantation, NIH RO1, 7/1/2018 - 6/30/2023,

$3,472,273
Developing MG53 as a novel protein therapeutic for acute lung injury, Department of Defense,7/1/2018 - 6/30/2021, $3,696,579
Accelerator Awards program for "Novel Targeted Nanoparticle for CD38 Inhibition to Mitigate Stress Induced Organ Specific Injury"
Education
Medical Degree: Indiana University School of Medicine
PhD: Surgery, University of Minnesota
Residency: General Surgery, University of Minnesota Hospitals and Clinics
Fellowship: Surgical Infectious Diseases, University of Minnesota Hospitals and Clinics
Fellowship: Cardiothoracic Surgery, University of Minnesota
Honors and News
Appointed chair of the Thoracic Organ Transplantation Committee for the American Society of Transplant Surgeons (ASTS), 2020-2023
Performed second heart-lung transplant at OSUWMC
Performed first lung-kidney transplant in Ohio
Performed first lung-liver transplant at OSUWMC
30 United States and international patents
Several grants
130+ publications
Developed OSUWMC Comprehensive Transplant Center Organ Assessment and Repair Center (ARC)