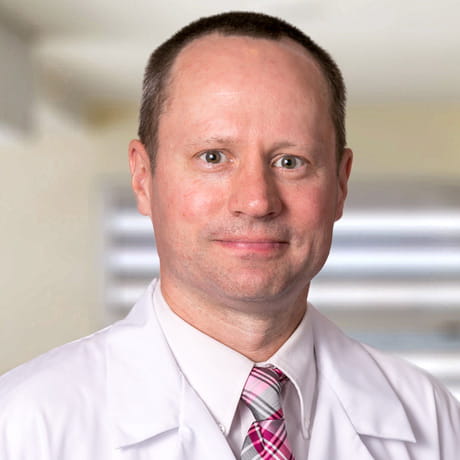 Christopher.Pierson@nationwidechildrens.org
614-722-5450 (NCH)
Associate Professor- Clinical
Background
Dr. Pierson is board certified in Anatomic Pathology and Neuropathology and is apracticing neuropathologist at Nationwide Children's Hospital Department of Pathology and Laboratory Medicine. His primary clinical interests include the neuropathological complications of premature birth, congenital malformations of the central nervous system, pediatric neuromuscular disease, pediatric brain tumors and the neurosurgical pathology of epilepsy. Dr. Pierson is actively involved in Children's Oncology Group and is a central neuropathology reviewer for clinical trials. Dr. Pierson has taught neuroanatomy to medical, dental and graduate students in various capacities for over 12 years. His education-related interests include curriculum renewal and development and the roles of education leadership in these endeavors. Incorporating technology into the classroom and student centered learning environments are additional education-related interests.
Research Interests
Dr. Pierson's research in Children's Oncology Group concerns the application and correlation of brain tumor molecular alterations and histopathology with patient outcome and therapy response. Dr. Pierson served as a neuropathologist for multiple brain tumor projects within The Cancer Genome Atlas initiative. Additional collaborative research efforts include the preclinical evaluation of oncolytic viral therapy in pediatric brain tumors and correlating perinatal brain MRI findings with the underlying the neuropathology. Other areas of research include the neuropathology of cerebellar hemorrhage and congenital myopathies, especially the centronuclear myopathies. His scholarly work in medical education is focused on curriculum development and renewal.
Education and Training
MD, Wayne State University School of Medicine
PhD, Wayne State University School of Medicine
BS, Microbiology, Michigan State University
Publications
The Cancer Genome Atlas Network. "Comprehensive, Integrative Genomic Analysis of Diffuse Lower Grade Gliomas." New Engl J Med. (Jun 2015) 372 (26) 2481-2498.
Pierson CR. Gene therapy in myotubular myopathy: promising progress and future directions. Ann Transl Med Apr 2015: 3(5) 61.
Studebaker AW, Hutzen B, Pierson CR, Shaffer TA, Raffel C, Jackson EM. Oncolytic measles virus efficacy in murine xenograft models of atypical teratoid rhabdoid tumors. Neuro Oncol (Apr 2015) 17(12):1568-1577.>
Burnside MN, Pyatt RE, Hughes A, Baker PB, Pierson CR. Complex brain malformations associated with chromosome 6q27 gain that includes THBS2, which encodes Thrombospondin 2, an astrocyte derived protein of the extracellular matrix. Ped Dev Pathol (Jan/Feb 2015) 18 (1): 59-65.
Agrawal P, Pierson CR, Joshi M, Liu X, Ravenscroft G, Mogdhadaszadeh B Talabere T, Viola M, Swanson LC, Haliloğlu G,Talim B,Yau KS, Allcock RJN, Laing NG, Perrella MA, Beggs AH. "SPEG interacts with myotubularin (MTM1) and its deficiency causes centronuclear myopathy with dilated cardiomyopathy." Am J Hum Genet (Aug 2014)7; 95(2):218-226.
Hutzen B, Bid HK, Houghton PJ, Pierson CR, Powell K, Bratasz A, Raffel C, Studebaker AW. "Treatment of medulloblastoma with oncolytic measles viruses expressing the angiogenesis inhibitors endostatin and angiostatin." BMC Cancer (Mar 2014) (14): 206.
Haines KM, Wang W, Pierson CR. "Cerebellar hemorrhagic injury in premature infants occurs during a vulnerable developmental period and is associated with wider neuropathology." Acta Neuropathol Comm. Vol. 1, no. 69. (Oct 2013): 1-14.
MacDonald TJ, Vezina G, Stewart CF, Turner D, Pierson CR, Chen L, Pollack IF, Gajjar A, Kieran MW. "Phase II study of cliengitide in the treatment of refractory or relapsed high-grade gliomas in children: A report from the Children's Oncology Group." Neuro Oncol. 2013 Oct;15(10):1438-44.
Snyder AD, Dulin-Smith AN, Houston RH, Durban AN, Brisbin BJ, Oostra TD, Marshall JT, Kahwash BM, Pierson CR. "Expression pattern of Id proteins in medulloblastoma." Pathol Oncol Res. Vol. 19, (Jul 2013): 437-446.
Dowling JJ, Joubert R, Low SE, Durban AN, Messaddeq N, Li X, Dulin-Smith AN, Snyder AD, Marshall ML, Marshall JT, Beggs AH, Buj-Bello A, Pierson CR. "Myotubular myopathy and the neuromuscular junction: a novel therapeutic approach from mouse models." Dis Mod Mech. Vol. 5, no. 6. (Nov 2012): 852-859.
Hutzen B, Pierson CR, Russell SJ, Galanis E, Raffel C, Studebaker AW. "Treatment of medulloblastoma using an oncolytic measles virus encoding the thyroidal sodium iodide symporter shows enhanced efficacy with radioiodine." BMC Cancer. Vol. 12, (Nov 2012): 508.
Cajaiba MM, Hughes A, Pierson CR. "Central nervous system pathology in an infant with short-chain acyl-CoA dehydrogenase deficiency (SCADD): evidence for abnormal neuronal migration as part of its phenotypic spectrum." Clin Neuropathol. Vol. 31, no. 5. (Sep 2012): 386-388.
Boehm J, Biancalana V, DeChene ET, Bitoun M, Pierson CR, Schaefer E, Karasoy H, Dempsey MA, Klein F,Dondaine N, Kretz C, Haumesser N, Poirson C, Toussaint A, Greenleaf RS, Barger MA, Mahoney LJ, Kang PB, Zanoteli E, Vissing J, Witting N, Echaniz-Laguna A, Wallgren-Pettersson C, Dowling J, Merlini L, Oldfors A, Ousager LB, Melki J, Krause A, Jern C, Oliveira ASB, Petit F, Jacquette A, Chaussenot A, Mowat D, Leheup B, Cristofano M, Poza Aldea JJ, Michel F, Furby A, Barcena Llona JE, Van Coster R, Bertini E, Urtizberea JA, Drouin-Garraud V, Beroud C, Prudhon B, Bedford M, Mathews K, Erby LAH, Smith SA, Roggenbuck J, Crowe CA, Spitale AB, Johal SC, Amato AA, Demmer LA, Jonas J, Darras BT, Bird TD, Laurino M, Welt SI, Trotter C, Guicheney P, Das S, Mandel JL, Beggs AH, Laporte J. "Mutation Spectrum in the Large GTPase Dynamin 2, and Genotype-Phenotype Correlation in Autosomal Dominant Centronuclear Myopathy." Hum Mut. (Jun 2012) 33: 949-959.
Studebaker AW, Hutzen B, Pierson CR, Russell SJ, Galanis E, Raffel C. "Oncolytic measles virus prolongs survival in a murine model of cerebral spinal fluid-disseminated medulloblastoma." Neuro-oncology. Vol. 14, no. 4. (Apr 2012): 459-470.
Pierson CR, Dulin-Smith AN, Durban AN, Marshall ML, Marshall JT, Snyder AD, Naiyer N, Gladman JT,Chandler DS, Lawlor MW, Buj-Bello A, Dowling JJ, AH Beggs. "Modeling the human MTM1 p.R69C mutation in murine Mtm1 results in exon 4 skipping and a less severe myotubular myopathy phenotype." Hum Mol Genet. Vol. 21, no. 4. (Feb 2012): 811-825.
Lawlor MW, Read BP, Edelstein R, Yang N, Pierson CR, Stein MJ, Wermer-Colan A, Buj-Bello A, Lachey JL, Seehra JS, Beggs AH. "Inhibition of activin receptor type IIB increases strength and lifespan in myotubularin deficient mice." Am J Pathol. Vol. 2, no. 178. (Feb 2011): 784-793.