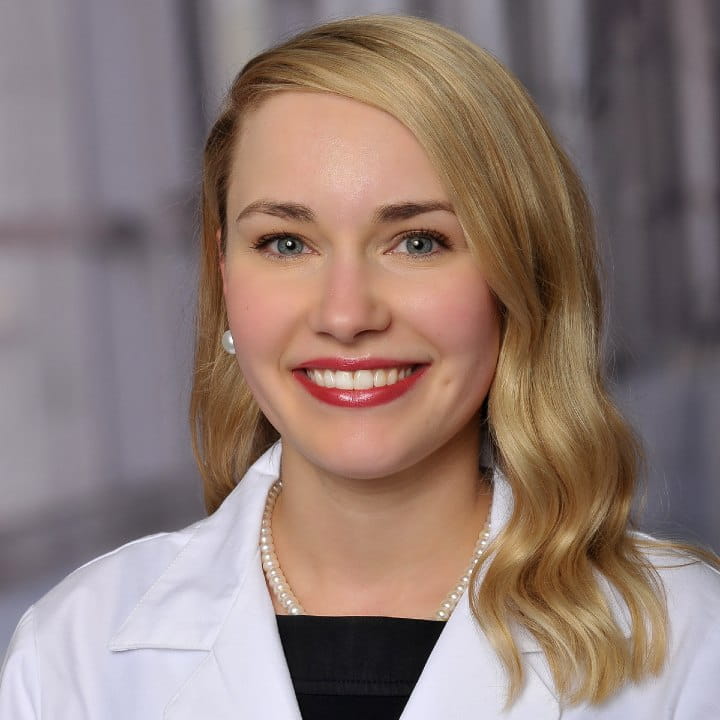 Claudia.Mosley@osumc.edu
614-293-8859
Background
Dr. Claudia Mosley joined the Division of Anatomy in 2012 as a master's student and earned her doctorate in 2018. As a doctoral student in the division, Dr. Mosley studied the changes in urothelial development and differentiation within the kidney in response to acute renal injury.
Dr. Mosley joined the faculty in January 2019 and is currently an Assistant Professor-Clinical in the Division of Anatomy in the Department of Biomedical Education & Anatomy within the College of Medicine at The Ohio State University – Columbus Campus.
Dr. Mosley's post-doctoral experience includes assisting in the medical curricula laboratories, as well as teaching undergraduate anatomy courses including ANAT 2300, ANAT 3300, EEOB 2510, and guest teaching in graduate anatomy, ANAT 6900 and graduate histology ANAT 6700. Her extensive teaching experience has led her to teach on various OSU campuses including Columbus Campus, Marion Campus and Newark Campus.
Dr. Mosley also serves as the Graduate Teaching Associate Coordinator in the Division of Anatomy.
Her most current research focuses on student learning in the laboratory setting in both medical and undergraduate curricula. She continues to look at relationships of in-person anatomy laboratory experience with student assessment outcomes.
Education and Training
PhD, Anatomy - The Ohio State University, December 2018
MS, Anatomy - The Ohio State University, May 2014
BA, Zoology – Ohio Wesleyan University, May 2010
Publications
Hunter, L.D., Mosley, C.F., Quinn, M.M., Cray Jr., J.J., Baker, A.S., Burgoon, J.M., Kalmar, E. McHugh, K.M. (2018). A Novel Approach to Gross Dissection of the Human Pelvis and Perineum. (L.D. Hunter and C.F. Mosley are Co-authors, Accepted for Publication)
Mosley, C.F., Becknell B., Jackson, A.R. McHugh, K.M. (2018) Spatiotemporal Patterning of Krt5 and Upk3a in Renal Urothelium During Embryogenesis. American Association of Anatomists (AAA) Regional Meeting, Hamilton, Ontario, Canada. (Selected for platform presentation)
Hoff M. L., Mosley C. F., McHugh K. M., Becknell B. B., Jackson A. R. (2018) Spatiotemporal Patterning of Intrarenal Urothelium During Embryogenesis. American Society of Nephrology (ASN) Meeting, San Diego, CA. (Selected for poster presentation)
Mosley, C. F., Hunter, L.D., McHugh, K. M. (2018) Qualitative Reasoning of a Novel Approach to the Pelvic Dissection. Annual American Association of Clinical Anatomists Conference, July 8-12, Atlanta, GA. (Selected for posterpresentation)
Mosley, C.F., Hunter, L.D., McHugh, K.M. (2018) Dissection of Cadaveric Female Pelvis and Perineum, a Novel Approach for Professional Students. Annual Human Anatomy and Physiology Society Conference, May 26-31st. Columbus, OH. (Selected for workshop presentation)
Hunter, L.D., Mosley, C.F., McHugh, K.M. (2018) A Novel Approach to Pelvic Dissection for Medical and Graduate Students: A Clinical Perspective. Annual American Association of Anatomists Conference, April 21-24th, San Diego,CA. (Selected for poster presentation)
Mosley, C. F., Hunter, L.D., McHugh, K. M. (2017) A Novel Approach to Pelvic Dissection for Medical Students: A Clinical Perspective. Annual American Association of Clinical Anatomists Conference, July 17-21, Minneapolis, MN. (Selected for poster presentation)
Hunter, L.D., Mosley, C.F., Carpenter, A.R., McHugh, K.M. (2015). 3D Modeling of the Urinary Tract to Better Understand Urothelial Development and Pathogenesis. Annual American Society of Nephrology Conference, November 5-8, San Diego, CA. (Selected for poster presentation)
Hunter, L.D., Mosley, C.F., Carpenter, A.R., McHugh, K.M. (2015). 3D Modeling of the Urinary Tract to Better Understand Urothelial Development and Pathogenesis. Annual Research Retreat, November 17, Columbus, OH. (Selected for poster presentation)
Hunter, L.D., Mosley, C.F., Carpenter, A.R., McHugh, K.M. (2016). 3D Model of Molecular Expression in Urothelium Highlight Anatomical Relationships in Urinary Tract. Annual American Association of Clinical Anatomists Conference, June 13-17, Oakland, CA. (Selected for poster presentation)