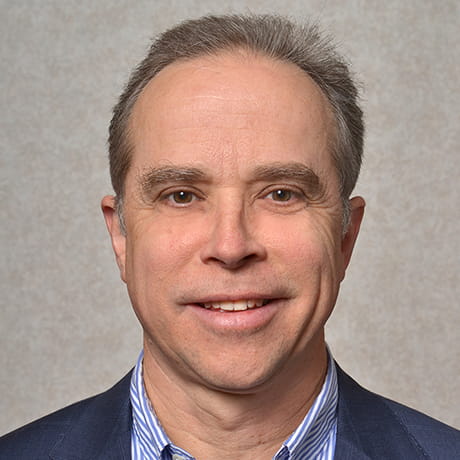 Associate Professor, Department of Neuroscience
Co-Director, Neuroscience Graduate Program
Co-Director, Masters in Applied Neuroscience Program
4073 Graves Hall
333 West Tenth Ave
Phone: 614-292-8714
Fax: 614-688-8742
John.Oberdick@osumc.edu
Research Interests
The molecular genetics of developmental disorders with a focus on the cerebellum
The long-term developmental and behavioral effects of opioid exposure in utero
Current Research
Dr. Oberdick's lab for many years has studied the development and function of the cerebellum using genetically manipulated mouse models. This work has most recently focused on the role of the Gi/o modulator, L7/Pcp2, on non-motor functions of the cerebellum and its potential relevance to autism. The L7/PCP2 gene is a direct transcriptional target of the autism gene, RORA, which encodes the nuclear receptor RORalpha.
Walton et al (2012) Sex-dependent behavioral functions of the Purkinje cell-specific Gαi/o binding protein, Pcp2(L7). Cerebellum 11: 982-1001.
Serinagaoglu et al (2007) A promoter element with enhancer properties, and the orphan nuclear receptor RORalpha, are required for Purkinje cell-specific expression of a Gi/o modulator. Mol Cell Neurosci. 34: 324-42.
The Oberdick lab is also exploring the long-term developmental and behavioral consequences of opioid exposure in utero. Most recently, our lab has been developing a novel drug therapy to prevent neonatal abstinence syndrome (NAS), a withdrawal syndrome of newborns exposed to opioids in utero. The goal of this project is to eliminate or reduce the stay-time of these newborns in the intensive care unit, and the long-term developmental and behavioral sequelae of fetal opioid exposure, by preventing opioid dependence in utero. This is in collaboration with a pioneer in opioid addiction research, Dr Wolfgang Sadee, and with Dr. Mitch Phelps, an expert in development of small molecule cancer drugs. Over the years Dr. Sadee has been developing peripherally-selective opioid receptor antagonists that are excluded from the brain by the blood brain barrier and hence do not interfere with the effects of opioids on the central nervous system, yet they do penetrate the peripheral nervous system. These compounds were developed by Sadee and others for the prevention of opioid-induced constipation. In a recent collaboration between the Oberdick and Sadee labs published in the Journal of Pharmacology and Experimental Therapeutics (JPET) we showed in mice that 6beta-naltrexol (6BN), a peripherally-selective neutral opioid antagonist, can be preferentially delivered to the fetal CNS. Injection of this drug in pregnant mice showed very low levels of the drug in the maternal nervous system, with 10-fold higher levels in the fetal brain. We went on to show that 6BN could prevent withdrawal behaviors in juvenile mice at extremely low doses. These studies strongly suggest that a dose could be established that would effectively block the development of dependence in the fetus while having no effect on maternal opioid addiction management (such as methadone maintenance) or pain management during pregnancy. The therapeutic potential of this drug would be accelerated by the fact that 6BN is a main metabolite of naltrexone, which is FDA approved for treatment of alcoholism. Thus, due to its established safety profile in adults and its high potency at very low doses we expect 6BN to be safe to both fetus and mother. We have an NIH-R21 grant to test the therapy in a non-human primate, and other resources for IND-enabling studies.
Oberdick et al. (2016) Preferential delivery of an opioid antagonist to the fetal brain in pregnant mice. J Pharmacol Exp Ther. 358: 22-30.

Active Funding
Principal Investigator, R21, NIH/NICHD
7/1/2017 – 6/30/2019
A Preventive Pharmacotherapy for Neonatal Abstinence Syndrome
Education and Training
PhD: Columbia University, 1988 (with Cyrus Levinthal)
Postdoctoral training: The Roche Institute of Molecular Biology (with James I. Morgan)