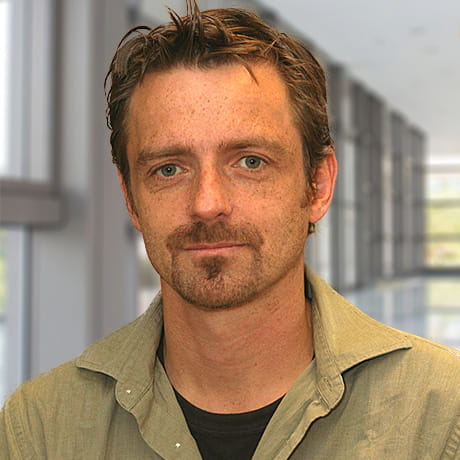 Professor, Department of Neuroscience
Faculty Affiliate, Chronic Brain Injury
Graves Hall, Room 4030
333 W. 10th Ave
Columbus, OH 43215
Phone: 614-292-4432
Lab Phone: 614-292-4420
Fax: 614-688-8742
obrietan.1@osu.edu
Research Focus
Circadian timing
Our lab is interested in characterizing the molecular and cellular events that underlie circadian (24 hr) rhythm generation, and how these rhythms modulate behavior and physiology. Key research themes include:
Molecular clock timing mechanisms
Circadian entrainment mechanisms
Mechanisms of cellular and systems-level circadian clock synchronization
Neuronal signaling and synaptic plasticity
Our lab is interested in understanding how brief bouts of synaptic communication are translated into long-term alterations in neuronal plasticity. Issues related to cellular kinase pathways, inducible gene expression and neuronal morphology are of particular interest to us, as is understanding how these processes underlie complex behavioral processes, including learning and memory. Key research themes include:
Calcium-activated kinase signaling
CREB and synaptic physiology
microRNA and synaptic plasticity
Circadian timing and disorders of the CNS
We are interested in understanding how the disruption of clock timing contributes to neurodegeneration. Current studies of focused on the role of clock dysregulation in Alzheimer's disease.
Approaches
A combination of primary neuronal cell culture, brain slice culturing and in vivo transgenic and knock-out mouse models are used. These models are interrogated using cellular and molecular based biochemical profiling approaches (e.g., Western blotting, in situ hybridization, immunocytochemistry) along with confocal and 2-photon microscopy (for live animal in vivo brain imaging), viral-mediated gene transfer and behavioral-based profiling approaches. Together, these methods allow us to interrogate the underlying genetic, cellular and systems-based processes within the CNS that underlies complex processes, including learning, memory and circadian timing.
Education and Training
PhD: Stanford University, Neuroscience Graduate Program
Postdoctoral Training: University of Washington, Department of Pharmacology