Castle Connolly names 33 Ohio State clinical faculty Top Black Doctors 2023
Castle Connolly announced this week the release of its Top Black Doctors 2023 roster. This is the first time the organization has recognized exceptional Black doctors in the Castle Connolly network. Among the 114 doctors on the list, 33 serve as clinical faculty at The Ohio State University College of Medicine.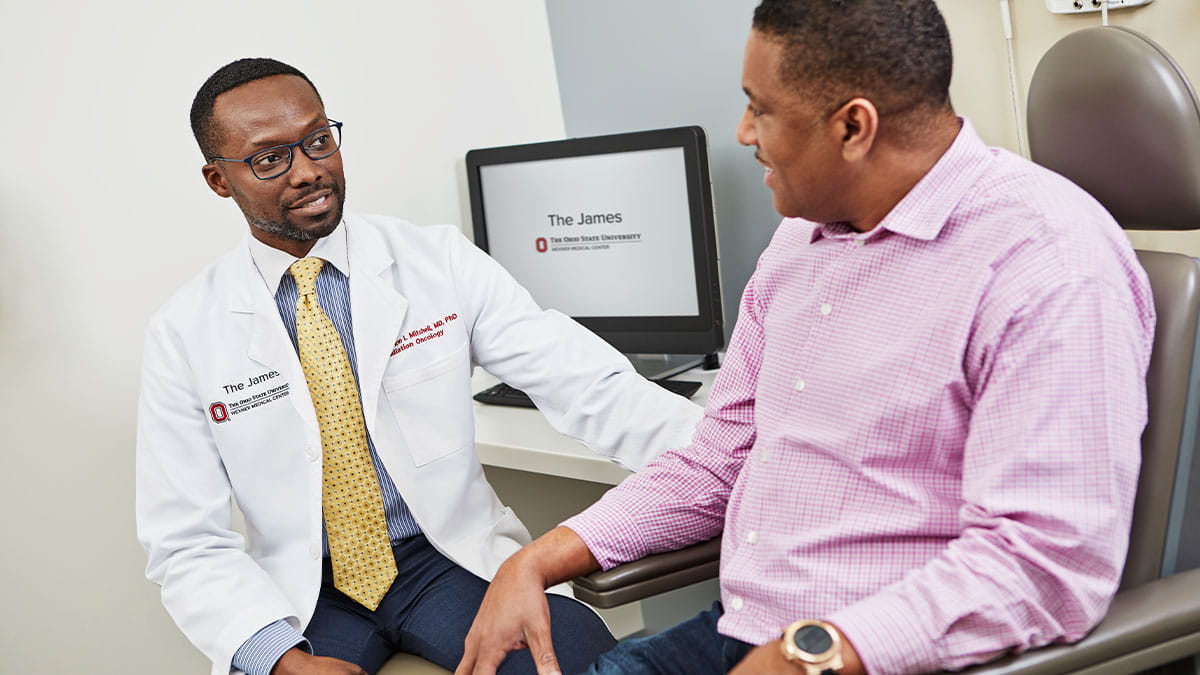 "At Ohio State, we believe that a diverse workforce is critical to creating health equity for all of our patients and the communities we serve," says Carol R. Bradford, MD, MS, FACS, dean of the Ohio State College of Medicine. "The fact that our clinical faculty make up nearly 30% of the names on Castle Connolly's list is a testament to our inclusive culture."
This new distinction is part of Castle Connolly's Diversity Equity and Inclusion initiative designed to honor top clinicians and enable patients to find Castle Connolly Top Doctors who have shared backgrounds and experiences. To be considered for this distinction, physicians are nominated by their peers and the Castle Connolly research team evaluates important criteria to determine who makes the list, including professional qualifications, education, hospital and faculty appointments, research leadership, professional reputation, disciplinary history, interpersonal skills and outcomes data.
A new survey from Everyday Health and Castle Connolly shows Black patients are nearly twice as likely as white patients to completely agree that they would be more comfortable and more likely to listen to advice from physicians who shared their race, ethnicity or sexual orientation.

"We know that patients want to connect with physicians who look like them and come from a similar background or experience," says Chyke Doubeni, MD, MPH, chief health equity officer at the Ohio State Wexner Medical Center and professor of Family and Community Medicine at the Ohio State College of Medicine. "We also know from experience that this can improve the quality of care and positively impact health outcomes."

Dr. Doubeni also works closely with Ohio State's Office of Academic Affairs (OAA) and leads an initiative to recruit new faculty who have a research focus on health equity topics. Working with OAA and the health science colleges, Dr. Doubeni leads the development and implementation of a new Center for Health Equity within Ohio State that will serve as an interdisciplinary incubator for health equity research collaboration across campus and provide opportunities for professional development and training in the field.

In addition to Top Black Doctors, Castle Connolly will launch other new recognitions in 2023, including Exceptional Women in Medicine, Top Asian American and Pacific Islander Doctors, Top LGBTQ+ Doctors and Top Hispanic/Latin Doctors.

Congratulations to the College of Medicine clinical faculty named Castle Connolly Top Black Doctors, who practice at Nationwide Children's Hospital, The Ohio State University Comprehensive Cancer Center – Arthur G. James Cancer Hospital and Richard J. Solove Research Institute and the Wexner Medical Center.

Anesthesiology
Michael Essandoh, MD, The Ohio State University Wexner Medical Center
Charles Hamilton, MD, The Ohio State University Wexner Medical Center
Demicha Rankin, MD, The Ohio State University Wexner Medical Center

Cardiovascular Disease
Sakima Smith, MD, The Ohio State University Wexner Medical Center
Gbemiga Sofowora, MB, CHB, The Ohio State University Wexner Medical Center

Dermatology
Desmond Shipp, MD, The Ohio State University Wexner Medical Center

Developmental-Behavioral Pediatrics
Jennifer Walton, MD, Nationwide Children's Hospital

Endocrinology, Diabetes & Metabolism
Joseph Joshua, MD, The Ohio State University Wexner Medical Center
Family and Community Medicine
Whitney Christian, MD, The Ohio State University Wexner Medical Center
Geriatric Medicine
Tanya Gure, MD, The Ohio State University Wexner Medical Center

Medical Oncology
Paul Monk, MD, The Ohio State's Comprehensive Cancer Center – James Cancer Hospital and Solove Research Institute

Neurology
Bakri Elsheikh, MBBS, The Ohio State University Wexner Medical Center
Tirisham Gyang, MD, The Ohio State University Wexner Medical Center

Obstetrics & Gynecology
Amber Bondurant-Sullivan, MD, The Ohio State University Wexner Medical Center
Kamilah Dixon, MD, The Ohio State University Wexner Medical Center

Otolaryngology
Minka Schofield, MD, The Ohio State University Wexner Medical Center

Pathology
O. Iwenofu, MD, The Ohio State University Wexner Medical Center

Pediatric Anesthesiology
Olubukola Nafiu, MD, Nationwide Children's Hospital

Pediatric Infectious Disease
Rebecca Wallihan, MD, Nationwide Children's Hospital

Pediatric Nephrology
O.N. Bignall, MD, Nationwide Children's Hospital

Pediatric Surgery
Benedict Nwomeh, MD, Nationwide Children's Hospital
Oluyinka Olutoye, MD, PhD, Nationwide Children's Hospital

Pediatrics
Dominique Williams, MD, Nationwide Children's Hospital

Physical Medicine & Rehabilitation
Albert Clairmont, MD, The Ohio State University Wexner Medical Center

Plastic Surgery
Kerry-Ann Mitchell, MD, PhD, The Ohio State's Comprehensive Cancer Center – James Cancer Hospital and Solove Research Institute

Psychiatry
Blessing Igboeli, MD, The Ohio State University Wexner Medical Center

Pulmonary Disease
Stella Ogake, MBBCh, The Ohio State University Wexner Medical Center

Radiation Oncology
Darrion Mitchell, MD, PhD, The Ohio State's Comprehensive Cancer Center – James Cancer Hospital and Solove Research Institute

Surgery
Nicole Bernal, MD, The Ohio State University Wexner Medical Center
Sylvester Black, MD, PhD, The Ohio State University Wexner Medical Center
Bridget Oppong, MD, The Ohio State's Comprehensive Cancer Center – James Cancer Hospital and Solove Research Institute

Thoracic & Cardiac Surgery
Robert Merritt, MD, The Ohio State's Comprehensive Cancer Center – James Cancer Hospital and Solove Research Institute

Urology
Cheryl Lee, MD, The Ohio State's Comprehensive Cancer Center – James Cancer Hospital and Solove Research Institute