2023 White Coat Ceremony welcomes class dedicated to the journey of healing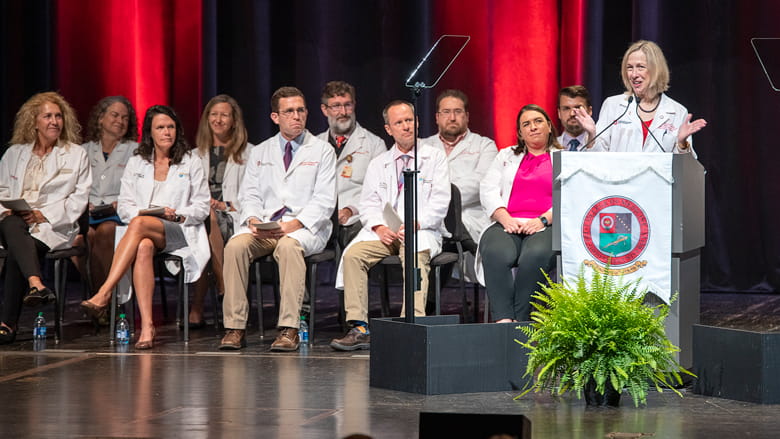 The Ohio State University College of Medicine recently conducted its 2023 White Coat Ceremony, signifying the beginning of medical school for incoming learners. More than 200 white coats were distributed to the new class, comprised of talented individuals with a passion for healing.
Among 7,229 applicants, only 209 students were selected to attend the Ohio State College of Medicine.
The class of medical students is geographically diverse, coming from 27 states and speaking more than 30 languages. Their undergraduate degrees cover a wide range of majors, from biomedical science to international relations and environmental studies. This mix of disciplines will bring unique perspectives to the classroom and clinical settings.
Pursuing a noble mission
The annual White Coat Ceremony marks the end of the undergraduate era for these students and the beginning of their journey toward becoming physicians. The ceremony took place at the Wexner Center for the Arts Mershon Auditorium, where Carol R. Bradford, MD, MS, FACS, dean of the Ohio State College of Medicine, imparted valuable insights to the entering class.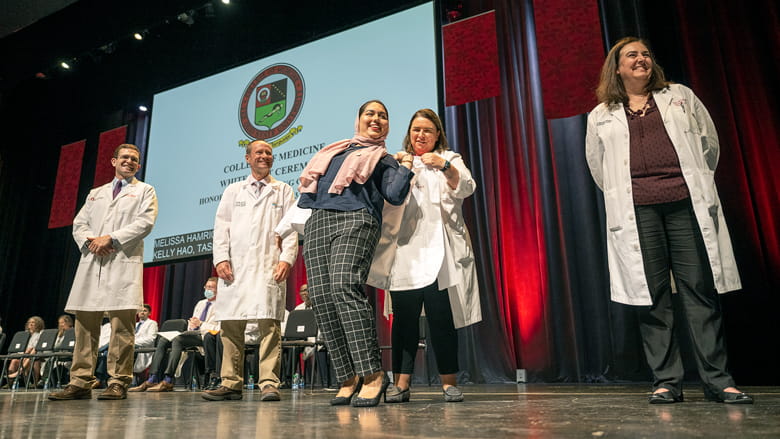 "No matter your motivation to attend medical school, you are pursuing a profession that is truly a calling rather than a job," she said. "Your time here will be challenging, but it will also be tremendously rewarding.
"As you don your white coats today, you are joining an amazing group of individuals who have sworn to be caring, empathetic, devoted and selfless — and who are bound to the noble mission of caring for humanity. You and your families should be very proud. I certainly am," said Dean Bradford.
Each year, the students' white coats and stethoscopes are sponsored by the
Medical Alumni Society and donors
. This year more than 260 alumni and friends' donors supported these important materials.
Jennifer McCallister, MD, associate dean for Medical Education at the Ohio State College of Medicine, also shared with the students the symbolic tradition behind the presentation of the white coat.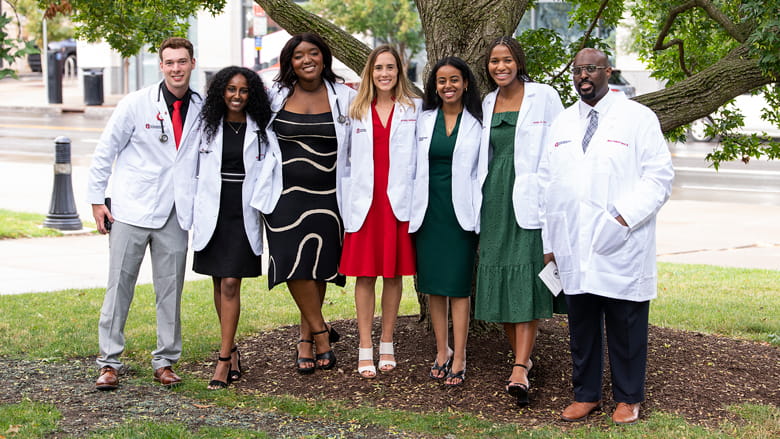 The white coat symbolizes both the entrance into the medical profession and the weight of responsibility entrusted to them as future physicians. As each of the 209 new medical students stepped forward to receive their coat, that sense of responsibility was evident, along with a promising sense of hope for this new generation of learners and healers.