Anatomy Outreach Days provide area high school students up-close interaction with the human body
Last week, the Division of Anatomy at The Ohio State University College of Medicine hosted their 10th annual Anatomy Outreach Days. The event draws hundreds of high school students from across Ohio to visit the university's state-of-the-art anatomy labs. There they learn how organs work within the human body as they rotate through six laboratory spaces, each with its own set of activities focused on different body systems.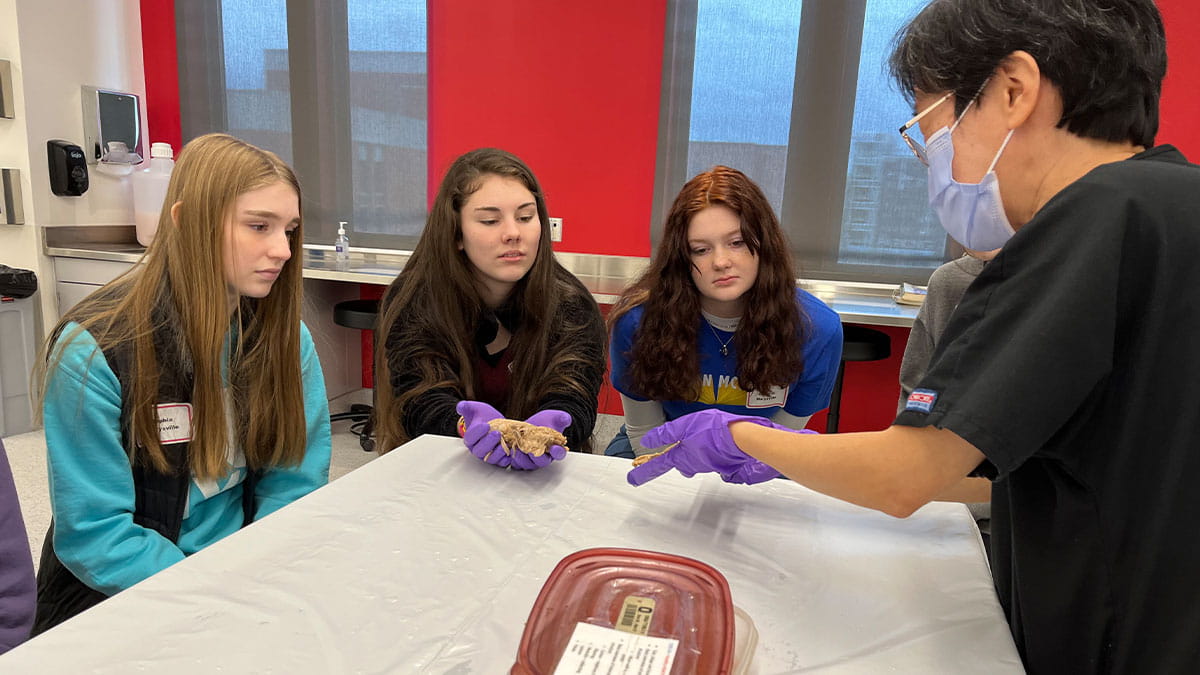 In the clinical skills/tissue lab, they view samples on high-tech microscopes and look inside the body with the use of ultrasound. In the other anatomy labs, students view healthy and diseased organs as they learn about their functions and how different pathology impacts that function.
Lizzy, a senior from Marysville High School who plans to study forensic science next year, did not shy away from handling and examining a variety of organs.
"Seeing and holding the individual organs that make up the human body is really interesting," Lizzy said. "I'm fascinated by the effects of cancer and cirrhosis on the liver specimens."
Joey, another senior at Marysville High School plans to study biochemistry in college.
"This event gives high schoolers a level of exposure to medicine and anatomy they would only get if they were pre-med in college," Joey said. "Being here today makes me feel more confident in my decision to go into medicine."
Melissa Quinn, PhD, assistant professor in the Department of Biomedical Education and Anatomy at the Ohio State College of Medicine, says this outreach gets anatomy out into the public and makes it approachable and accessible. She says the event is staffed by 150 graduate, undergraduate, medical and dental school student volunteers, who work together and learn from one another throughout their education and training.
"Interprofessional education teaches our learners how to work together as a health care team," Dr. Quinn says. "It's really rewarding to see them taking that knowledge and sharing it with the next generation."
450 students will visit this week and another 1,500 will visit throughout the academic year through other scheduled outreach activities. Alezendria Deluca, an anatomy teacher from Dublin Jerome High School, says the event is an integral part of her anatomy curriculum. She says in addition to her students getting to view tissue samples using high-tech microscopes, they see many distinct aspects of the medical field and various careers they can consider pursuing.
"The students got to actually guide the wand and conduct an ultrasound examination," Deluca said. "And see how technological advances have created many new and exciting opportunities."