Ohio State obesity expert Stacy Brethauer advances bariatric surgery as a treatment option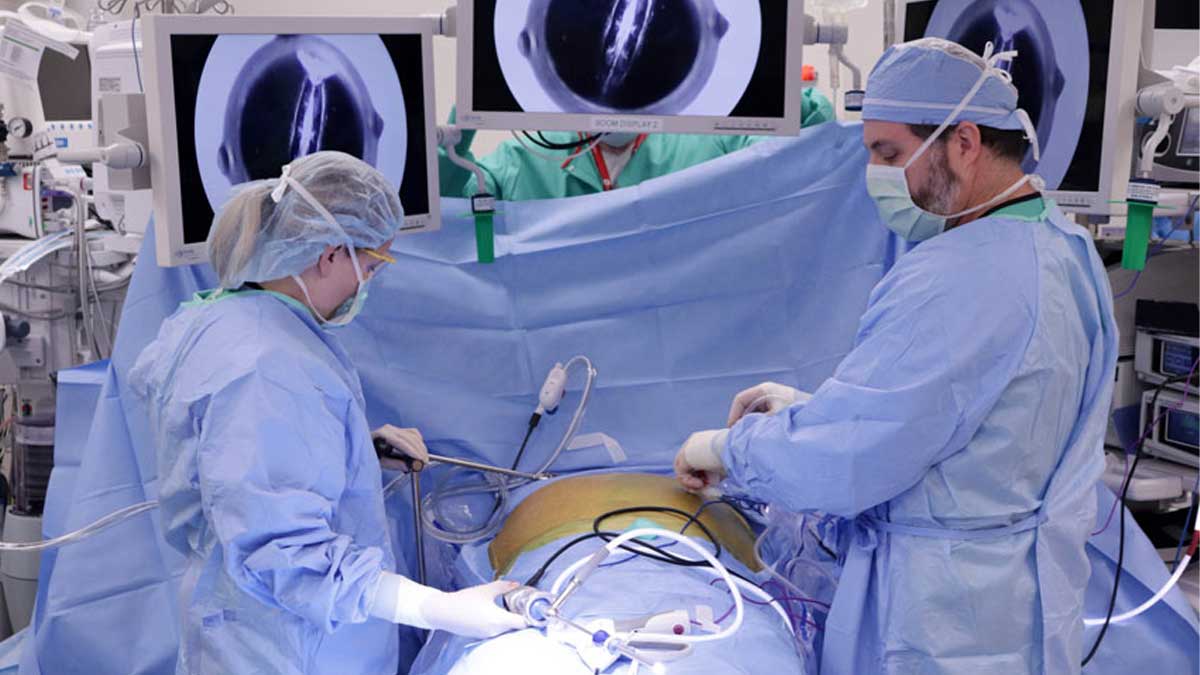 Obesity is a major public health problem in the United States. Between 1999 and 2018, the prevalence of obesity in the U.S. increased from 30.5% to 42.4%, and the prevalence of severe obesity increased from 4.7% to 9.2%, according to statistics published recently in the National Center for Health Statistics (NCHS) data brief. The National Institutes of Health, the American Medical Association, the Obesity Society, the American Society of Bariatric Physicians and other professional medical organizations agree that obesity is more than a simple problem of excess calorie intake; it is a chronic disease characterized not only by excess fat but by metabolic derangements, inflammation and insulin resistance. Because surgery improves or reverses the metabolic complications of obesity in addition to causing weight loss, these procedures are now referred to as metabolic and bariatric surgery.
Multiple clinical trials have shown that bariatric surgery is by far the most effective treatment for severe obesity and its associated comorbidities. In fact, 12 randomized trials have shown the clear benefit of surgery compared to medicine for the treatment of type 2 diabetes. However, despite overwhelming evidence supporting the safety and effectiveness of metabolic and bariatric surgery, few eligible patients in the U.S. are receiving this therapy.
Efforts are being made to increase that number by investigators like Stacy Brethauer, MD, professor of Surgery at The Ohio State University College of Medicine and vice chair of Surgery for Quality and Patient Safety at The Ohio State University Wexner Medical Center. He and colleagues across the country have been working over the last decade to change society's perception of obesity and its surgical treatment and to create evidence-based guidelines that broaden the group of patients who would benefit from this treatment. Outdated guidelines established in 1991 by the National Institutes of Health Consensus Conference recommend surgery for patients only if their BMI is 40 or higher, or if their BMI is 35 or higher and they suffer from other life-threatening comorbidities such as type 2 diabetes, hypertension or cardiovascular disease. These guidelines do not take into account the degree of metabolic disease a patient has or the long-term risk of stroke, heart attack or death related to associated diseases like diabetes, high blood pressure and high cholesterol. "Fundamentally, BMI alone is not an accurate measure of overall health or risk of cardiovascular disease," says Dr. Brethauer.
Unfortunately, metabolic and bariatric surgery is still often considered a treatment of last resort.
"Just as doctors wouldn't wait until a patient has advanced-stage cancer to treat that disease, patients shouldn't have to wait until they are severely obese with end-stage metabolic complications to undergo bariatric surgery," says Dr. Brethauer. "Too many people see obesity as a problem of willpower, and it's simply not. It is a complex problem caused by the convergence of genetics, behavior and an environment of toxic food in our culture. Of course patients must own and modify the behavioral component of this disease but that is not the only issue. Ultimately, the most effective treatment is often surgery, and that should be an option for all patients who would benefit."
In an effort to demonstrate the safety and efficacy of surgery, Dr. Brethauer has authored or co-authored numerous papers that demonstrate long-term improvements or remission rates of type 2 diabetes after surgery in patients with a BMI as low as 30. He was an investigator in a randomized trial comparing surgery to medical therapy for treatment of diabetes, and this evidence was included in the 2016 international guidelines developed during the 2nd Diabetes Surgery Summit and published in Diabetes Care. Based on this body of evidence, the medical community for the first time recommended consideration of metabolic surgery in patients with BMI 30 – 35 and poorly controlled type 2 diabetes.
Some of Dr. Brethauer's other important contributions to the field of metabolic and bariatric surgery include guidelines to standardize how bariatric surgery outcomes are reported, guidelines for the perioperative care of the bariatric surgery patient, numerous papers describing the safety and effectiveness of surgery in specific high risk groups, participation in a task force reporting annual trends in bariatric surgery procedures in the U.S., and directing a national multicenter trial of enhanced recovery in bariatric surgery.
The most recent report of the American Society for Metabolic and Bariatric Surgery's annual numbers task force, co-authored by Dr. Brethauer, found that there were approximately 250,000 bariatric procedures performed in 2018. Despite a 10 – 15% growth in the numbers each year dating back to 2011, this still represents only about 1% of the candidates for surgery in the U.S. based on BMI.
"Denial that this is a disease by both patients and the medical system, and the bias and discrimination associated with obesity have resulted in a culture where patients think they have to treat this disease themselves. This needs to change because it prevents patients from seeking treatment and doctors from referring patients for effective treatment," he says.
Dr. Brethauer is an internationally recognized expert in obesity management, diabetes surgery, laparoscopic bariatric surgery, foregut and gastrointestinal surgery and endoscopic procedures, and has dedicated his career to treating and studying patients with obesity and its life-threatening comorbidities. A prolific author, he has published 200 peer-reviewed articles and more than 40 book chapters, and is co-editor of four textbooks on bariatric surgery and quality in obesity treatment. He has served on numerous committees for and is a past president of the American Society for Metabolic and Bariatric Surgery. He currently serves as an associate editor for two of the most prominent bariatric surgery journals, Obesity Surgery and Surgery for Obesity and Related Diseases (SOARD), and has been recognized as the top-cited and most prolific author for SOARD in 2020.
Learn more about Dr. Brethauer.