Castle Connolly names 11 Ohio State faculty physicians 2023 Rising Stars
Castle Connolly announced today the release of its 2023 Rising Stars roster. Of the 653 on the list, 11 of these exceptional physicians serve as clinical faculty at The Ohio State University College of Medicine.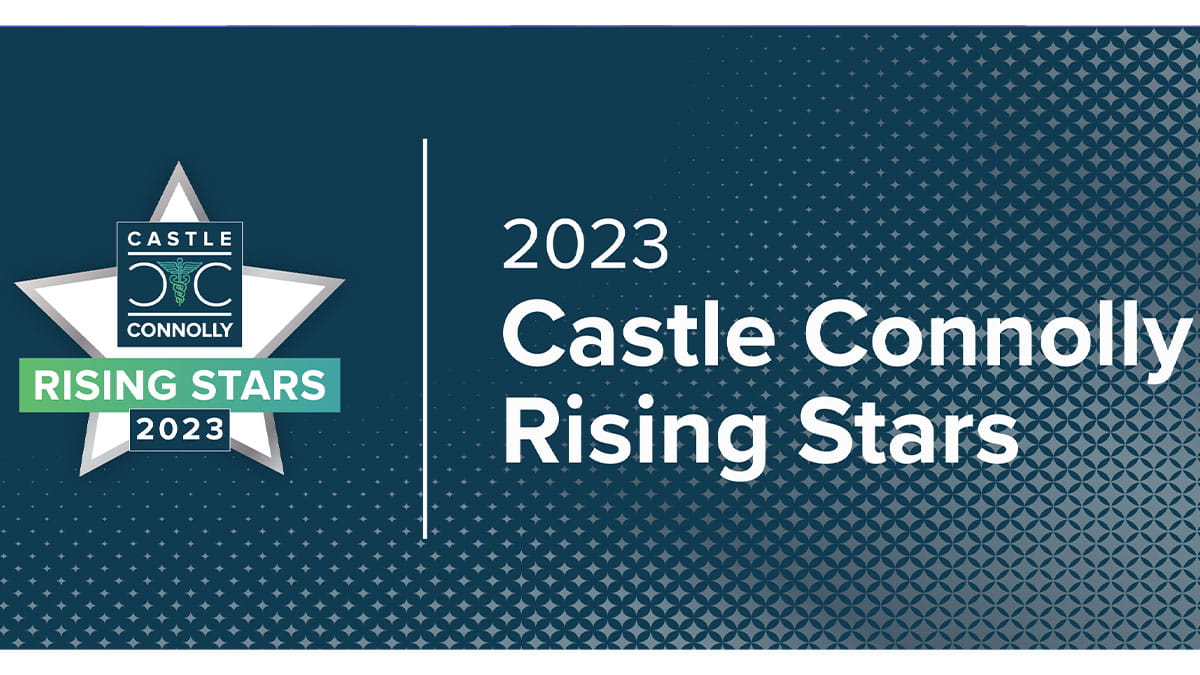 Castle Connolly created Rising Stars to recognize early-career physicians who have not yet been out of medical school for ten years, which is the requirement to be considered for the Top Doctors list.
Nominated by their peers, these doctors are emerging leaders in the medical community, with clear contributions to the advancement of health care through clinical care, research, community service, education and leadership.
"I recognize and honor these extraordinary physicians for their passion and drive to find success early on in their careers," says Carol R. Bradford, MD, MS, FACS, dean of the Ohio State College of Medicine. "This award distinguishes them as excellent physicians that patients and other physicians trust."
The College of Medicine is intentional in its work to build a diverse and inclusive team of talented providers committed to innovation, collaboration and impact. As a result, faculty physicians offer world-class primary and specialty medical care. Patients and physicians alike have come to rely on the Castle Connolly Top Doctors list to find the most trusted and skilled physicians by specialty.
With over 30 years' experience researching, reviewing and selecting Top Doctors, Castle Connolly is a trusted and credible source to help patients find the best health care. It evaluates physicians based on their education, research leadership, people skills, professional success and disciplinary history, and publishes these results annually.
"These physicians have been hand-picked and recognized for exceptional patient care," Dr. Bradford says. "This further proves that the College of Medicine and The Ohio State University Wexner Medical Center are national leaders in academic health care."
Congratulations to the Ohio State College of Medicine Castle Connolly Rising Stars who practice at The Ohio State University Comprehensive Cancer Center – Arthur G. James Cancer Hospital and Richard J. Solove Research Institute and the Ohio State Wexner Medical Center.
Allergy and Immunology
• Monica Kraft, MD, The Ohio State University Wexner Medical Center

Dermatology
• Brittany Dulmage, MD, The Ohio State University Wexner Medical Center
• Stephanie Trovato, MD, The Ohio State University Wexner Medical Center
• Catherine Ulman, MD, The Ohio State University Wexner Medical Center
  
Neurology
• Em Harrington, MD, PhD, The Ohio State University Wexner Medical Center
• Allison Jordan, DO, The Ohio State University Wexner Medical Center 

Ophthalmology
• Mona Adeli, MD, The Ohio State University Wexner Medical Center

Otolaryngology 
• Bradley Nesemeier, MD, The Ohio State University Wexner Medical Center

Plastic Surgery
• Kerry-Ann Mitchell, MD, PhD, The Ohio State University Comprehensive Cancer Center – Arthur G. James Cancer Hospital and Richard J. Solove Research Institute
Pulmonary Disease
• Arindam Singha, MD, The Ohio State University Wexner Medical Center
• Jing Wang, MD, The Ohio State University Wexner Medical Center