College of Medicine is out-of-state friendly due to ability to establish in-state residency after one year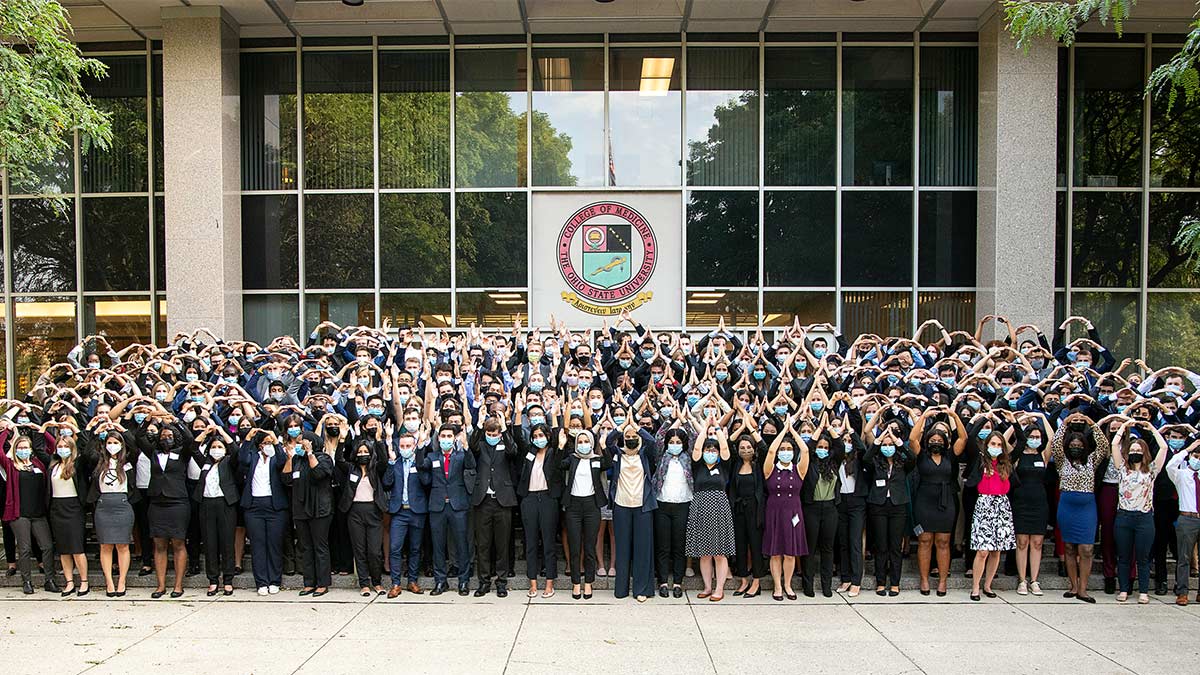 Out of the top 40 public universities ranked by U.S. News & World Report, The Ohio State University College of Medicine is one of the least-expensive out-of-state schools. In fact, the college has lower tuition and fees than 81% of American medical schools. As part of its strategic plan, college leadership has committed to ensuring medical school education is accessible and affordable to all by building and growing scholarships and exploring the reduction of the cost of out-of-state tuition.
"I believe medicine is a calling rather than a job, so keeping costs down allows students to pursue their passions with confidence," says Demicha Rankin, MD, associate professor of Anesthesiology, associate dean for Admissions at The Ohio State University College of Medicine. "It also ensures that we are creating a medical workforce that is representative of changing demographics."
Each year, the college strives to build a class with 50% of students who come from Ohio and 50% of students who come from a mix of other states across the nation. A student is considered an Ohio resident if they graduated from an Ohio high school. Even students who lived in a different state post-high school for an extended amount of time are
forever considered a Buckeye
.
Ultimately, the college attracts a balance of talented and diverse students who benefit from lower tuition rates and in-state residency cost savings.
"Non-resident students are allowed to establish Ohio residency during their first year," says Dr. Rankin. "This makes them eligible for in-state tuition rates beginning year two, which averages out to 43% in savings over the remaining three years of their medical education."
First-year, in-state tuition runs $31,272 and out-of-state tuition runs $55,048. In addition, Ohio State's average debt load is lower than most other public schools, averaging $168,000, as compared to $175,000.
The college is in the top 25% of U.S. medical schools for scholarship/grant funding for the 2021 fiscal year and 70% of the college's medical students received a grant and/or scholarship award in their 2020-21 financial aid package.
Leadership in the Ohio State College of Medicine have committed to continual examination of viable ways to reduce student indebtedness. This includes the creation of additional scholarships and the development of fellowships.
"We are launching a Dean's Scholars program this year that will provide two talented incoming medical students a full-tuition scholarship each year," says Carol R. Bradford, MD, MS, FACS, dean of The Ohio State University College of Medicine and vice president for health sciences of The Ohio State University Wexner Medical Center. "Students are stepping up to meet the ever-changing field of medicine. It is our job to ensure tuition is affordable and accessible."
The Ohio State University and the College of Medicine go to great lengths to help students with limited financial resources secure needed funds. The Office of Student Financial Services works with students to obtain scholarships and student educational loans to fund their medical school careers. The office also apprises students of other federal loan forgiveness programs that cover a portion of medical student debt in return for at least two years of service in underserved areas throughout the country.
Some evidence shows that the high level of indebtedness incurred by attending medical school is influencing students' decisions about which medical fields to enter. This places a premium on specialties that offer a higher income and steers students away from fields in which the need is greatest, such as primary care specialties.
Unique to Ohio State, learners have the option to apply for an accelerated three-year
Primary Care Track
medical school program that offers a half-tuition scholarship for the full three years. Students who matriculate into the three-year program get a renewable half-tuition scholarship. This program is ideal for students who are committed to family medicine as their specialty of choice, who want to enter practice earlier and with less debt, and who are looking for a six-year medical-school-to-residency pathway. There is robust faculty mentorship and advising for students, early-and-often clinical learning experiences in family medicine offices, and a cultivated learning community for students interested in primary care. Further, graduating students are ranked to match into the Ohio State Family Medicine Residency Program.
"With Ohio State you get a highly ranked, affordable medical school with the perfect balance of talented and diverse students," says Dr. Rankin. "And it is also located in one of the best and most affordable cities in the country."
Learn more about what The Ohio State University College of Medicine has to offer, including
affordability
.