Dana McTigue, PhD, awarded prestigious ELAM fellowship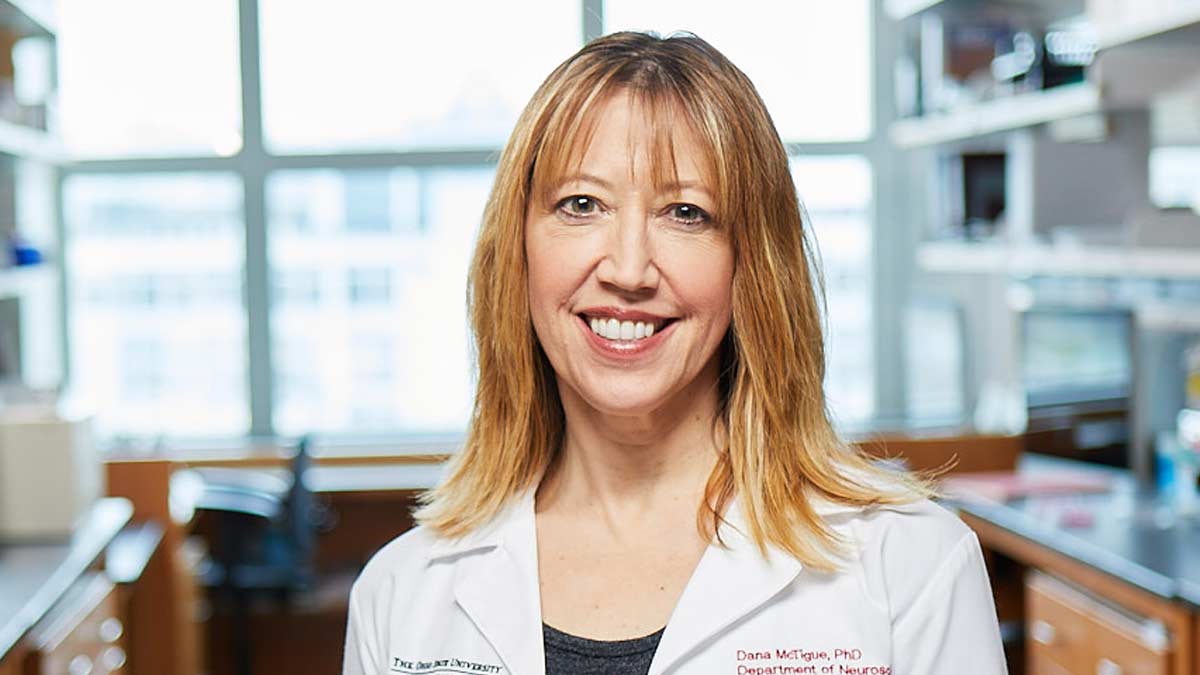 The Ohio State University College of Medicine faculty member Dana McTigue, PhD, is a 2021 recipient of the Hedwig van Ameringen Executive Leadership in Academic Medicine® (ELAM®) program award, a one-year fellowship designed for senior women faculty with high potential for advancement in an executive leadership role. As an ELAM fellow, Dr. McTigue will use her experience accumulated over the past 25 years to tackle some of the challenges facing college leaders today, while broadening her experience in ways intended to prepare her for the next level in her career.
Dr. McTigue, a professor and vice chair of Research for the Ohio State College of Medicine's Department of Neuroscience, has knowledge of research administration that she will build upon during her experience as an ELAM fellow, which combines real-world strategic planning and project development with intense coaching, exposure and networking. She knows what's involved in managing a biomedical research laboratory with a $1 million annual operating budget, while conducting her own scientific research in spinal cord injury and mentoring aspiring young researchers and professionals. That background, along with her caring nature and reputation for inclusiveness, innovation and authenticity that have earned her the respect of her peers and students alike, are some of the reasons Carol R. Bradford, MD, MS, FACS, dean of the Ohio State College of Medicine, nominated her for the ELAM award. Dean Bradford will serve as Dr. McTigue's coach for the duration of her fellowship.
"Dr. McTigue will play a critical role in the elevation of our institution's research impact," says Dean Bradford. "She has deep experience in research and a thoughtful vision for the future."
Specifically, Dean Bradford expects Dr. McTigue to advance college initiatives related to the allocation of resources to support its continuing growth in extramural research funding and to learn more about strategic finance and resource management, a program for which ELAM is known. Dean Bradford says she will also support Dr. McTigue in continuing to apply her insights as an educator and scientist into enterprise-level initiatives to recruit, retain and elevate promising young scientists in medicine and STEM (science, technology, engineering and mathematics).
A passionate advocate for the advancement of women in medicine and STEM, and for addressing racism in academic medicine, Dr. McTigue has co-led efforts of the medical center's Anti-Racism Action Plan, collaborating across the university to improve the pipeline of students in STEM fields, and has made substantial progress as her department's inaugural vice chair for diversity, equity and inclusion. Participation in ELAM will connect Dr. McTigue to a network of some of the nation's best experts in diversity, equity and inclusion.
Offered by the Drexel University College of Medicine, the ELAM fellowship is highly regarded among peer institutions as an effective program in leadership preparation, with more than 1,000 graduates serving in leadership roles at 257 academic health centers in the United States and Canada. Acceptance into ELAM is determined through an annual competitive selection process, in which approximately 60 candidates are chosen each year.
In the late autumn, Women in Medicine and Science solicits nominations from emerging Ohio State College of Medicine leaders to select candidates to apply for the fellowship. The Ohio State College of Medicine currently has nine ELAM alumnae, also known as ELUMs.
Additionally, two Ohio State College of Medicine faculty members who practice at Nationwide Children's Hospital were also selected this year as ELAM fellows: Katherine Deans, MD, MHSc, chief clinical research officer and professor of Pediatric Surgery, and Ihuoma Eneli, MD, MS, director of the Center for Healthy Weight and Nutrition and professor of Pediatrics.
Congratulations to this year's 2021 ELAM fellows, Drs. McTigue, Deans and Eneli!