Ohio State med 4 student Elana Curry named 2019 Pisacano Scholar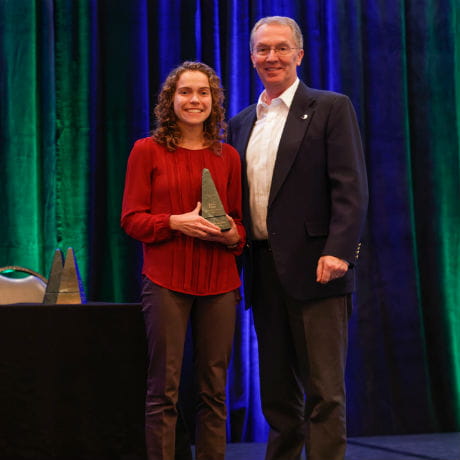 Fourth-year Ohio State University medical student Elana Curry has made it her personal mission to advance healthcare for the underserved. Her contributions have already resulted in healthcare delivery improvements in some local and global communities, as well as recognition from national organizations, including The American Board of Family Medicine, Inc. (ABFM), which recently named Elana a 2019 Pisacano Scholar.
Granted through the ABFM's Pisacano Leadership Foundation, the Pisacano scholarship recognizes medical students who have demonstrated a strong commitment to the specialty of Family Medicine, based on demonstrative leadership skills, superior academic achievement, strong communication skills, identifiable character and integrity, and a noteworthy level of community service. Elana was one of only five students in the nation chosen to receive the 2019 award from approximately 2,750 applicants representing more than 140 medical schools. As one of the five students identified by the organization as "future leaders in the field of Family Medicine," she is in good company, standing beside students from Brown University, University of Nebraska, University of Minnesota and University of Washington.
The list of Elana's demonstrable successes is long, punctuated by projects that connect underserved communities both locally and around the world with medical and social resources critical to their health and well-being.
Recognizing just such a need in the local Columbus community, while still an undergraduate at Ohio State, Elana and a group of fellow public health students set about founding a volunteer student organization they named "ENCompass: Empowering Neighborhoods of Columbus" to address such problems as food insecurity, homelessness and lack of adequate medical care. Under their leadership, the organization grew to partner with the Total Health & Wellness (TH&W) primary care clinic, a part of The Wexner Medical Center East Hospital. Recognizing the impact of social determinants on health and committed to addressing them, both organizations found common ground in wanting to impact health outcomes by connecting patients with local resources to assist with rent, utilities, access to food and transportation, and other factors that serve as frequent barriers to achieving and maintaining good health. Now, as a medical student, Elana serves as an advisory board member, where she provides student leaders with guidance to further the organization's mission.
Elana's interest in advancing health for underserved communities grew while shadowing Allison Macerollo, MD, professor of family medicine at Ohio State University in an undergraduate pre-professional course. "This young person was different right from the start," Dr. Macerollo recalls. "She was engaged in the discussion of social determinants of health from the first time she shadowed me in practice."
Her interest expanded into the global arena while serving as a research fellow for the Pure Water Access Project (PWAP), a non-profit organization dedicated to combating the global water crisis by using research to create impactful and sustainable water projects. In 2014, she led a water purification project in San Salvador, El Salvador. After visiting the community, interviewing community leaders, surveying households, and assessing water quality, her team implemented a community driven program to implement household biosand filters and a large-scale industrial filter at the local school.
Once in medical school, Elana focused her attention on preparing for a career in family medicine. While serving as president of Ohio State's Family Medicine Interest Group (FMIG), she led efforts to increase student awareness and interest in family medicine as a specialty field. Despite the rigors and demands of medical school, Elana has managed to find time to advocate for systemic change directed toward mitigating health disparities in the nation. As a two-term Academy of Family Physicians (AAFP) Student Representative to the American Medical Association, she has helped to shape policy to increase quality, equitable healthcare for all. She continues that work today by serving as a student representative for the Central Ohio Academy of Family Physicians and as a public policy committee member for the Ohio Academy of Family Physicians. Moreover, after realizing that integrative medicine services are often inaccessible for low-income communities and the growing need for non-pharmacologic pain treatment modalities, Elana established a student-run free auricular acupuncture clinic. Since the inaugural night in 2017, the clinic has treated over 250 patients.
Elana feels fortunate to have completed the two-year, Longitudinal Practice portion of her MD program with a family physician at Primary One, a Level 3 Patient Centered Medical Home (PCMH) offering comprehensive, affordable healthcare services to underserved patients in the Columbus, Ohio area. Working at Primary One fit perfectly with Elana's goals, promoting partnerships between patients and their personal physicians and family members to ensure that patients receive the necessary care when and where they need it, in a manner they can understand.
Working at Primary One, along with a Med 3 adult ambulatory rotation at Ohio State Outpatient Care East, solidified her desire to provide compassionate, holistic, prevention-focused primary care, create healthcare models that improve all components of health, and advocate for society's most vulnerable communities.
"These experiences exposed me to different interdisciplinary care models and payment models that benefit low-income and marginalized communities and taught me how to truly be a compassionate, patient-centered, altruistic provider," she says.
Dr. Macerollo continues to watch Elana grow professionally. "I see her as a leader in the future of US health care, and I don't write a statement like this lightly. She is a perfect fit for a family medicine physician of the future, and I am eager to see the next challenge she undertakes to change our world."