Castle Connolly names 110 Ohio State female faculty physicians Exceptional Women in Medicine
Castle Connolly just announced the release of its list of 2023 Exceptional Women in Medicine. This is the first time the organization has recognized exceptional women doctors in the Castle Connolly network who demonstrate outstanding leadership, expertise and dedication in their respective fields. One hundred ten of those on the list serve as clinical faculty at The Ohio State University College of Medicine.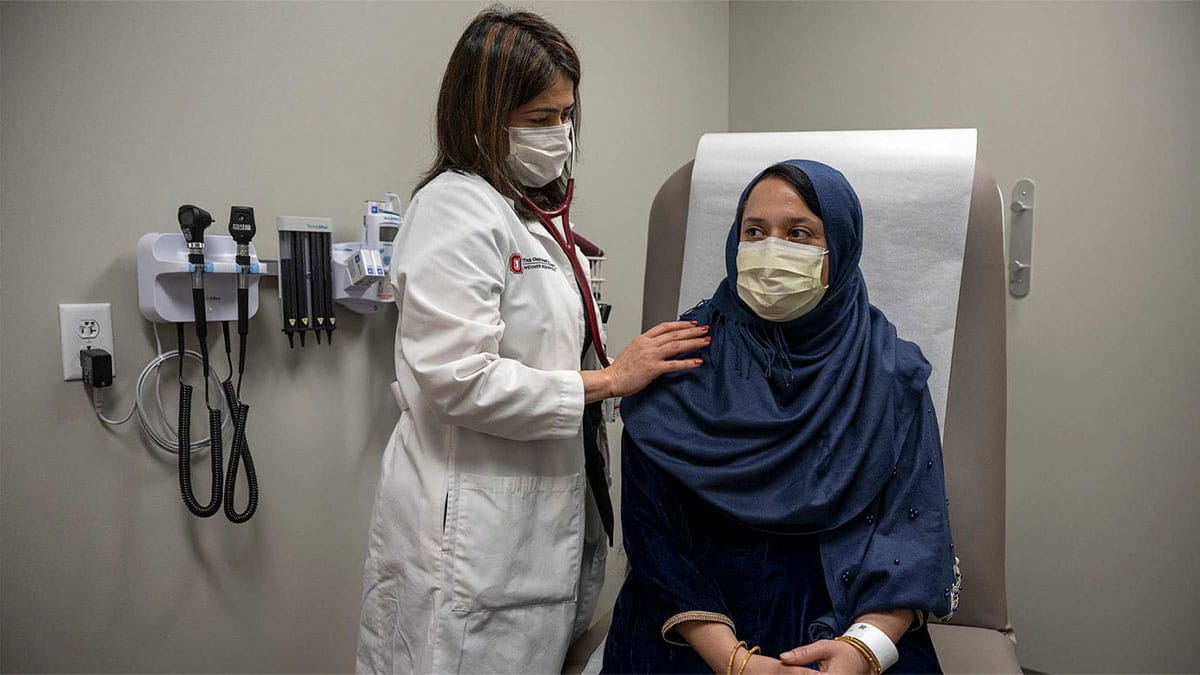 "I recognize and honor all of our extraordinary women physicians for the patient-centered, high quality and compassionate care they provide each and every day," says Carol R. Bradford, MD, MS, FACS, dean of the Ohio State College of Medicine. "We believe that a diverse workforce is critical to creating health equity for all of our patients and the communities we serve."

At Ohio State, equitable representation and the advancement of women in medicine are in its DNA. The first woman graduated from The Ohio State University College of Medicine in 1915, a year after the institution opened. This year's class of first-year medical students at the college is 53% female — the ninth year that women have outnumbered men. Overall, 37% of leaders at the college are female, and 55% of students identify as a woman. Compared to peer institutions in the Association of American Medical Colleges, Ohio State ranks above the benchmark for female-to-male faculty ratios in all categories.

All Castle Connolly Exceptional Women in Medicine are nominated by their peers, and then the Castle Connolly research team evaluates important criteria to determine who makes the list, including professional qualifications, education, hospital and faculty appointments, research leadership, professional reputation, disciplinary history, interpersonal skills and outcomes data (where available).

Congratulations to the College of Medicine clinical faculty named Castle Connolly Exceptional Women in Medicine, who practice at Nationwide Children's Hospital, The Ohio State University Comprehensive Cancer Center – Arthur G. James Cancer Hospital and Richard J. Solove Research Institute and The Ohio State University Wexner Medical Center.

Adolescent Medicine
Elise Berlan, MD, Nationwide Children's Hospital
Andrea Bonny, MD, Nationwide Children's Hospital
Cynthia Holland-Hall, MD, Nationwide Children's Hospital

Anesthesiology
Demicha Rankin, MD, The Ohio State University Wexner Medical Center

Dermatology
Susan Massick, MD, The Ohio State University Wexner Medical Center
Alisha Plotner, MD, The Ohio State University Wexner Medical Center
Patricia Witman, MD, Nationwide Children's Hospital
Developmental-Behavioral Pediatrics
Jennifer Walton, MD, Nationwide Children's Hospital
Family and Community Medicine
Shalina Nair, MD, The Ohio State University Wexner Medical Center
Internal Medicine - Allergy and Immunology
Elizabeth Erwin, MD, Nationwide Children's Hospital
Irene Mikhail, MD, Nationwide Children's Hospital
Margaret Redmond, MD, Nationwide Children's Hospital
Karen Wada, MD, The Ohio State University Wexner Medical Center


Internal Medicine - Cardiovascular Disease
Cindy Baker, MD, The Ohio State University Wexner Medical Center
Ayesha Hasanm, MD, The Ohio State University Wexner Medical Center
Laxmi Mehta, MD, The Ohio State University Wexner Medical Center
Internal Medicine - Endocrinology, Diabetes & Metabolism
Sasigarn Bowden, MD, Nationwide Children's Hospital
Monika Chaudhari, MD, Nationwide Children's Hospital
Kathleen Dungan, MD, The Ohio State University Wexner Medical Center
Luma Ghalib, MD, The Ohio State University Wexner Medical Center
Willa Hsueh, MD, The Ohio State University Wexner Medical Center
Laura Ryan, MD, The Ohio State University Wexner Medical Center
Jennifer Sipos, MD, The Ohio State's Comprehensive Cancer Center – James Cancer Hospital and Solove Research Institute
Internal Medicine - Gastroenterology
Lanla Conteh, MD, The Ohio State University Wexner Medical Center
Cheryl Gariepy, MD, Nationwide Children's Hospital
Thangam Venkatesan, MD, The Ohio State University Wexner Medical Center
Internal Medicine - Geriatric Medicine
Tanya Gure, MD, The Ohio State University Wexner Medical Center
Internal Medicine - Hematology
Uma Borate, MD, The Ohio State University Comprehensive Cancer Center – James Cancer Hospital and Solove Research Institute
Kami Maddocks, MD, OSUCCC – James
Kerry Rogers, MD, OSUCCC – James
Jennifer Woyach, MD, OSUCCC – James
Internal Medicine - Infectious Disease
Shandra Day, MD, The Ohio State University Wexner Medical Center
Susan Koletar, MD, The Ohio State University Wexner Medical Center
Rebecca Wallihan, MD, Nationwide Children's Hospital
Internal Medicine - Medical Oncology
Marium Husain, MD, OSUCCC – James
Bhavana Konda, MD, OSUCCC – James
Alice Mims, MD, OSUCCC – James
Ashley Rosko, MD, OSUCCC – James
Nicole Williams, MD, OSUCCC – James

Internal Medicine - Pain Medicine
Whitney Luke, MD, The Ohio State University Wexner Medical Center
Melissa Tornero-Bold, MD, The Ohio State University Wexner Medical Center
Internal Medicine -
Pulmonary Disease
Lynn Fussner, MD, The Ohio State University Wexner Medical Center
Internal Medicine - Rheumatology
Stacy Ardoin, MD, Nationwide Children's Hospital
Zhanna Mikulik, MD, The Ohio State University Wexner Medical Center
Internal Medicine - Sleep Medicine
Aneesa Das, MD, The Ohio State University Wexner Medical Center
Internal Medicine
Seuli Brill, MD, The Ohio State University Wexner Medical Center
Sarah Jonaus, MD, The Ohio State University Wexner Medical Center
Cynthia Kreger, MD, The Ohio State University Wexner Medical Center
Patricia Ryan, MD, The Ohio State University Wexner Medical Center
Nazhat Taj-Schaal, MD, The Ohio State University Wexner Medical Center
Neonatal-Perinatal Medicine
Elizabeth Bonachea, MD, Nationwide Children's Hospital
Neurology
Anne Connolly, MD, Nationwide Children's Hospital
Miriam Freimer, MD, The Ohio State University Wexner Medical Center
Tirisham Gyang, MD, The Ohio State University Wexner Medical Center
Sandra Kostyk, MD, The Ohio State University Wexner Medical Center
Sarita Maturu, MD, The Ohio State University Wexner Medical Center
Zarife Sahenk, MD, Nationwide Children's Hospital
Jaime-Dawn Twanow, MD, Nationwide Children's Hospital
Obstetrics & Gynecology
Deborah Bartholomew, MD, The Ohio State University Wexner Medical Center
Amber Bondurant-Sullivan, MD, The Ohio State University Wexner Medical Center
Kamilah Dixon, MD, The Ohio State University Wexner Medical Center
Geri Hewitt, MD, The Ohio State University Wexner Medical Center
Katherine Strafford, MD, The Ohio State University Wexner Medical Center
Obstetrics & Gynecology: Gynecologic Oncology
Floortje Backes, MD, OSUCCC – James
Obstetrics & Gynecology: Maternal and Fetal Medicine
Cynthia Shellhaas, MD, The Ohio State University Wexner Medical Center
Ophthalmology
Colleen Cebulla, MD, The Ohio State University Wexner Medical Center
Gloria Fleming, MD, The Ohio State University Wexner Medical Center
Shelly Jain, MD, The Ohio State University Wexner Medical Center
Rebecca Kuennen, MD, The Ohio State University Wexner Medical Center
Orthopaedic Surgery
Julie Bishop, MD, The Ohio State University Wexner Medical Center
Laura Phieffer, MD, The Ohio State University Wexner Medical Center
Elizabeth Yu, MD, The Ohio State University Wexner Medical Center
Otolaryngology
Carol Bradford, MD, The Ohio State University Wexner Medical Center
Meredith Merz Lind, MD, Nationwide Children's Hospital
Laura Matrka, MD, The Ohio State University Wexner Medical Center
Minka Schofield, MD, The Ohio State University Wexner Medical Center
Otolaryngology/Facial Plastic Surgery
Leslie Kim, MD, The Ohio State University Wexner Medical Center
Pathology
Wei Chen, MD, The Ohio State University Wexner Medical Center
Wendy Frankel, MD, The Ohio State University Wexner Medical Center
Pediatrics
Jamie Macklin, MD, Nationwide Children's Hospital
Dominique Williams, MD, Nationwide Children's Hospital
Pediatric Cardiology
Naomi Kertesz, MD, Nationwide Children's Hospital
Karen Texter, MD, Nationwide Children's Hospital
Pediatric Critical Care Medicine
Markita Suttle, MD, Nationwide Children's Hospital
Pediatric Hematology-Oncology
Rolla Abu-Arja, MD, Nationwide Children's Hospital
Amy Dunn, MD, Nationwide Children's Hospital
Maryam Fouladi MD, Nationwide Children's Hospital
Terri Guinipero, MD, Nationwide Children's Hospital
Bhuvana Setty, MD, Nationwide Children's Hospital
Pediatric Nephrology
Beth Vogt, MD, Nationwide Children's Hospital
Diana Zepeda-Orozco, MD, Nationwide Children's Hospital
Pediatric Pulmonology
Debra Boyer, MD, Nationwide Children's Hospital
Karen McCoy, MD, Nationwide Children's Hospital
Physical Medicine & Rehabilitation
Michelle Miller, MD, Nationwide Children's Hospital
Bavishi Sheital, MD, The Ohio State University Wexner Medical Center
Plastic Surgery
Amy Moore, MD, The Ohio State University Wexner Medical Center
Radiation Oncology
Dayssy Diaz Pardo, MD, OSUCCC – James
Sports Medicine
Kendra McCamey, MD, The Ohio State University Wexner Medical Center
Surgery
Doreen Agnese, MD, OSUCCC – James
Jennifer Aldrink, MD, Nationwide Children's Hospital
Nicole Bernal, MD, The Ohio State University Wexner Medical Center
Gail Besner, MD, Nationwide Children's Hospital
Renata Fabia, MD, Nationwide Children's Hospital
Valerie Grignol, MD, OSUCCC – James
Barbra Miller, MD, OSUCCC – James
Samilia Obeng-Gyasi, MD, OSUCCC – James
Bridget Oppong, MD, OSUCCC – James
Surgery: Colon & Rectal Surgery
Amber Traugott, MD, The Ohio State University Wexner Medical Center
Urology
Cheryl Lee, MD, The James Cancer Hospital