Ohio State iGEM team receives global recognition for research in biocontainment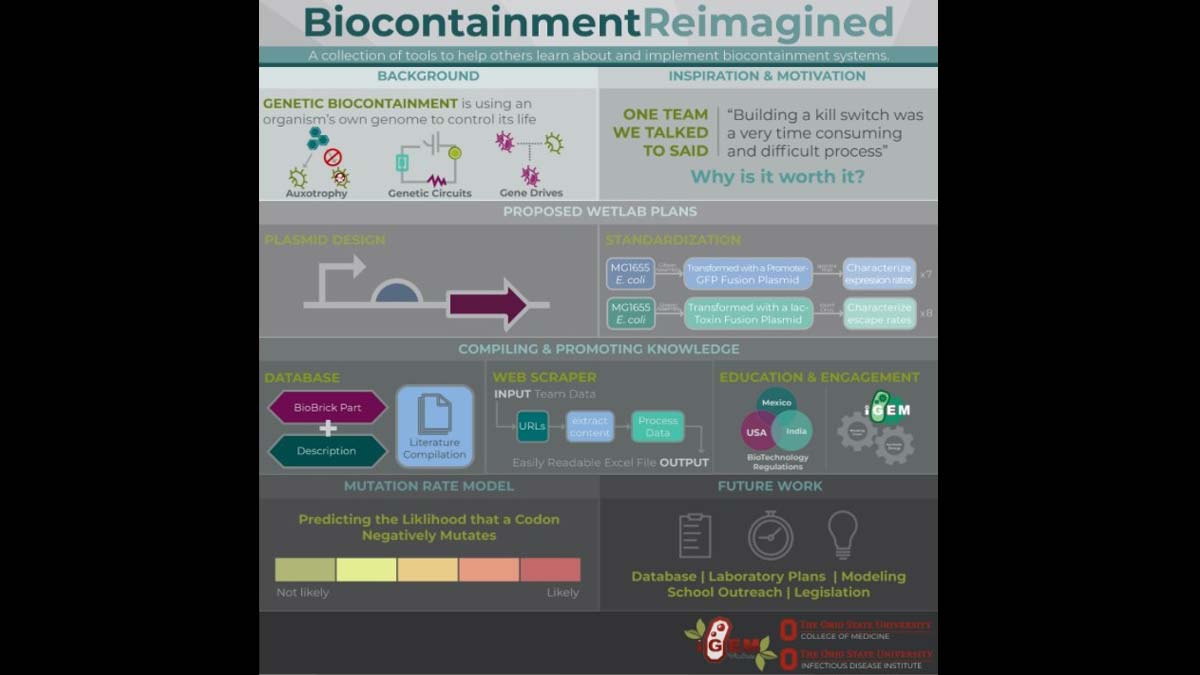 "The field of synthetic biology has one major barrier to being accepted by the broader public: safety." – Brian Ahmer, PhD
Redesigning microorganisms to clean pollutants from the air, water and soil. Modifying rice to improve nutritional value and prevent vitamin deficiency. Engineering low-cost sugars to substitute for petroleum. Making "green chemicals" from agricultural waste. These are but a few of the positive ways that synthetic biology is being used to create products that improve living conditions for people all around the world. While offering huge socioeconomic and health benefits, the development of these products and the technologies that are used to produce them also present potential risks to society, including improper use and containment as well as certain ethical concerns and misinformation that fuel public concern and apprehension.
One of those apprehensions concerns the possibility of one or more synthetically designed microbes escaping from the lab or, worse still, intentionally released as a bioterrorist threat or biological weapon. It's easy to see how such thoughts might exacerbate community fears and lead to public condemnation of their usage.
To allay those concerns, a team of undergraduates at The Ohio State University College of Medicine have been working together to create a centralized source of biocontainment systems that guide the scientific community on how to implement synthetic biology safely.
"One way to raise safety and confidence in synthetic biology products is by adding genetic biocontainment systems, which are genes and genome edits that give us control over the life of our microbes," says Brian Ahmer, PhD, professor of Microbial Infection and Immunity at The Ohio State University College of Medicine and a co-director of the team.
These systems range from small genetic circuits of promoters and toxins to complete genomic rewrites that the Ohio State team has compiled into a simple, flexible database. To accompany this, the team has developed predictive models and educational media—all with the purpose of making biocontainment easier to implement and making synthetic biology safer for public use.
"Ensuring the proper containment and control of synthetic biology is one of the most important requirements for the advancement of the field," says Dr. Ahmer.
The Ohio State team is part of a network of interdisciplinary researchers across the world dedicated to the advancement of synthetic biology, education and competition, and to the development of an open community and collaboration. They presented their work virtually this past fall at the International Genetically Engineered Machine (iGEM) competition, and won a gold medal and the Best Foundational Advance Project award. They were also nominated for the Best Integrated Human Practices award.
The 2020 Ohio State iGEM team was co-directed by Anice Sabag-Daigle, PhD, and included teammates Ankit Annapareddy, Annie Bete, Lizzie Chung, Satvik Kethireddy, Nate Meyer, Megan Rinehart, Lindsey Shimoda and Jacob Smith. Erin Connors, Allison Howell, Jacob Riina and Andrew Schwieters served as advisors. The team is sponsored by generous funding from the Ohio State College of Medicine and The Ohio State University Infectious Diseases Institute.