'Dreamland' inspires research on alarming increase in young-adult stroke cases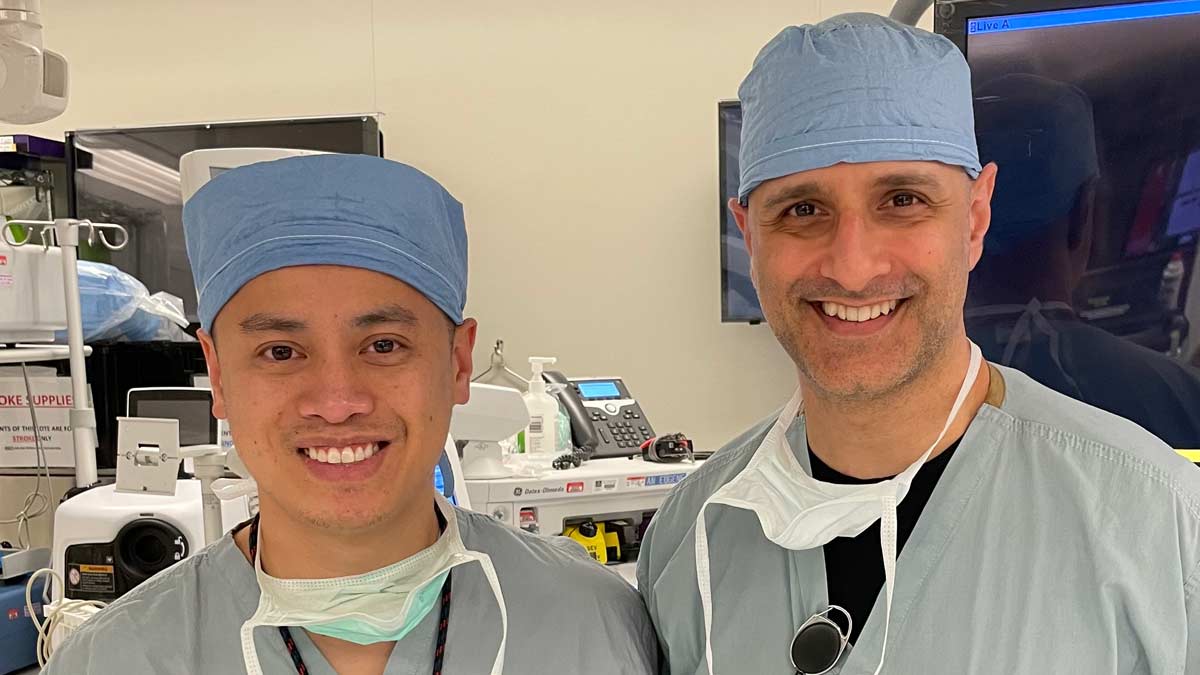 Upon arriving in Columbus a little more than six years ago, Shahid Nimjee, MD, PhD, associate professor of Neurological Surgery at The Ohio State University College of Medicine, noticed a peculiar trend among his patients. More and more young patients were coming to him for stroke treatment. This alarming increase in young-adult stroke cases contrasted sharply with the fact that patients over the age of 65 are at the highest risk for the disease.
Curious to trace the cause of this increase in young stroke patients, Dr. Nimjee came across investigative journalist Sam Quinones' book Dreamland: The True Tale of America's Opiate Epidemic. Halfway through this story about the convergence of black tar heroin and oxytocin addiction in the United States is a chapter called "Ground Zero: Columbus, Ohio." What Dr. Nimjee discovered in Dreamland was a clue about why he was seeing irregularities in his patient population.
"This book had a profound impact on me, as it taught me all of the facets that contributed to the opioid epidemic as we know it today," Dr. Nimjee says. "This research was my own dive into the impact of the opioid epidemic as I know — and experience — it in diagnosing and treating my patients. I began connecting the dots, surmising that Ohio's opioid epidemic could be a concrete contributor to this odd increase in young-adult stroke patients."
Impact of nonprescribed intravenous drugs on stroke
The opioid epidemic is a public health crisis that presents special dangers for young adults. This population is at a higher risk for the use of intravenous drugs such as heroin, morphine and fentanyl. Dr. Nimjee knew that nonprescribed intravenous drug use (IVDU) contributes to infections such as bacterial endocarditis, a bacteria-induced infection that leads to bacterial growths on the valves of the heart. He also knew that this condition commonly attributes to stroke, as bacterial endocarditis can produce blood clots that may embolize.
"Intravenous drug use can lead to bacteremia, which in turn leads to end organ damage including endocarditis and resultant septic embolic stroke, infectious intracranial aneurysm (IIA), and spinal epidural abscess/osteomyelitis, resulting in significant morbidity and mortality," says Dr. Nimjee.
To further understand the relationship between intravenous drug use and stroke risk, Dr. Nimjee and his chief resident, Nguyen Hoang, MD, studied patients treated for infective endocarditis. Over a 54-month study, they routinely screened these patients for septic embolic stroke, mycotic aneurysms and intracranial hemorrhage.
"We found that IVDU was associated with a significant increase in the prevalence of intracranial hemorrhagic strokes, IIAs and brain abscesses," Dr. Nimjee says. "In addition, patients with IVDU-related endocarditis had significantly higher hospital charges that patients who were treated for non-IVDU-related endocarditis."
Dr. Nimjee and his team concluded that the opioid epidemic has detrimental effects on infective endocarditis incidence, also leading to an increase in medical complications and care costs.
Chronic care reform
While Dr. Nimjee knew that identifying the cause of increased young-adult stroke was one issue, preventing it was another. This was where Dreamland offered him deeper insight into the chronic care reform needed among all health care stakeholders.
"I viewed one of Quinones' online talks to better understand the issue at hand, and I was very enlightened," says Dr. Nimjee. "He highlighted that a convergence of so many things contributed to this epidemic. In addition to the cheap accessibility and marketing of opioids to patients, American culture demands immediate wellness. Often, patients look for instant cures, and pills are a way to quickly take the pain away."
Dr. Nimjee has since reformed the nearly 20-year-old opioid prescription practices he was trained in. In addition to better preparing patients mentally for the possibility of postsurgical pain, Dr. Nimjee equips them with pain management strategies. While this regimen still often includes opioids, he cuts the prescription course time and shifts pain treatment to non-opioid pain medications.
"In my opinion, Dreamland is the most well-researched and comprehensive description of how this human-made health epidemic came to be, and frankly highlights how some physicians were complicit in and, even worse, facilitated the spread of this disease. Dreamland provides a foundation to understand how we got here. It's up to us as a society to commit to where we need to go to get through this," says Dr. Nimjee.
Dr. Nimjee encourages other health care workers to reflect on the role they may serve in the fight to end the opioid epidemic, and lauds his fellow colleagues for doing so.
"The Department of Neurological Surgery at the Ohio State College of Medicine is well-educated about opioid dependence, and we all focus on strategies to minimize opioid use," he says. "My colleagues in chronic pain management at Ohio State are at the front lines of dealing with opioid dependence and have led the way to mitigate opioid use."
About Shahid Nimjee, MD, PhD
In his clinic at The Ohio State University Wexner Medical Center, where he's surgical director of the Comprehensive Stroke Center, Dr. Nimjee continues to treat stroke patients, specializing in open endovascular neurosurgery. He also leads a National Institutes of Health (NIH)-funded foundational and translational research program. He's studying the properties of RNA biology to better diagnose and treat thromboembolic disease as it pertains to cerebrovascular neurosurgery. In addition, he's developing a novel and reversible drug that targets clotting agent von Willebrand factor to treat patients who present with acute ischemic stroke.
"Recombinant tissue plasminogen activator (rtPA) and thrombectomies were the only treatments available to stroke patients prior to this research," Dr. Nimjee says. "In addition to these interventions only being applicable to 20% – 25% of patients, rtPA may induce hemorrhage and possible death. The past 15 years of my work has been guided by two goals: to directly target the clot attributed to the stroke and to have a safety mechanism in place to address the possibility of treatment-induced bleeding."
Stroke is the single largest cause of combined morbidity and mortality, affecting one in four people. Dr. Nimjee's research and his Dreamland-inspired efforts to solve the rise in young-adult strokes have the potential to save millions of lives.