Latino Medical Student Association wins Chapter of the Year Award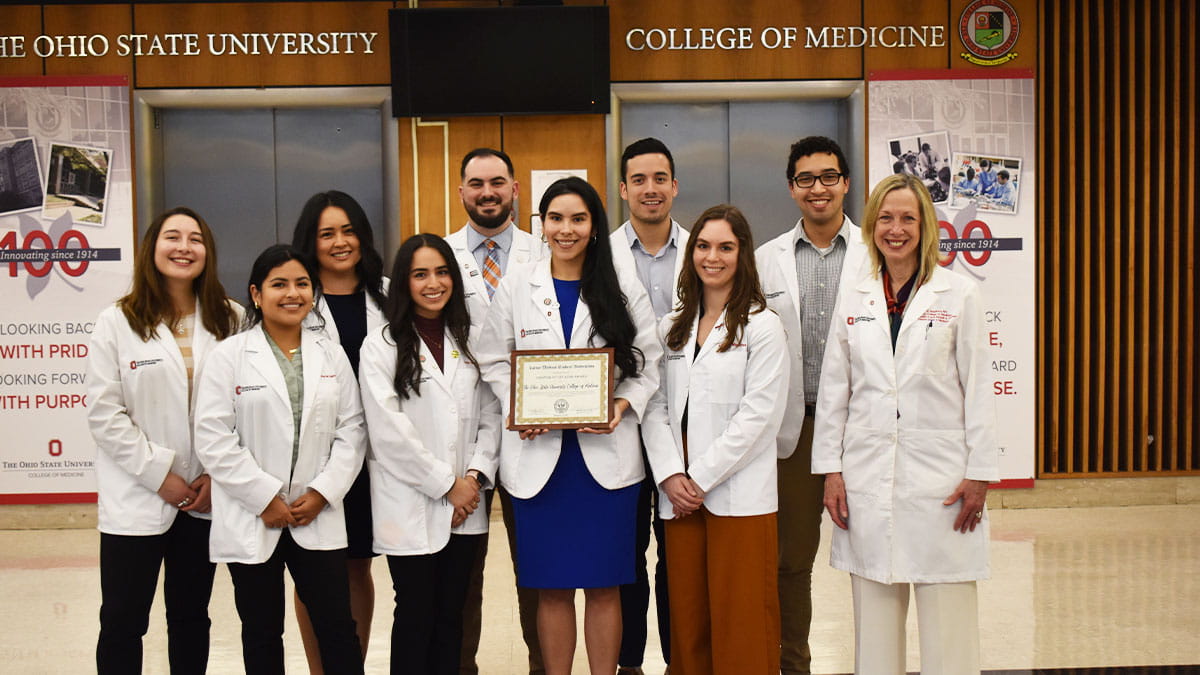 For the first time in The Ohio State University College of Medicine's history, its chapter of the Latino Medical Student Association (LMSA) won
the
Chapter of the Year
award
.
"This award recognizes our efforts and commitment to Latino/a/e advancement in medicine, not only through work with the community, but also through our work in creating and solidifying a pipeline for Hispanic/Latinx-identifying premeds and medical students," says Samantha Rojas, a second-year medical student and president of the LMSA at the Ohio State College of Medicine.
This is also the first time that a chapter from the state of Ohio has won the award. The student group won three additional awards at the recent 33rd annual Midwest Regional Conference:
Outstanding Poster Presentation for "Evaluating the Efficacy of Community Outreach in Establishing Care for the Hispanic/Latinx Population of Columbus, Ohio," which was presented by Samantha Rojas, Sofia Baena, Alejandro de la Cova and Amanda Martinez on behalf of the Community Health Education program Clinica Latina.

LMSA Medical School Scholarship: Alejandro de la Cova

LMSA Undergraduate Scholarship: Enrique Ruiz
"Our students work tirelessly in service to our communities," says Carol R. Bradford, MD, MS, FACS, dean of the Ohio State College of Medicine. "I could not be more impressed or more grateful for their hard work, dedication and collaboration."
LMSA is a network of students, alumni and health professionals whose mission is to promote the development of Latino students through educational, volunteer, professional and networking opportunities. Rojas says the network continues to push for health equity for marginalized populations.
"We plan to continue showing up for our community in as many ways as we can," Rojas says. "We're so grateful for the support from the college and hope this honor will help future generations of medical students know that it is possible to thrive when there is passion that drives action."