Ohio State receives AAMC recognition for outstanding community service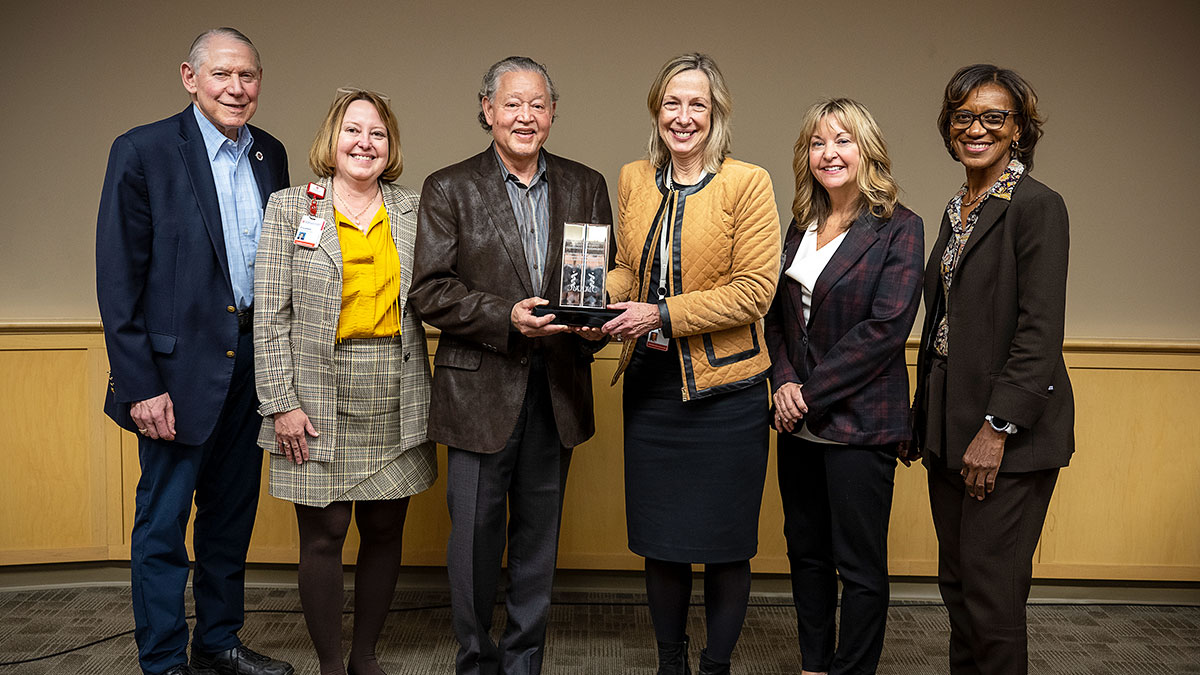 From filling gaps in resources and health care for Columbus residents to implementing evidence-based intervention in Ohio communities battling the opioid epidemic, The Ohio State University is deeply invested in community health. Its long-standing efforts to transform the health of Ohioans has received national recognition from the Association of American Medical Colleges (AAMC) (external link).
The Ohio State University College of Medicine and The Ohio State University Wexner Medical Center (external link) have been awarded the 2022 Spencer Foreman Award for Outstanding Community Engagement for exhibiting an extraordinary commitment to community service.
The AAMC, a nonprofit association dedicated to improving the health of people everywhere through medical education, health care, medical research, and community collaborations, gives out the award annually to an AAMC-member medical school or teaching hospital with a long-standing institutional commitment to partnering with the community it serves to identify and address community needs. The Ohio State College of Medicine and the Wexner Medical Center were recognized for their land-grant mission to support and partner with communities throughout Ohio.
"Community engagement is intrinsic to who we are as an institution and integrated in everything we do," says Carol R. Bradford, MD, MS, FACS, dean of the Ohio State College of Medicine and vice president for health sciences at the Ohio State Wexner Medical Center. "The depth and breadth of the community engagement work we do at Ohio State is what empowers us to transform the health of the communities we serve."
The Foreman Award highlights community engagement as an important element of the academic mission and singles out institutions that serve as exemplars of social responsiveness on the part of the academic medical community. Ohio State's deep commitment to community engagement is illustrated through decades-long programming. Examples include:
Partners Achieving Community Transformation

: The Ohio State University, city of Columbus and Columbus Metropolitan Housing Authority partner to create a healthy, financially and environmentally sustainable community where residents have access to health care, safe and affordable housing, education and employment.

Free Clinics

: Primary and immediate care walk-in clinics offer services such as the diagnosis and treatment of acute and chronic medical conditions, immunizations, STI testing, prenatal care, gynecology, orthopedics and dermatology. They are managed by Ohio State medical students under the supervision of volunteer doctors and serve more than 1,400 underserved patients annually. Clinics include La Clinica Latina, the Asian Health Initiative Free Clinic, Noor Community Clinic and the Columbus Free Clinic.

Moms2B

: A community-based pregnancy program established to improve the health of at-risk communities, empower pregnant women to deliver full-term healthy babies, reduce the number of low birthweight infants, reduce infant mortality and eliminate racial and economic disparities.

Health Science Academies

: PACT, Columbus City Schools and Ohio State partner with K-12 public schools on the near east side of Columbus to create hands-on learning experiences and explore careers in the health sciences.

Ohio State has a partnership with African American Male Wellness Agency (AAMWA) to close health disparity gaps in the African American community.

Interprofessional Practice Education

: Medical students learn alongside students from the Colleges of Dentistry, Nursing, Optometry, Pharmacy, Public Health, Veterinary Medicine and Arts and Sciences to support an inclusive, multidisciplinary approach to patient care. The curriculum includes a focus on reducing health care disparities in the community.
"Our faculty, staff and learners play an essential role in every one of our community engagement initiatives," Dr. Bradford says. "Their hard work, dedication and collaboration will help us reach our ambitious goal of transforming the health of our communities."
SUNY Downstate Health Sciences University and the University of California Davis School of Medicine were the other two award finalists. The AAMC announced the winner of the Foreman Award during the 2022 AAMC Awards Recognition Event on October 26, 2022.