Research on ultra-rare genetic disease offers hope to Columbus patient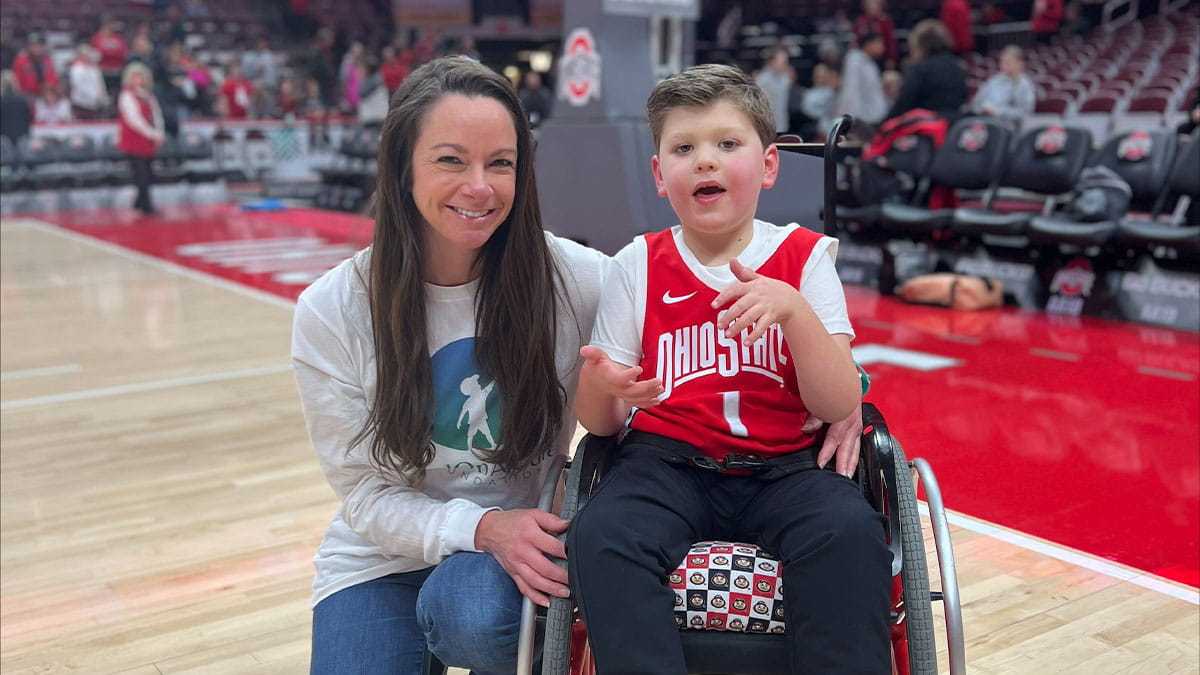 In her lab, Allison Bradbury, PhD, assistant professor of Pediatrics at The Ohio State University College of Medicine, explores gene therapy approaches for treatment of rare, inherited pediatric neurodegenerative diseases.
As a principal investigator in the Center for Gene Therapy at Nationwide Children's Hospital, her team studies genetic diseases that affect the white matter of the central nervous system. White matter is tissue comprised of bundles of nerve fibers that connect nerve cells responsible for movement, speech and a host of bodily functions.

When Dr. Bradbury learned of a six-year-old boy, Landon, from Columbus whose family was resolved to develop a genetic therapy for his rare disorder, she spurred her team to action. The initial stages of their research included examining the particulars of Landon's yet-to-be-named disorder, which involves a tubulin folding cofactor D (TBCD) mutation and affects an integral protein coding gene.

"TBCD plays a crucial role in neural development," Dr. Bradbury says. "Because of this, patients with pathogenic mutations in the TBCD gene experience developmental delays, including difficulty walking and talking, decreased muscle tone, and seizures."

Since no disease models exist for this condition, Dr. Bradbury and her team began collecting skin and blood cells from a spectrum of patients with the rare disease, generating the largest known collection of such samples. From these patient samples they have collaborated with Dr. Mark Hester in the Institute of Genomic Medicine at Nationwide Children's Hospital and generated cerebral organoids, or brains in a dish, to study disease mechanisms and evaluate therapeutic approaches.

The end goal is to develop a gene therapy for TBCD. Dr. Bradbury says advances in adeno-associated virus (AAV) vectors have led to safer and more efficient viral vehicles to deliver therapeutic transgenes. The process delivers a healthy gene, a functional replacement of a gene that has pathogenic mutations, in a single injection. This has enabled gene therapy to become a favorable therapeutic intervention for many newly discovered and existing diseases.

Dr. Bradbury has also played a key role in gene therapy development for another equally devastating pediatric genetic disorder called Krabbe disease, which results from the loss of the protective covering, the myelin sheath, surrounding nerve cells.

In addition, recent development of other preclinical models of TBCD, which uses actual patients' genetic mutations, has accelerated progress in this emerging area of science.

"This will be critical in comprehensively understanding the disease and the development of relevant model systems to translate a therapy to the clinic," Dr. Bradbury says. "And delivering hope to patients and families."

Believing in the hope science has to offer has helped Landon's parents establish a nonprofit, the Land on a Cure Foundation, to support research and families across the world also in search of life-changing treatments.
Read more about how the Ohio State University women's basketball team has thrown their support behind Landon, his family and their race to discover the right treatment for his disorder.