With esteemed FDA grant, Ohio State, Nationwide Children's Hospital to lead new Midwest Pediatric Device Consortium
Faculty with
The Ohio State University College of Medicine
will lead a new consortium aimed at developing pediatric medical devices — one of just five partnerships nationwide to receive prestigious funding from the U.S. Food and Drug Administration (FDA).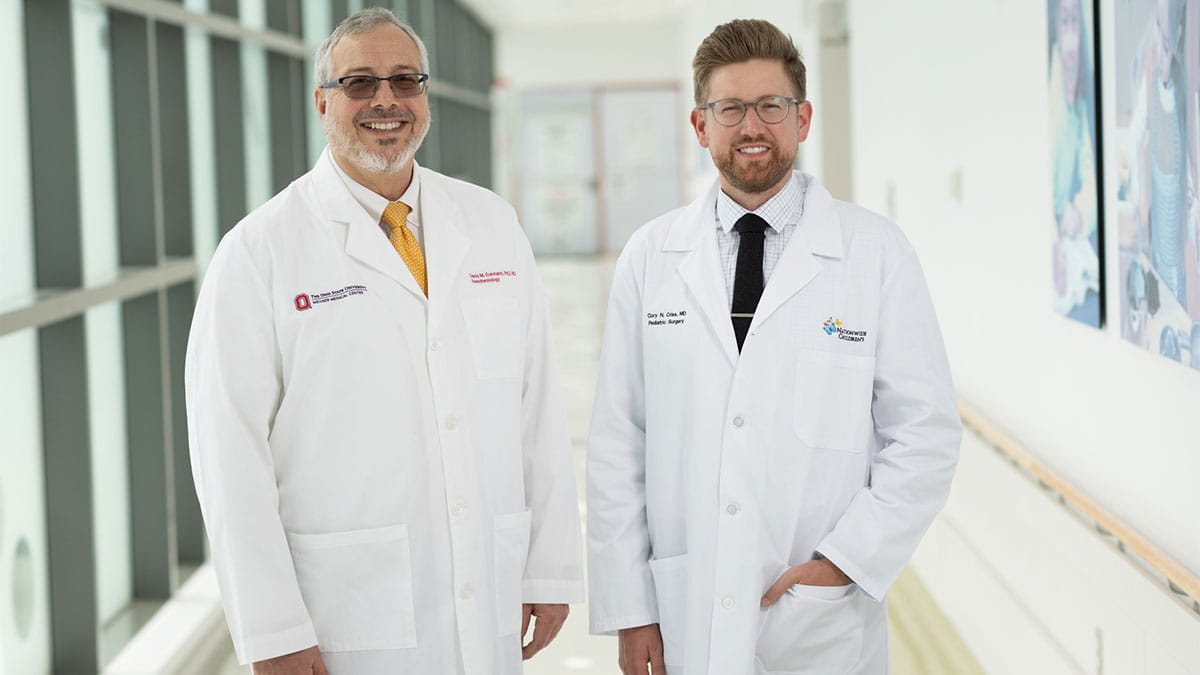 In October, the FDA announced the $6.95 million grant to create the
Midwest Pediatric Device Consortium (MPDC)
. This new entity — the first of its kind in the Midwest — will be led by investigators from The Ohio State University, Nationwide Children's Hospital and other regional health care systems to help increase the number of pediatric medical devices across the country.
David Eckmann, MD, PhD
, and
Cory Criss, MD
, are co-principal investigators of the FDA award. Dr. Eckmann, who's director of the
Center for Medical and Engineering Innovation
at the Ohio State College of Medicine, will serve as the MPDC's chief executive officer. Dr. Criss, a pediatric surgeon at Nationwide Children's Hospital and clinical assistant professor of Surgery at the Ohio State College of Medicine, will serve as the consortium's chief operating officer.
The overall mission of the consortium is to help advance pediatric medical devices in the pipeline, Dr. Eckmann and Dr. Criss say. In addition to distributing funds, the consortium could also advise on business development, intellectual property, engineering, clinical trials and grant writing. The MPDC will work to help conceptualize, prototype, test, manufacture and market pediatric medical devices.
"Our job in this is to provide insight and guidance, and to help with each step of this pathway," Dr. Eckmann says. "So it goes from idea, all the way to FDA-approved device."
Developing medical devices for pediatric patients presents unique challenges because of children's size, growth, development, body chemistry and propensity for disease, according to the FDA. Only a small number of approved medical devices are intended for pediatric use.
The FDA created the Pediatric Device Consortia grants program in 2009 to address this health inequity and advance the development of pediatric devices. The MPDC will also focus on outreach into diverse populations.
"One of our initiatives is to seek out needs in underserved populations, focus on education and bolster innovators in underserved areas," Dr. Criss says. "Additionally, we will work to improve the overall clinical trial infrastructure within the region to improve accessibility and efficiency."
Cleveland Clinic Children's Hospital and Cincinnati Children's Hospital join Ohio State and Nationwide Children's as consortium members. The group will also work with other academic institutions and industry partners.
"We have an incredible brain trust in Ohio, with each of these institutions bringing vast experience," Dr. Eckmann says. "This consortium creates a hub for innovation in our region, with impact across the country."
Dr. Criss and Dr. Eckmann plan for the consortium to begin accepting device applications in early 2024.