About the director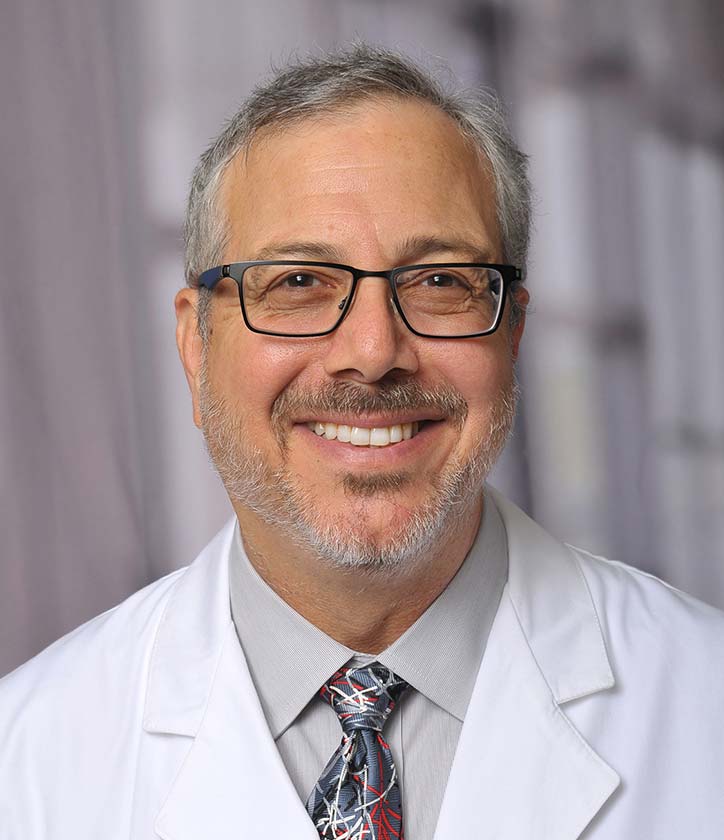 David M. Eckmann, PhD, MD
Director, Center of Medical and Engineering Innovation
Professor and Vice Chair for Academic Affairs, Department of Anesthesiology
Dr. Eckmann received his BS in bioengineering from the University of California San Diego (UCSD) and his PhD in bioengineering and MD from Northwestern University. He joined the faculty at The Ohio State University after 23 years at the University of Pennsylvania where he held the Horatio C. Wood Endowed Chair as tenured professor of anesthesiology and critical care and professor of bioengineering. He has more than 25 years of continuous funding from NIH, NSF, Department of Defense, NASA, the Office of Naval
Research, private foundations and industry supporting his research focusing on the interfacial biofluid dynamics of vascular gas embolism, targeted drug delivery, thin film surface grafting for biomaterial biocompatibility, drug elution and antimicrobial protection, and the interrelationship between cell mechanics and cellular bioenergetics and mitochondrial function. He has served a principle investigator of an NIH T32 in perioperative medicine and is a member of the Foundation for Anesthesia Education and Research Academy of Research Mentors. He has directed undergraduate and graduate courses in bioengineering and holds patents in biotechnology. Dr. Eckmann is American Board of Anesthesiology certified with expertise in cardiopulmonary physiology, anesthesia for bariatric surgery and airway management. He practices clinically at the Ohio State Wexner Medical Center.
Hamdy Elsayed-Awad, MD
Cardiothoracic Anesthesiology
Dr. Awad is a Cardiac/Thoracic Anesthesiologist. His research interests include spinal injury and paralysis after major aortic surgery, robotics for airway management, and the use of ultrasound devices to increase first attempt success rate in neuraxial anesthesia (epidruals, spinals, intrathecal injections) when compared to traditional techniques relying on anatomical landmarks.  
David Dean, PhD
Materials Science and Engineering
Dr Dean's research focuses on medical procedures and devices primarily related to musculoskeletal reconstructive surgery. He leads the Osteo Engineering Lab where novel bone tissue engineering research uses 3D printed, resorbable, solid-cured polymers as well as bioprinted, cell-laden, hydrogels. He is also working on the 3D printing of two biometals, NiTi and a resorbable, patent-pending Mg alloy. Both are being used to develop stiffness-matched, skeletal fixation devices. These technologies portend significant improvements in musculoskeletal reconstructive surgical outcomes.
Desmond D'Souza, MD
Thoracic Surgery
Dr. D'Souza specializes in robotic thoracic surgery. His research interest focuses on surgical innovation, robotic surgery and additive manufacturing (3D printing), especially to advance surgical methodology and improve patient outcomes in lung disease.
Andrew Grossbach, MD
Neurosurgery
Dr. Grossbach is a neurosurgeon specializing in spinal disorders including degenerative spine, minimally invasive techniques, and spinal deformity. His research interests include outcomes after spinal fusion, biologics, and spine biomechanics including spinal alignment and postural control after spinal fusion surgery. Research interests include device development, measuring postural control before and after fusion surgery, or looking for predictive methods for achieving and maintaining proper spinal alignment after surgery.  
Deepak Gulati, MD
Neurology
Dr. Gulati specializes in taking care of stroke patients. His research interests focus on developing tools for early detection and treatment of stroke which is the fifth leading cause of death in US. His work is more focused on acute neuroimaging (Dual Energy CT) and on developing a tool based on machine language/artificial intelligence (ML/AI) for automatic detection of stroke.  
Yousef Hannawi, MD
Neurocritical Care
Dr. Hannawi specializes in neurocritical care and management of stroke. Dr. Hannawi's research is focused on understanding the effect of cerebrovascular diseases on the cognition and outcome of patients. His research utilizes brain magnetic resonance imaging (MRI) in patients and animal models to understand the disease burden, phenotypes and mechanisms. Processing techniques include artificial intelligence and imaging sciences of human images. Cellular pathway mapping and imaging analysis in animal models.  
Mounir Haurani, MD
Vascular Surgery
Dr. Haurani is a vascular surgeon involved in endovascular surgery and clinical outcomes studies as well as serving as the PI or Sub-PI on several clinical trials and registries. His current projects include a studies on the outcomes after distal bypass revisions, amputations, utilization of technician's time in the vascular lab, review of the indications for and results of upper extremity and lower extremity arterial duplex. This work incorporates new and developing technologies, including imaging and indirect measurement of vascular disease progression, to assess patients for surgical intervention and postoperative results.  
Andrew Hendershot, MD
Ophthalmology
Dr. Hendershot is an ophthalmologist who specializes in cornea and external disease. He is currently involved in research projects involving patients with corneal ectasias such as keratoconus, pellucid, and post LASIK ectasia. Past research projects have also included dry eye, presbyopia, and educational initiatives. Dr. Hendershot is collaborating with engineers to develop noninvasive methods of assessing ocular biomechanics.  
Sachin Jhawar, MD
Radiation Oncology
Dr. Jhawar has interests in clinical and translational research related to the study of breast cancer, head and neck cancer, and cutaneous malignancies. Along with co-investigators in the College of Engineering, he is working on the development of machine learning algorithms for auto-segmentation of radiation oncology target volumes and use of time series data in the form of daily radiation treatment images (cone beam CT) to predict outcomes in head and neck cancer. He is also interested in the development of app based tools to improve patient care by adherence to complex medication schedules.  
Kyle Van Koevering, MD
Head and Neck Surgery
Dr. VanKoevering is an Otolaryngologist whose clinical interests are in cancer outcomes, skull base reconstruction and craniofacial trauma. His research interests focus on utilizing 3D printing to create patient-specific, customized devices and models. His work includes custom airway devices related to tracheostomy management, personalized CPAP masks, and custom craniofacial reconstruction procedures. He also has interests in high-fidelity procedural simulators for training young clinicians.  
Somashekar Krishna, MD, MPH
Gastroenterology
Dr. Krishna has specific research interests in the advancements in endoscopic ultrasound techniques, including in vivo confocal laser endomicroscopy to evaluate pancreatic neoplasms. Dr. Krishna collaborates with Dr. Wei (Harry) Chao in the Dept. of Computer Sciences to develop artificial intelligence (AI) for predicting high-risk cysts that can progress to cancer.  
Ed Levine, MD
Gastroenterology and Telemedicine
Dr. Levine is a clinical gastroenterologist with a strong presence in the Telemedicine realm. In addition to technology development for clinical use in gastroenterology, he is focused on development of telemedicine tools to improve patient care.  
Timothy Lucas, MD, PhD
Neurosurgery
Dr. Lucas is CEO of the NeuroTech Institute, whose mission is to improve the lives of patients suffering from neurological disorders by leveraging novel implantable and wearable neurotechnologies. Dr. Lucas conducts studies examining the neural substrates of human consciousness, studies developing novel gene therapy delivery systems, and studies developing implantable sensors for use in spinal cord injury.  
Andre Palmer, PhD
Chemical & Biomolecular Engineering
Dr. Palmer's research interests encompass the development of novel hemoglobin-based oxygen carriers for a variety of applications in transfusion medicine as red blood cell substitutes. His lab is also developing protein therapeutics to detoxify cell-free hemoglobin, heme and iron, non-heme based plasma substitutes, and monocyte/macrophage targeted drug delivery systems.  
Luciano Prevedello, MD, MPH
Radiology
Dr. Prevedello has research interests in medical informatics and augmented intelligence in imaging. He is Division Chief of Medical Imaging Informatics and Medical Director of the 3D and Advanced Visualization Lab. He is especially focused on integrating machine learning into clinical radiology practice in image analysis and disease detection.  
Alberto Revelo, MD
Pulmonary Medicine
Dr. Revelo specializes in the diagnosis and management of benign and malignant pleural and airway disorders. Dr. Revelo has a major interest in minimally invasive technologies to help diagnose and treat early stage lung cancer, especially tools that can integrate both real-time, ultrasound imaging and needle sampling of the most peripheral lung lesions. Dr. Revelo is also interested in developing drug-eluting airway stents that can be used for management of airway obstructions related to cancer.  
Roman Skoracki, MD
Plastic Surgery
Dr. Skoracki has a special interest in all areas of cancer reconstruction with a focus on autologous tissue transplantation, using the patient's own tissues to rebuild areas affected by cancer or cancer treatment. His research interest includes the development of external devices that will improve the quality of life of patients with lymphedema.  
Stephanus Viljoen, MD
Neurosurgery
Dr. Viljoen is a neurosurgeon whose practice focuses on the treatment of adult spinal deformity, and complex reconstructive spine surgery. His research interests include spinal biomechanics, clinical outcomes research, and device development, especially for patients with spinal deformities.  
Gregory Wiet, MD
Pediatric Head and Neck Surgery
Dr. Wiet specializes in the surgical care of pediatric patients with ear, nose, throat and head and neck disorders. His research focuses on simulation using computer-based systems to train, assess technical performance and pre-operatively plan complex ear surgery. This work involves image processing as well as computer programing for 3D visual and haptic display.