"Art speaks where words are unable to explain."
– Unknown
I recently had the honor of experiencing the deeply personal and poignant entries in the college's 2023 Medicine and The Arts art show. As I viewed the collection of stunning work created by nearly 60 individual artists, I was struck by their self-awareness and creativity. I was also impressed by their generosity — putting their work out into the world allowed us to bear witness and even delight in this very sacred space.
It takes great courage and strength to share one's soul with others through artistic expression. Through the diverse and varied talents of our learners, faculty, staff and health care professionals across Ohio State, I found new understanding and insight into who they are and who we all are, beyond our familiar roles and titles.
We are photographers, painters, mixed-media artists, musicians and poets. We are compassionate art lovers who wield artistic expression to make meaning out of our emotions and experiences. We create and interact with art for stress reduction, enjoyment, inspiration and healing, of ourselves and others.
When was the last time you got in touch with your creative side? Or wandered through an art exhibit? Or lost yourself in music? Creating and engaging in art is essential to our being human. Humanism in medicine promotes a compassionate approach to all that we do: research, patient care, teaching, learning and community engagement. It allows us to sharpen our listening and analytical skills and to reflect on how we care for patients, families, learners and each other.
Artistic expression reminds us of our own humanity and allows us to express what we cannot in words alone. There are a number of arts-based Humanism in Medicine programs and groups at the college that create space for artistic human expression. I encourage you to attend a concert or a dance performance and even participate in a program yourself.
I hope you take time to both lose yourself and find yourself through artistic expression and, in the process, find meaning and empathy in all that you do and create.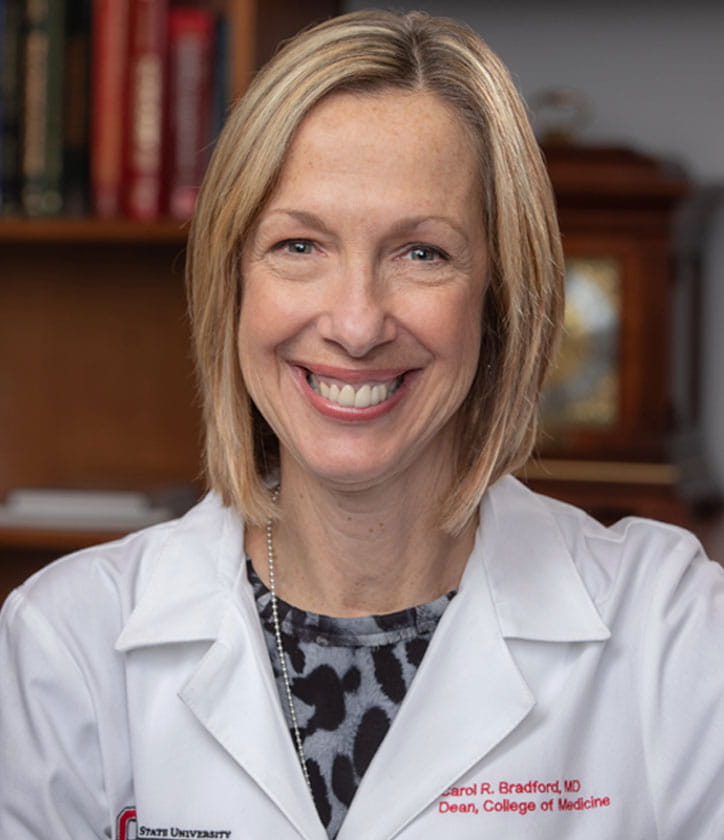 Carol Bradford, MD, MS
Dean, College of Medicine
Leslie H. and Abigail S. Wexner Dean's Chair in Medicine
Vice President for Health Sciences, Wexner Medical Center