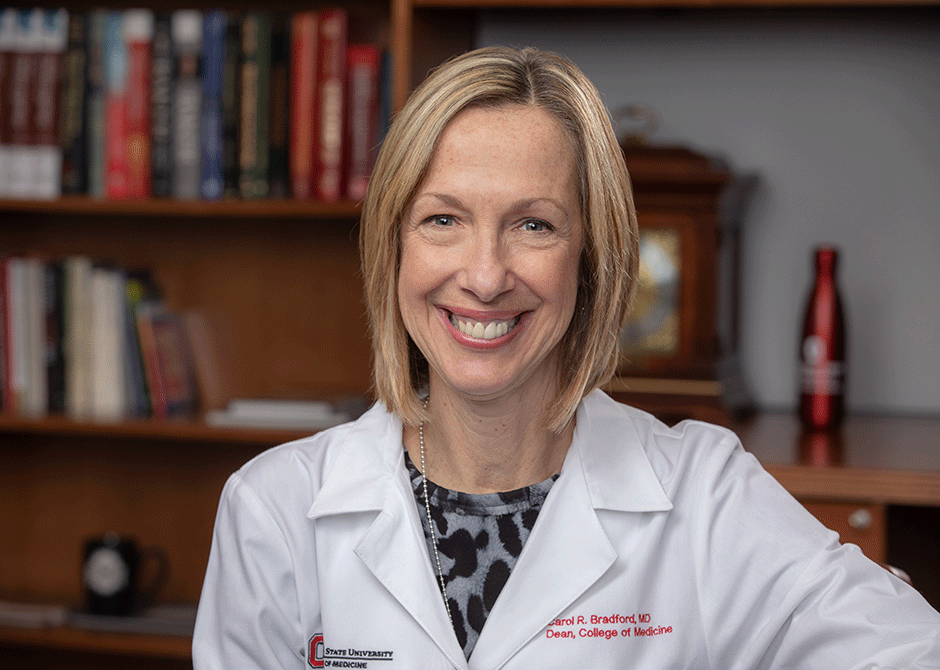 The Ohio State University welcomes a strong academic leader and well-known physician-scientist in the field of otolaryngology—head and neck surgery to lead its College of Medicine.
Carol R. Bradford, MD, FACS, is the 15th dean of the medical college and vice president for Health Sciences at The Ohio State University Wexner Medical Center. She'll hold the Leslie H. and Abigail S. Wexner Dean's Chair in Medicine.
Dr. Bradford comes to Ohio State from the University of Michigan, where she was the executive vice dean of academic affairs and the chief academic officer for Michigan Medicine. She oversaw education, global initiatives, faculty affairs, faculty development, diversity, equity and inclusion and regulatory affairs. A Michigan faculty member since 1992, she also served as chair of the Department of Otolaryngology – Head and Neck Surgery, co-director of the Head and Neck Oncology program for Michigan's Rogel Cancer Center and principal investigator of a major project on the specialized program for research excellence in head and neck cancer.
"We are delighted to bring Dr. Bradford to Ohio State. She is a shining example of a strategic and collaborative leader who is ready to advance our mission and our standing among the country's leading medical colleges," said Dr. Hal Paz, executive vice president and chancellor for Health Affairs at The Ohio State University and CEO of The Ohio State University Wexner Medical Center.
A physician-scientist, Dr. Bradford specializes in head and neck cancer surgery and reconstruction, cutaneous oncology and sentinel lymph node biopsy. Her research interests include identifying predictive biomarkers for response of head and neck tumors to chemotherapy and radiation and developing novel therapeutics. She has been the principal or co-principal investigator on more than 30 grants and has authored nearly 300 journal articles and more than 20 book chapters.
"Dr. Bradford joins Ohio State at the perfect time to enhance interdisciplinary education in academic health care," said Bruce A. McPheron, the university's executive vice president and provost. "Through her innovative leadership, our students, faculty and staff will continue to be on the front lines of advances in medical education and research."
Her many awards include being inducted into the National Academy of Medicine in 2014, a Distinguished Service Award from the American Academy of Otolaryngology – Head and Neck Surgery (AAO-HNS) in 2007 and a listing in Best Doctors since 2001. She will become president of AAO-HNS in September.
Dr. Bradford earned her medical degree from the University of Michigan, where she also completed an otolaryngology – head and neck surgery residency.