T32 Postdoctoral Fellowship in Cardiometabolic Science
An important goal of DMRC is to foster collaboration that enhances the center's grant applications, program project grants and other types of interdisciplinary research. Key applications this year include the T32 Postdoctoral Fellowship in Cardiometabolic Science. Our unique T32 Postdoctoral Cardiometabolic Science training program will empower postdoctoral fellows with the scientific, professional and leadership skills necessary to create the future workforce of productive investigators who will positively impact cardiometabolic disease through interdisciplinary translational science.
View Cardiometabolic Science Postdoctoral Training Program Structure and Milestones
Our goals:
Meet critical need for specialized training that couples cardiovascular science with metabolism
Develop trainees' skill-set to be multi-disciplinary, integrated, collaborative and translational
Incorporate nutritional research in partnership with Ohio State's Foods for Health (FFH) Discovery Theme
Reach Underrepresented in Medicine (URMs) and women who are at a higher risk for cardiometabolic disease
Cultivate the physician-scientist experience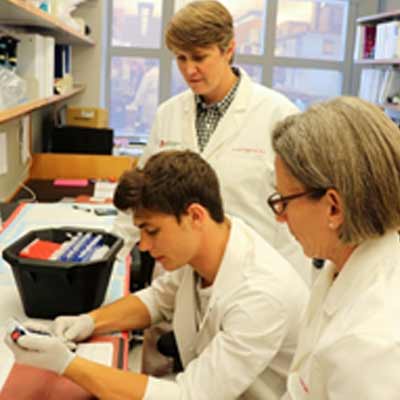 Our mission is to train the next generation of cardiometabolic physician scientists, with a particular emphasis on multidisciplinary training and novel training opportunities. As a result, we offer a training course designed for students interested in pursuing careers in the health sciences and understanding both cardiovascular and metabolic science in order to develop advances to combat cardiometabolic disease as part of the T32-Postdoctoral Cardiometabolic Science training program. Cardiometabolic syndrome in translation, cardiovascular disease and diabetes, mechanisms and implications of insulin resistance, neuro adipose tissue communication, cardiac metabolism and response to injury, vascular biology-architecture and response to injury, mechanisms of atherosclerosis, nutrition relevant to cardiometabolic disease and lipids, cardiovascular genetics, cardiac inflammation, obesity and atrial fibrillation are some of the topics covered in the course.
Congratulations to the 2020-22 T32-Postdoctoral Cardiometabolic Science Trainees!
Dr. Aazariyas Challa – mentored by Dr. Doug Lewandowski and Dr. Sakima Smith
Dr. Benjamin Buck – mentored by Dr. Fedorov
Dr. Jyotsna Joshi – mentored by Dr. Sakima Smith
Dr. Andrew Stroh – mentored by Dr. Kristin Stanford
Dr. David "Ryan" King – mentored by Dr. Przemyslaw Radwanski
If you have questions about the T32 Postdoctoral Fellowship in Cardiometabolic Science program, please contact Nargis Dzhuraeva at Nargis.Dzhuraeva@osumc.edu.
---
Cardiometabolic Science Bootcamp
The T32 training grant addresses a critical need to train emerging postdoctoral scientists to understand both cardiovascular and metabolic science in order to develop future advances to combat cardiometabolic disease. This first-in-its-class annual training program, sponsored by the National Heart, Lung, and Blood Institute and led by co-PIs, Dr. Willa Hsueh and Dr. Sakima Smith, successfully hosted our first Cardiometabolic Science Boot Camp in 2021! It is an exciting opportunity for researchers in diabetes and heart disease to collaborate, and for our fellows and other trainees to hear from our medical professionals in the field of cardiometabolic science. The lectures and dialogues are aimed at educating and cultivating our next generation of leaders who will one day be at the forefront of cardiometabolic scientific developments.
The past Cardiometabolic Science Bootcamp was held on July 9, 2021, and was an all-day introduction to research and included informative lectures from the following faculty:
Details for the 2022 Cardiometabolic Science Boot Camp are forthcoming.
---
Research in Progress - DMRC Seminar Series
The Research in Progress - DMRC Seminar series provides an opportunity to interact with leading scholars on a variety of diabetes, obesity, and metabolism, research, and education topics. Each seminar in the series features an outstanding scientist or panel of scientists discussing the most recent developments in diabetes, obesity and metabolic research. The seminars will feature research presentations reports, and literature reviews from renowned external speakers as well as the Ohio State University faculty.
Location: a hybrid event 165 DHRLI and CarmenZoom
The seminars are held Fridays at 12:00 p.m. ET, unless the date falls on a federal holiday. All webinars are completely free to attend. Please contact Jenifer Bennett at Jenifer.Bennett@osumc.edu for details.
August 26, 2022 – David "Ryan" King, Ph.D
September 30, 2022 – Richard Lang, Ph.D
November 18, 2022 – Frankie Heyward, Ph.D
January 27, 2023 – Sarah Lessard, Ph.D
February 24, 2023 – Raghu Mirmira, MD, Ph.D
March 24, 2023 – TBD
April 14, 2023 – TBD
---
Diversity Council
The Diversity Council is a way for faculty and staff to demonstrate their commitment to fostering Inclusive Excellence for our patients, the communities we serve and for each other. The program provides you an opportunity to become a champion of Diversity, Equity and Inclusion.
View the Diversity Council's Calendar of Events
---
DMCR Diabetes Education

In partnership with The James Mobile Education Kitchen, the DMRC offers a free diabetes-friendly cooking demonstration via livestream every month on the 2nd and 4th Tuesday at 12 p.m. EST. Taught by CDCES Jenny C. Shrodes and Chef Katie McCurdy, learn how to make delicious and healthy recipes in 20 minutes.
Please contact Janet Zappe, our diabetes education specialist for additional information: Janet.Zappe@osumc.edu.
Register for the next demonstration
American Diabetes Association Recognition Program
Team of 7 certified diabetes care and education specialists (2 registered nurses and 5 registered dietitians).
Offering unique programming for those living with type 1 and type 2 diabetes.
Cooking demonstrations
Diet and lifestyle
Insulin pump training
CGM training