T32 Postdoctoral Fellowship in Cardiometabolic Science
Program Overview
The T32 Cardiometabolic Science Training program is a research training program that will train postdoctoral fellows from MD, Ph.D., and MD/Ph.D. backgrounds for up to two years. The program is offered at the Ohio State University with the cardiovascular and metabolic research focus area. The structured training program offers guidance from cardiovascular and metabolic investigators in an environment that is highly conducive to creating the next generation of leaders who will be at the forefront of future advances in cardiometabolic science. It provides multi-faceted cardiometabolic research training in collaborative, multidisciplinary teams that develop scientists who perform translational science leading to improved human health, integrate metabolism in cardiovascular research training via co-mentorships with cardiovascular and metabolic researchers; education in metabolic principles, relevant technology, and animal models to advance their research in CVD; and clinical perspectives on cardiometabolic disease. Trainees will work with their unique cross-disciplinary faculty mentoring teams to establish and follow a personalized and adaptable training plan catered to their specific career goals. Trainees will also receive mentorship and support in writing and submitting independent grant applications (e.g., NIH K awards) that will help prepare them for future faculty positions.
View Cardiometabolic Science Postdoctoral Training Program Structure and Milestones
Program Design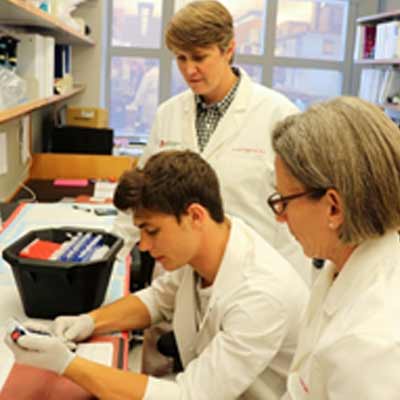 Our mission is to train the next generation of cardiometabolic physician-scientists, with a particular emphasis on multidisciplinary training and novel training opportunities. As a result, we offer a training course designed for students interested in pursuing careers in the health sciences and understanding both cardiovascular and metabolic science in order to develop advances to combat cardiometabolic disease as part of the T32-Postdoctoral Cardiometabolic Science training program. Cardiometabolic syndrome in translation, cardiovascular disease and diabetes, mechanisms, and implications of insulin resistance, neuro adipose tissue communication, cardiac metabolism and response to injury, vascular biology architecture and response to injury, mechanisms of atherosclerosis, nutrition relevant to cardiometabolic disease and lipids, cardiovascular genetics, cardiac inflammation, obesity, and atrial fibrillation are some of the topics covered in the course.
Program Requirements
Must be a US citizen or permanent resident
Must identify a cardiometabolic science T32 mentor from the mentor list before applying
Must be an MD, PhD, or MD/PhD
Must be committed to the goals of the Training Program
If you have questions about the T32 Postdoctoral Fellowship in Cardiometabolic Science program or are interested in applying, please contact Nargis Dzhuraeva at Nargis.Dzhuraeva@osumc.edu.
Congratulations to the 2022-24 T32-Postdoctoral Cardiometabolic Science Trainees!
Dr. Aazariyas Challa – mentored by Dr. Doug Lewandowski and Dr. Sakima Smith
Dr. Benjamin Buck – mentored by Dr. Tom Hund
Dr. Jyotsna Joshi – mentored by Dr. Sakima Smith
Dr. Andrew Stroh – mentored by Dr. Kristin Stanford
Dr. Xilal Rima – mentored by Dr. Willa Hsueh
DMRC Seminar Series

DMRC Seminar series provides an opportunity to interact with leading scholars on a variety of diabetes, obesity, and metabolism, research, and education topics. Each seminar in the series features an outstanding scientist or panel of scientists discussing the most recent developments in diabetes, obesity and metabolic research. The seminars will feature research presentations reports, and literature reviews from renowned external speakers as well as the Ohio State University faculty.
Location: BRT 105
The seminars are held Wednesdays at 12:00 p.m. ET, unless the date falls on a federal holiday. All seminars are completely free to attend. Please contact Nargis Dzhuraeva at Nargis.Dzhuraeva@osumc.edu for details.
October 11, 2023 – Dr. Lufang Zhou, Professor, Department of Surgery, Professor, Biomedical Engineering, The Ohio State University.
November 8, 2023 – Dr. Martha Belury, Chair, Department of Food Science and Technology, The Ohio State University.
December 13, 2023 – Dr. Prosper Boyaka, Chair, Department of Veterinary Biosciences, The Ohio State University.
January 10, 2024 – TBD.
February 21, 2024 – Dr. Orly Lazarov, Professor, Department of Anatomy and Cell Biology College of Medicine, The University of Illinois at Chicago.
---
Diversity Council
The Diversity Council is a way for faculty and staff to demonstrate their commitment to fostering Inclusive Excellence for our patients, the communities we serve and for each other. The program provides you an opportunity to become a champion of Diversity, Equity and Inclusion.
View the Diversity Council's Calendar of Events
---
DMCR Diabetes Education

In partnership with The James Mobile Education Kitchen, the DMRC offers a free diabetes-friendly cooking demonstration via livestream every month on the 2nd and 4th Tuesday at 12 p.m. EST. Taught by CDCES Jenny C. Shrodes and Chef Katie McCurdy, learn how to make delicious and healthy recipes in 20 minutes.
Please contact Jenny Shrodes, our diabetes education specialist for additional information: Jennifer.Shrodes@osumc.edu.
Register for the next demonstration
OSUWMC employees check out HealthBeat.
American Diabetes Association Recognition Program
Team of 7 certified diabetes care and education specialists (2 registered nurses and 5 registered dietitians).
Offering unique programming for those living with type 1 and type 2 diabetes.
Cooking demonstrations
Diet and lifestyle
Insulin pump training
CGM training