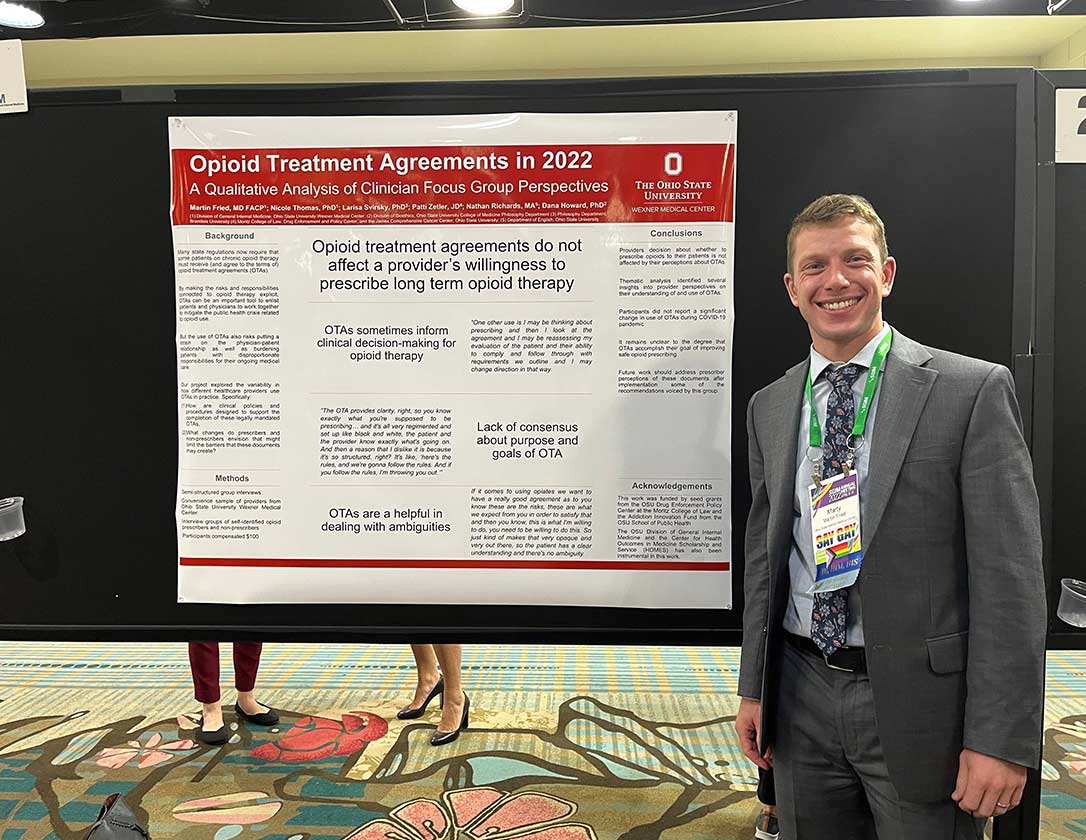 The forward-thinking work being done in The Ohio State University Wexner Medical Center's
Division of General Internal Medicine (GIM)
was on display during the 2022 Annual Meeting of the Society for General Internal Medicine. GIM attendings, pharmacists, researchers and residents showcased their work through everything from poster presentations to key talks, including a plenary address. They also participated in mentoring sessions and interest groups.
Martin Fried, MD
, clinical assistant professor of Internal Medicine, gave the plenary speech and talked about the Ohio State Wexner Medical Center's System-Wide Medications for Opioid Use Disorder (MOUD) project. Ohio State's MOUD program expands and links several services at the Ohio State Wexner Medical Center that focus on the treatment of patients with opioid use disorder.
"Using state Medicaid funding, we increased access to medications for opioid use disorder by bolstering treatment teams in the emergency department and the hospital Addiction Consult Service and by founding the Primary Care Addiction Medicine Clinic," Dr. Fried says. "We linked these services by using a team of care coordinators and peer recovery coaches who help our patients transition between clinical domains and also support long-term recovery."
"As patients with substance use disorders transition from hospitals, they can be at high risk for getting lost before they can establish with an ambulatory treatment team," he says. "What OSU System-Wide MOUD is beginning to show is that linking these treatment teams to better help patients navigate these transitions has a powerful effect on promoting recovery and longitudinal primary care-based addiction treatment."
Other featured talks at the conference included topics as diverse as fostering and supporting physician-initiated research in Internal Medicine; how to best utilize and bill for electronic portal visits; and the efficacy of gender minority curriculum for first-year medical students. In addition, 13 poster presentations developed by GIM staff were on display.
Photos from the SGIM Conference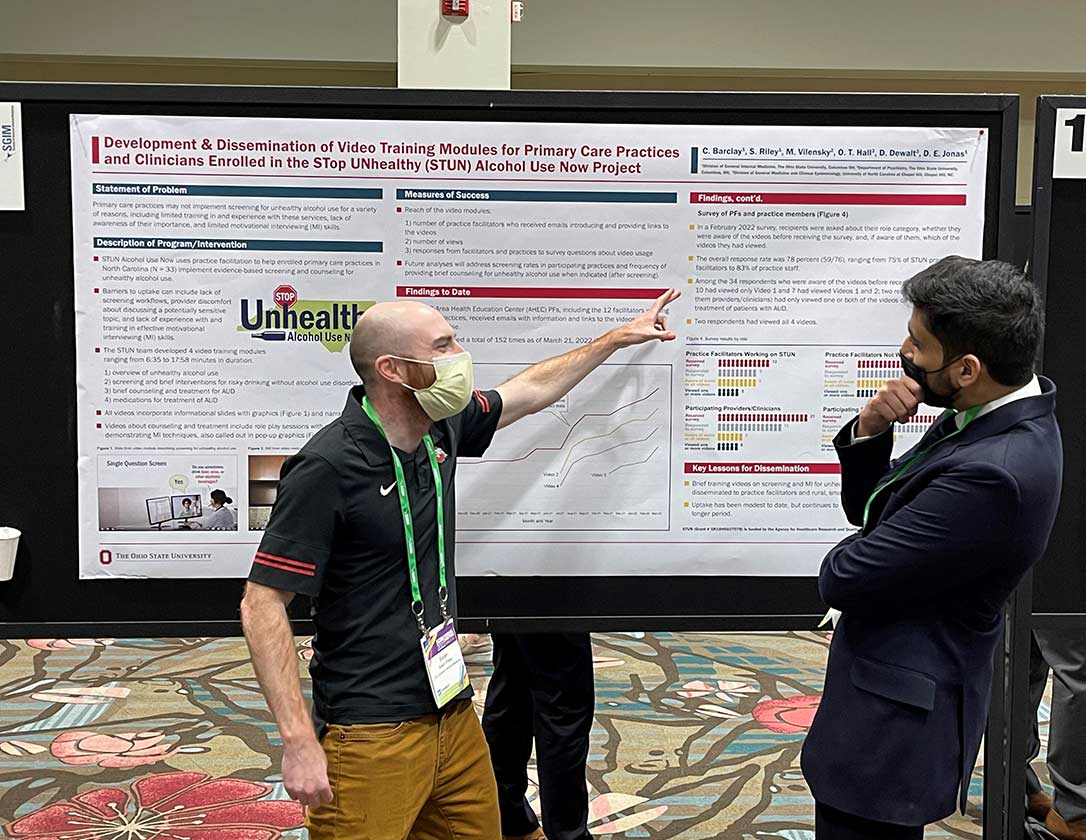 Research Associate Sean Riley talks with a SGIM conference attendee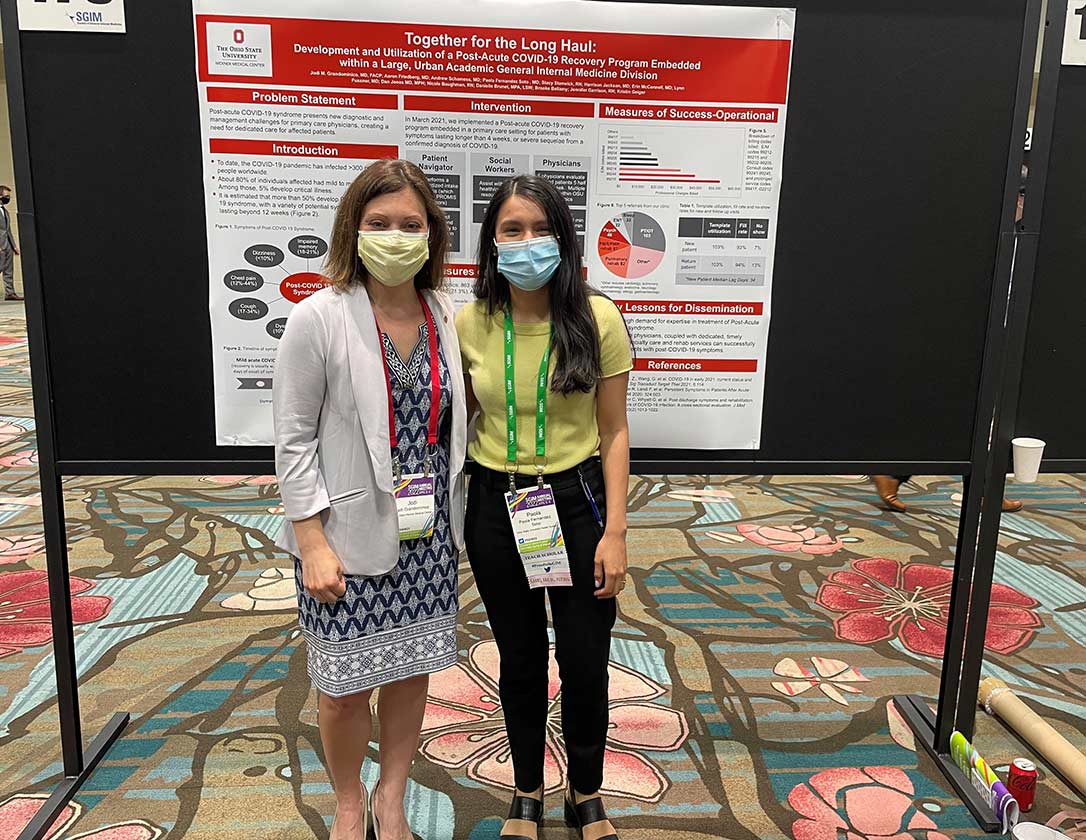 Dr. Jodi Gradominico and Dr. Paola Fernandez Soto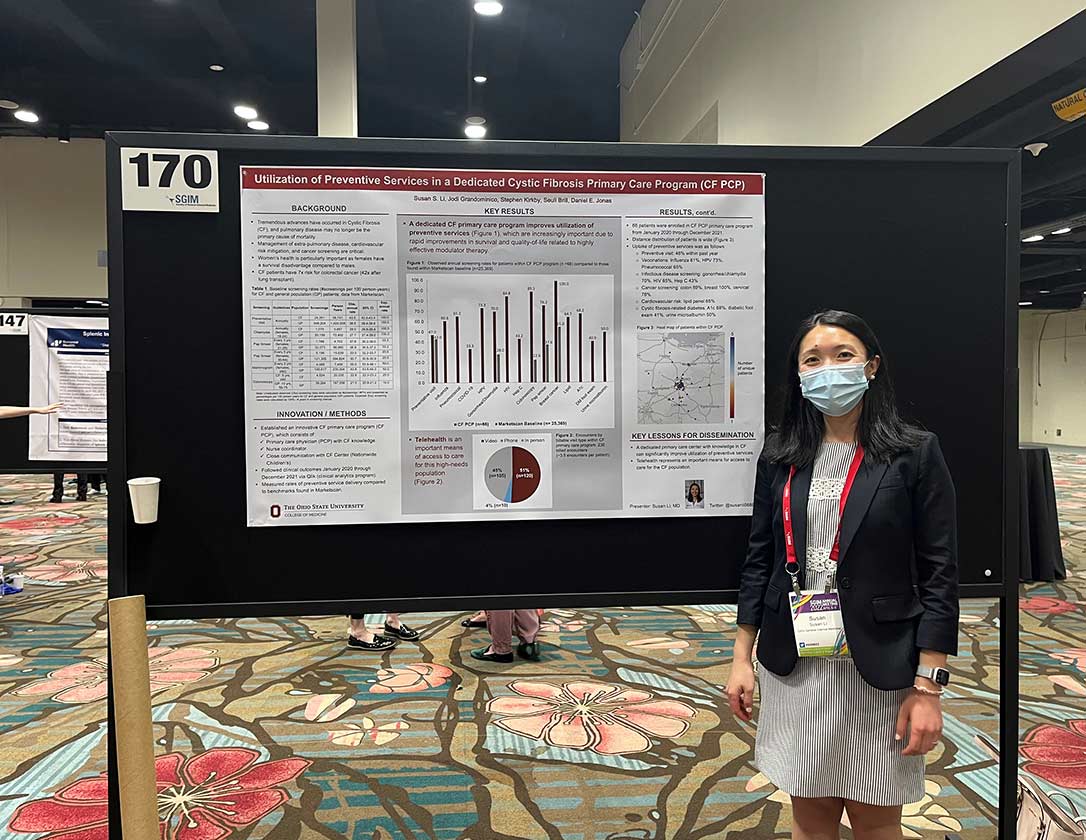 Dr. Susan Li at the SGIM conference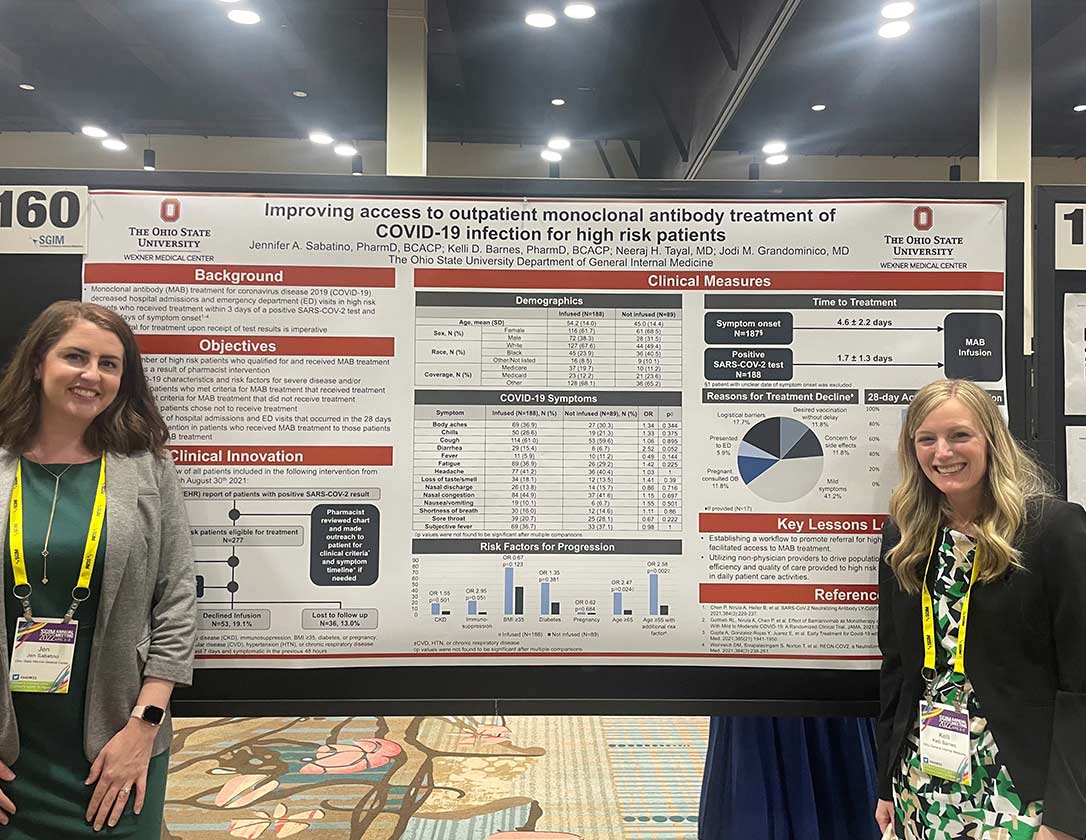 Pharmacists Jen Sabatino and Kelli Barnes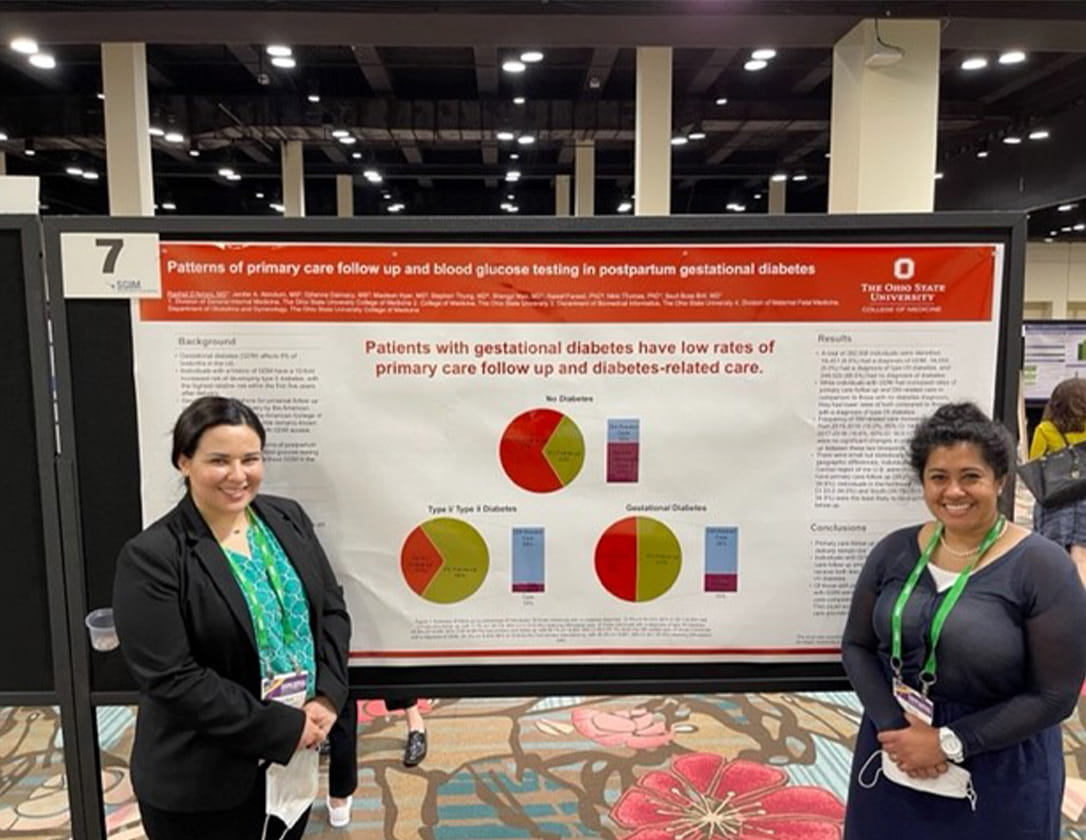 Dr. Rachel D'Amico and Dr. Seuli Brill at the SGIM Conference.
A complete list of all Ohio State GIM presentations from the 2022 SGIM annual meeting is below.
"Creating an Institutional Addiction Safety Net: The Ohio State University System-Wide MOUD Project." Martin Fried, Trent Hall, Emily Kaufman, Peggy Williams, Ali Miller, Julie Teater - Plenary
"The Center for Health Outcomes in Medicine Scholarship and Service (HOMES): Fostering and Supporting Physician-Initiated Research in Internal Medicine." Martin Fried, Sean Riley, Daniel Jonas, Karen Moss, Janet Childerhose, Laura Miles, Seuli Brill.
"Optimizing utilization of and billing for electronic portal visits in academic general internal medicine practices through implementation of RN triage, streamlined workflows, and faculty education." Jodi M. Grandominico, MD, FACP, Daniel E. Jonas MD, MPH, Jody Davis, RN, Nikki Baughman, RN, Jennifer Garrison, RN.
"Efficacy of Gender Minority Curriculum for First Year Medical Students." B. Pollak, B. Carbone, J. Sherman, A. Start, J. Makara, K. Rivlin, C. Grieco, D. Clinchot.
"Why Don't Some Ohio Public Libraries Stock Naloxone?" Janet E. Childerhose, Patrick Schnell, Kaleigh T. Niles, Sydney Schoenbeck, Martin Fried.
"Ohio Better Starts for All: Implementation of a hybrid mobile and telehealth women's health program in Ohio Appalachia." Seuli Bose Brill, Jordyn A. Brown, Nikki Thomas, Richard Villarreal, Erin Chandler, Abra Greenberg, Tiffany Cochenour, Laura Miles, Steven Thung.
"Impact of Pharmacist Management on Percentage of Patients with an Elevated Hemoglobin A1c Using a Population-Based Approach at a General Internal Medicine Clinic Network." Lopez A, Barnes KD, Coffey CP, Beatty SJ.
"Together for the Long Haul: Development and Utilization of a Post-Acute COVID-19 Recovery Program Embedded within a Large, Urban Academic General Internal Medicine Division." Jodi M. Grandominico,, Aaron Friedberg, Andrew Schamess, Stacy Stanwick, Harrison Jackson, Erin McConnell, Paola Fernandez Soto, Lynn Fussner, Dan Jonas.
"Podcasts as Scholarship: Core IM's Editorial and Peer Review Process." Martin Fried, Michael Shen, Vickie Kassapidis, Sofia Kennedy, Sean Burke, Shreya Trivedi.
"Improving access to outpatient monoclonal antibody treatment of COVID-19 infection for high risk patients" Jennifer Sabatino , Kelli Barnes, Dr. Tayal, and Dr. Grandominico.
Utilization of Preventive Services in a Dedicated Cystic Fibrosis Primary Care Program. Susan S. Li, Jodi Grandominico, Stephen Kirkby, Seuli Brill, Daniel E. Jonas.
"Implementation of An Electronic Smart Phrase to Increase Advance Care Planning Discussions and Documentation in Primary Care." B. Pollak, N. Bhuiya1, T. Montgomery, J. Mcconaghy, S. B. Brill.
"Patterns of primary care follow up and blood glucose testing in postpartum gestational diabetes." Rachel D'Amico, Jenifer A. Akinduro; Djhenne Dalmacy, Madison Hyer, Stephen Thung, Shengyi Mao, Naleef Fareed, Nikki Thomas, Seuli Brill.
"Training and promotion to support inpatient portal use: Impacts on perceptions of self-efficacy, ease of use, and usefulness." Sarah R. MacEwan, Alice A. Gaughan, Ann Scheck McAlearney.
"Opioid Treatment Agreements in 2022: A Qualitative Analysis of Clinician Focus Group Perspectives." Martin Fried, Nicole Thomas, Larisa Svirsky, Patti Zettler, Nathan Richards, Dana Howard
"Optimizing Patient Provider Matching for referrals through Algorithmic generation of provider Profiles." Steve Koesters.
"Development and Dissemination of Video Training Modules for Primary care Practices and Clinicians Enrolled in the Stop Unhealthy (STUN) Alcohol Use Now Project." Colleen Barclay, Sean Riley, Michael Vilensky, Trent Hall, Darren Dewalt, Dan Jonas.
"Updates In Digital Scholarship." C.J. Chiu, M.C. Fried, S. Trivedi, A. Rodman, R.M. Centor, P. Williams, R. Manesh.