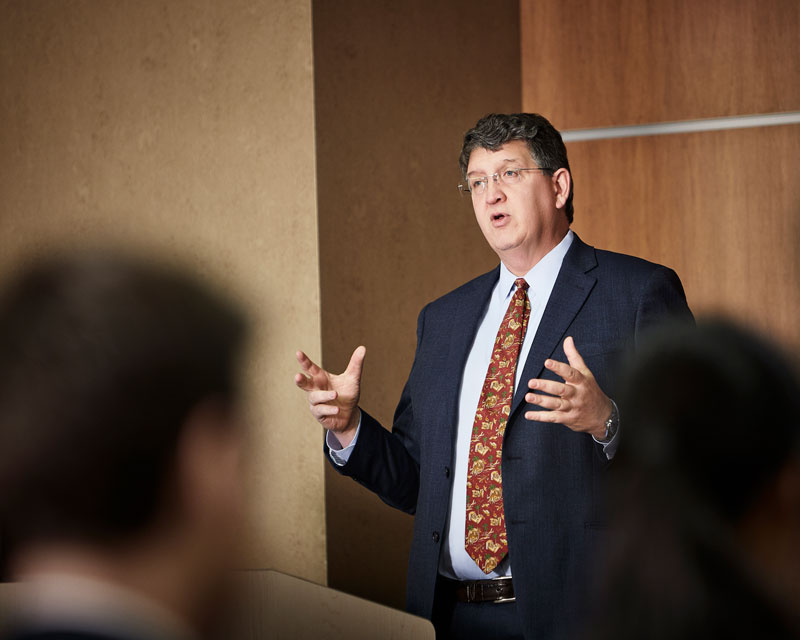 James Rocco, MD, PhD, is the first faculty member from the Department of Otolaryngology – Head and Neck Surgery to receive The Ohio State University College of Medicine's Center for Faculty Advancement, Mentoring and Engagement (FAME) Outstanding Mentor Award for Professors.
The award honors Ohio State College of Medicine professors who demonstrate exceptional dedication and career commitment to faculty mentoring.
"Dr. Rocco lives all the qualities FAME honors every day," says Ricardo Carrau, MD, a department colleague and the associate dean for FAME.
The FAME professor mentoring award honors someone who provides outstanding support, encouragement and career and professional development to others outside of a formal leadership role.
Encouragement to "make new mistakes"
The award surprised Dr. Rocco, chair of the Department of Otolaryngology – Head and Neck Surgery, even though he sees himself as being very involved in the careers of faculty within and outside his department.
"When I was an otolaryngology resident, I had a chair who I thought was exceptional at this," Dr. Rocco says of his time at Johns Hopkins Hospital. "It had a strong impact on me and impressed upon me that this was something I should do a lot of when I got to that point in my career."
Mentorship is ingrained in medical education and practice, Dr. Rocco says. Medical students learn from residents, residents learn from fellows, fellows learn from one another and other faculty. Physicians and surgeons collaborate constantly to remain at the forefront of leading-edge care.
He takes those same techniques outside the operating room and clinic and applies them to career development.
"I like to help people plan their careers and think about the different pieces they need and how to put them together in a sequential way that achieves their goal," Dr. Rocco says. "I get to fix or help prevent all the mistakes that I made early in my career. It's very satisfying."
He embraces the "make new mistakes" philosophy. Just as surgeons learn how to avoid certain mistakes from colleagues at morbidity and mortality conferences, Dr. Rocco encourages residents, fellows and young faculty to avoid repeating classic career mistakes but to push the envelope, knowing new mistakes may be made as they pursue their goals.
"Many don't understand how skilled and knowledgeable they are in this kind of focused thinking," Dr. Rocco says. "I reinforce that for them. I push them to achieve more than me, to be free and creative and take chances."
Helping others shine
Dr. Rocco wanted to be a head and neck surgeon and pursue molecular genetics research in head and neck cancer. At Johns Hopkins, he found the support he needed in his mentor, Dr. Charles Cummings.
"He didn't tell people what to do. He helped them hone their talents and lowered barriers to their success," Dr. Rocco says. "I have taken that on as a mantra."
Dr. Carrau says Dr. Rocco exudes the best leadership qualities.
"He has an urge to help others shine," Dr. Carrau says. "One of his greatest qualities is that he's always looking for the win-win solution. He is the master at coming up with a way to make the pie bigger, so everyone gets more of what they want, including professional development and goals. It's a unique skill that transfers very well from administration to mentorship."
When Dr. Rocco recruits fellows and faculty, he sees it as a partnership. He buys into their vision and ensures that Ohio State has what they need to grow.
His undergraduate training in engineering provides the organized thinking that his mentees benefit from.
"There is a lot of structured debris in my brain about how to think about things," Dr. Rocco says. "When I counsel people, I see their successes, I consider their goals and I focus on the potential barriers they might face. I want them to keep going, so I look at the strategies they can use to get past those barriers."
It comes down to thinking about the future now and choosing which hurdles to tackle when, to make achieving a goal easier. The strategy works for individuals and the entire department.
Learning to listen
While Dr. Rocco is being honored for teaching others, he says he's learned much from those he mentors. He wishes he had been a better listener when he was younger.
He understands now how much adults can learn from a story if they listen well. This impacts how he tries to reach people. Some may say he's repetitive, but he does that on purpose — to ensure the message gets through.
"I try to repeat the same thing in as many ways as I can," Dr. Rocco says. "I also like to use analogies. I think they help people understand and remember essential points."
Dr. Rocco also knows his advice must be useful. So, he makes a point to check in with his mentees regularly. He follows up to see what the outcome of a certain situation was and if his guidance yielded positive results.
This approach shows that he's invested in his mentees. It also illustrates to the mentees that the work they put in pays off.
"I think I understand why my old chairman really liked mentoring," Dr. Rocco says. "It's a very sweet thing."