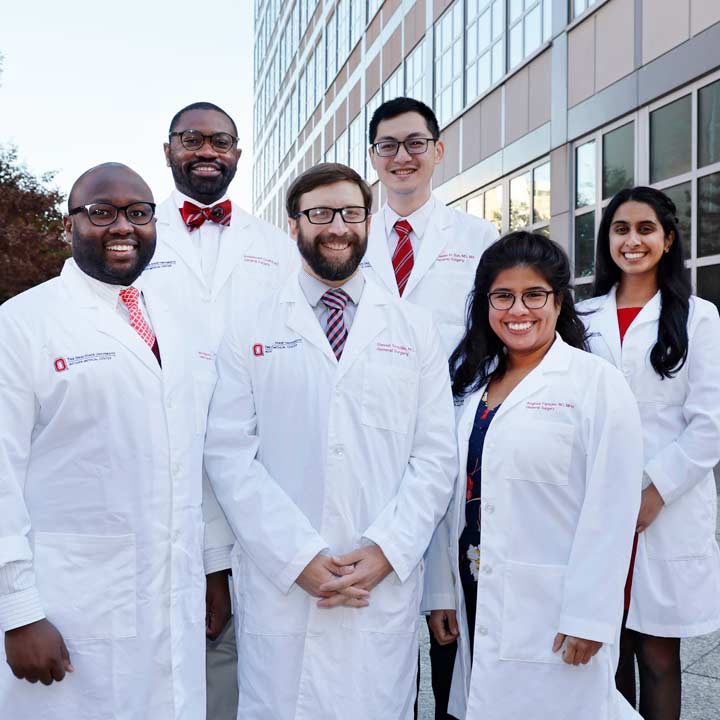 "There have been so many benefits being part of the Ohio State general surgery residency program," says Kejal Shah, MD, MS. "Because I wasn't sure what I wanted to do when I started, the volume, breadth and depth of cases gave me an opportunity to figure that out — and to be competitive for fellowship applications by the time I finished.
"Throughout the whole process, I was supported by people invested in my success and they were kind to me while I was learning and making mistakes. That might seem like an unexpected word, but their kindness mattered and helped me develop confidence."
Dr. Shah is now pursuing transplantation surgery at Ohio State, which she chose because of our demonstrated commitment to training and education and the department's Top 20 status in the nation based on volume.
For Amblessed Onuma, MD, MS, strong clinical volume and an exceptional research component drew him to Ohio State's residency program.
"I've compared my training to what friends in other programs have done, and that's made me appreciate the high volume of acute care and robotic surgery that I've had here, among other aspects of the program. I'm also grateful for my very intentional exposure to research."
Dr. Onuma completed two years of basic science research during his residency through the formal Professional Development and Research Training Program. He's now going to MD Anderson Cancer Center for his surgical oncology fellowship.
When Steven Scoville, MD, PhD, started his Ohio State residency, he had three primary goals: become a technically skilled surgeon and clinician, mentor and educate junior residents and medical students, and continue being productive from a research standpoint. While he says he still has more to learn, he feels he's made incredible progress in all three areas. With regard to research alone, he completed nine publications (with at least two more in the works), two book chapters, and multiple international and national meeting presentations and posters.
"One of the lesser talked about aspects of my training that also stands out to me is the mental preparedness and health impact," he says. "I've had many mentors support me through the difficult mental aspects of training, and that has been very important to me — I don't think it's importance can be overstated."
He also adds the OR coaching experience as a valuable part of the curriculum.
"To have someone who is not directly invested in the case evaluating purely how you operate and give that feedback was a very refreshing and effective way to help me improve."
Dr. Scoville is now headed across town to Nationwide Children's Hospital for a two-year pediatric surgery fellowship.
For Steven Sun, MD, MS, who'll complete his surgical oncology fellowship at the City of Hope National Medical Center, highlights of his Ohio State residency include the people and the level of entrustment and autonomy.
"The people here make all the difference," he says. "Being in a place that supports you only enhances your ability to learn and grow as a surgeon. I have built long-lasting relationships with not only my co-residents, but the faculty here are all very approachable as well, and they are truly intentional with resident education, mentorship and collegiality."
He too mentions the clinical volume, breadth and complexity of cases, OR coaching, and extensive robotics and research opportunities as advantages he had while at Ohio State. "They gave me a jump-start in my career," he says.
Of the remaining chief residents, Dathe Benissan-Messan, MD, PhD, MS, will complete his cardiothoracic fellowship at Duke University, and Anghela Paredes, MD, MPH, will complete her pediatric surgery fellowship at the University of Pittsburgh. Like the other residents, Dr. Benissan-Messan emphasizes Ohio State's comprehensive curriculum, diversity of cases and quality of faculty, while highlighting one aspect of the program in particular.
"I believe the opportunity to earn an additional degree, during training makes us highly marketable as residents and highly competitive when applying for fellowships," Dr. Benissan-Messan says.
With their residency years coming to an end, he also captures the general sentiment of his class when he says, "I would like to take this opportunity to thank all who have contributed to my training here. The memories that I have acquired while at Ohio State are among some that I will cherish forever. The Ohio State University with forever hold a unique spot in my heart. Until we meet again, Go Buckeyes!"