Several new milestones achieved by the Department of Surgery at The Ohio State University Wexner Medical Center serve to illustrate its declared commitment to surgical innovation. "We have made deliberate plans related to clinical care, research and education to push our team to ongoing improvement and it's paying off," explains department chair,
Timothy Pawlik, MD, PhD, MPH
.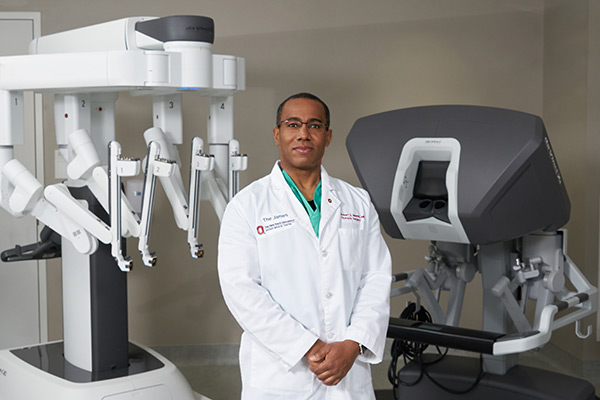 Ohio State Wexner Medical Center has invested in robotic surgery and now claims the top spot as the
nation's fastest growing robotic surgery program
. Several divisions and individual surgeons are instrumental to this rank, including the Thoracic Robotic Surgery program, which is one of the highest volume robotic surgery programs in the country. Particularly noteworthy is the 250+ robotic-assisted operations performed within the past year by thoracic surgeons
Robert Merritt, MD
, and
Desmond D'Souza, MD
. "Prior to 2017, the division performed only a few robotic procedures annually, so this definitely represents a dramatic increase," says Dr. Pawlik. "In addition, our
robotic curriculum for the thoracic surgery fellowship
makes our program a destination for specialists." Ohio State also claims the largest general surgery robotic program, led by
David Renton, MD
, and
Michael Meara, MD
. The OSUCCC – James and the Department of Surgery's robotic pancreaticoduodenectomy, or "Whipple" program, is one of the nation's highest-volume robotic programs of its type in the country. "All of these less invasive robotic surgeries are key to our goal of delivering cutting-edge care that helps patients recover faster and, most importantly, improves long-term outcomes," says Pawlik.
Ohio State's surgery department has also pursued innovation through research and is now ranked #6 nationally in NIH Funding, the highest rank ever obtained by the department. Expansion of The Center for Surgical Health Assessment, Research and Policy (SHARP) and a number of breakthrough research projects by both MD and PhD surgeon scientists have driven this achievement. Calculated by the Blue Ridge Institute for Medical Research, the new ranking is due in part to many of the surgery faculty pursuing their research through SHARP, which supports exploration of research that can further equitable and cost-effective surgical care.
Heena Santry, MD
, has been instrumental in SHARP's expansion.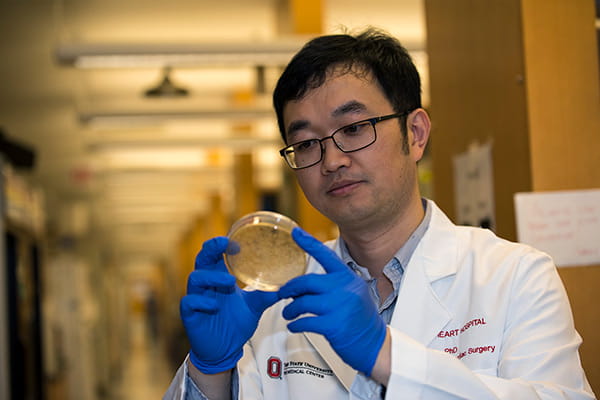 Other noteworthy contributors to Ohio State's improved rank in research funding include two of the top 25 highest-funded principal investigators in FY2018 –
Raphael Pollock, MD
, at #5 with $5.02M and Jianjie Ma, PhD, at #21 with $2.35M – as well as the following Research Project Grants:
While discussing ongoing improvements in the surgery department, Pawlik is quick to emphasize the influence of several nationally and internationally known leaders who have joined Ohio State in the past year. This includes: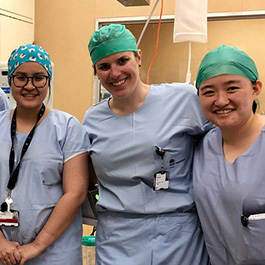 "These leaders bring a tremendous energy and enthusiasm to our training," says Pawlik, "which is perhaps their greatest contribution in the long-run because the entire surgery team at Ohio State is intensely dedicated to preparing the next generation of surgeons." To expand on this, one training tool Pawlik highlights is a new OR coaching project, which is part of a larger education project started in April 2018 by
E. Christopher Ellison, MD
, to improve resident preparedness for independent surgery. Launched in partnership with
Phoenix Chen, PhD, MS
, the OR coaching portion includes active monitoring of each resident's surgical skills and multi-source, multifaceted, procedure-specific feedback for chief residents within three days of each observed surgery. Pawlik also stresses Ohio State's unique
global surgery rotation program
that features economically diverse destinations to foster a more well-rounded understanding of how healthcare is impacted by community. Rotations include both high and low to middle-income locations. Ohio State residents can spend one month in Australia, which provides significant exposure to many international experts who may become important ongoing mentors, or two weeks in Ethiopia to expand awareness for the resourcefulness and creativity often required in low to middle-income healthcare situations. Ultimately, both locations serve to better inform residents about policy changes and future surgical practices that may impact healthcare around the world.
"Between new surgical techniques, the passion our researchers have for finding that next breakthrough and the daily collaboration I see at all levels, it's been incredibly rewarding to work with all the experts who have helped our surgery department reach new milestones this year," says Pawlik. "Going forward, Ohio State Department of Surgery will continue to push for improvements in clinical care, research and education – it's a formula that not only works for us but a trifecta that gives patients the highest possible level of personalized care."