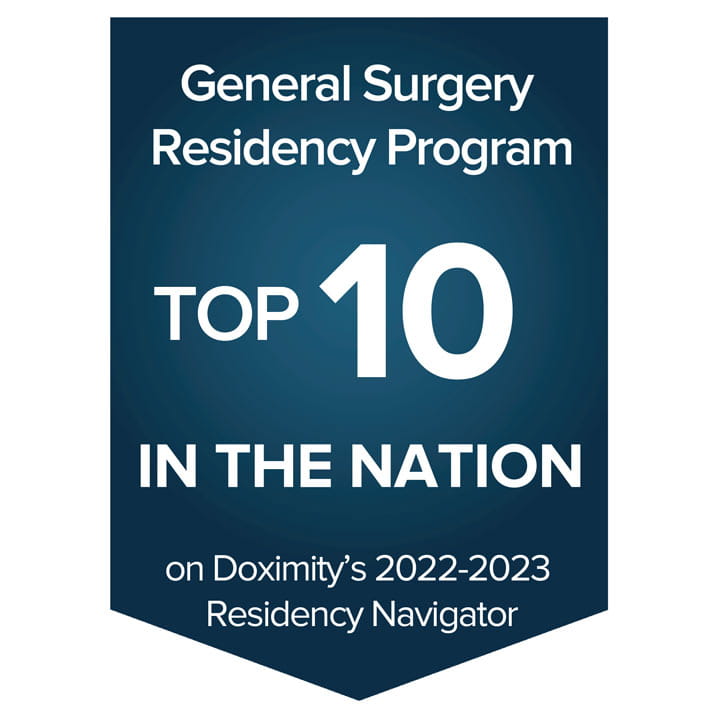 According to Doximity's 2022-2023 Residency Navigator Nomination Survey, we're ranked No. 6 among all departments of surgery residency training programs in the United States. This is a move up of three spots over our No. 9 ranking last year.
Doximity's Residency Navigator is the most comprehensive online directory of U.S. residency programs (4,700 residency programs across 28 specialties), and is used by more than 90% of fourth-year medical students. Each year, Doximity conducts a national poll of board-certified physicians to identify up to five residency programs that provide the best clinical training in their specialty. The data from this survey are used to construct an ordering of programs based on reputation.
This notable ranking is recognition of the tremendous education we provide and the unrivaled options we offer our residents. Whether it be our OR Coaching Program, our Professional Development and Research Training Programs or our leadership LEAD (Lead. Engage. Accelerate. Drive.) elective, the department offers amazing opportunities for the professional and personal growth of our learners.
OR Coaching – Now a core resident training tool with three new senior surgeon coaches added this year, this program provides procedure-specific feedback within three days of a surgery. The 12 procedures reviewed are three each for lap chole, inguinal hernia, ventral hernia and lap colectomy.
Professional Development and Research Training Program – This program prepares surgical residents for careers in academic surgery through personalized research education, mentorship and career development, focusing on enhancing critical thinking skills and developing clinical and translational research competencies.
LEAD (Lead. Engage. Accelerate. Drive.) in Surgery – This elective helps PGY2–5 residents develop important leadership skills for a successful surgical career.