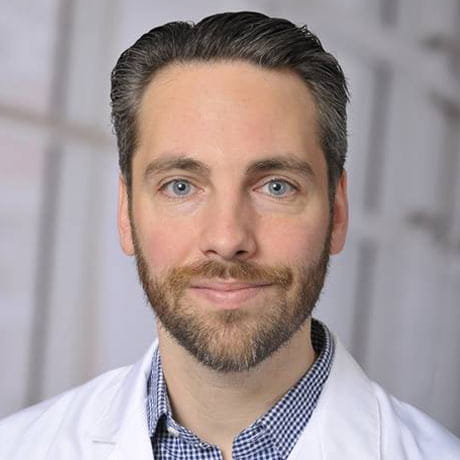 Assistant Professor of Medicine, Division of Pulmonary, Critical Care and Sleep Medicine
473 W. 12th Ave.
Columbus, OH 43210
Working within the Acute Lung Injury Center with Dr. Rama Mallampalli, our lab is interested in innate immune signaling during pneumonia, sepsis, acute lung injury (ALI) and the acute respiratory distress syndrome (ARDS). We study protein-protein interactions and post-translational modifications with particular emphasis on the ubiquitin system. With focus on lung epithelium and resident macrophages, we look to identify critical mediators of inflammatory signaling in ALI with the goal of finding novel therapeutic targets to alleviate lung injury. Currently, our research is focused on the role of the ubiquitin system in interferon signaling and the antiviral response.
Education
Postdoctoral Research: University of Pittsburgh
PhD: Cell, developmental and integrative biology, University of Alabama at Birmingham
Research Interests
Innate immune signaling in acute lung injury
Epithelial and macrophage biology
Ubiquitin proteasome pathway
Omics: Mass spectrometry, RNA seq
Relevant Publications
Chandra D, Londino J, Alexander S, Bednash JS, Zhang Y, Friedlander RM, Daskivich G, Carlisle DL, Lariviere WR, Nakassa ACI, Ross M, St Croix C, Nyunoya T, Sciurba F, Chen B, Mallampalli RK. The SCFFBXO3 ubiquitin E3 ligase regulates inflammation in atherosclerosis. Journal of molecular and cellular cardiology. 2018.
Suber TL, Nikolli I, O'Brien ME, Londino J, Zhao J, Chen K, Mallampalli RK, Zhao Y. FBXO17 promotes cell proliferation through activation of Akt in lung adenocarcinoma cells. Respiratory research. 2018.
Londino JD, Gulick DL, Lear TB, Suber TL, Weathington NM, Masa LS, Chen BB, Mallampalli RK. Post-translational modification of the interferon-gamma receptor alters its stability and signaling. Biochem J. Oct 10;474(20):3543-3557. 2017.
Evankovich J, Lear T, Mckelvey A, Dunn S, Londino J, Liu Y, Chen BB, Mallampalli RK. Receptor for advanced glycation end products is targeted by FBXO10 for ubiquitination and degradation. FASEB journal : official publication of the Federation of American Societies for Experimental Biology. 2017.
Bednash JS, Weathington N, Londino J, Rojas M, Gulick DL, Fort R, Han S, McKelvey AC, Chen BB, Mallampalli RK. Targeting the deubiquitinase STAMBP inhibits NALP7 inflammasome activity. Nature communications. 8:15203. 2017.
McKelvey AC, Lear TB, Dunn SR, Evankovich J, Londino JD, Bednash JS, Zhang Y, McVerry BJ, Liu Y, Chen BB. RING finger E3 ligase PPP1R11 regulates TLR2 signaling and innate immunity. eLife. 2016; 5. 2016.
Londino JD, Gulick D, Isenberg JS, Mallampalli RK. Cleavage of Signal Regulatory Protein α (SIRPα) Enhances Inflammatory Signaling. J Biol Chem. 2015 Dec.
Londino JD, Lazrak A, Noah JW, Aggarwal S, Bali V, Woodworth BA, Bebok Z, Matalon S. Influenza virus M2 targets cystic fibrosis transmembrane conductance regulator for lysosomal degradation during viral infection. FASEB J. 2015.
Londino JD, Lazrak A, Jurkuvenaite A, Collawn JF, Noah JW, Matalon S. Influenza matrix protein 2 alters CFTR expression and function through its ion channel activity. Am J Physiol Lung Cell Mol Physiol. 2013.