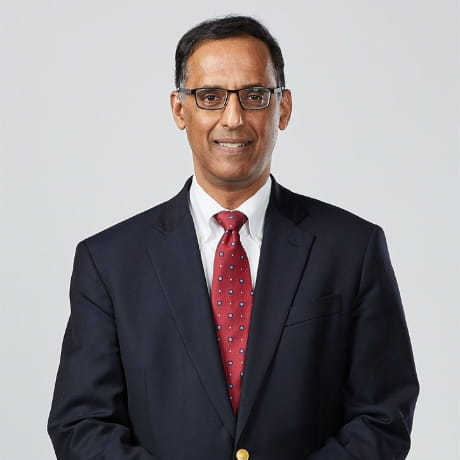 PubMed articles News About Me My Lab
Dr. Rama Mallampalli, chair for the Department of Internal Medicine, plays a key role in growing Ohio State's national reputation from a clinical, research and educational standpoint.
A successful physician-scientist with a wealth of entrepreneurial experience and numerous leadership roles in academia, Mallampalli comes from the University of Pittsburgh, where he served for nine years in a variety of positions including professor and chief of the Division of Pulmonary, Allergy and Critical Care Medicine, inaugural director of the Acute Lung Injury (ALI) Center of Excellence and vice chair for research in the Department of Medicine. During his time at the University of Pittsburgh, Mallampalli helped to build one of the largest pulmonary groups in the nation, with faculty under his leadership receiving over $30 million in funding from the National Institutes of Health.
From a clinical perspective, Mallampalli built his career treating patients with severe pneumonia and acute respiratory distress syndrome – a devastating disease that affects 200,000 people nationwide each year. Having run an internationally renowned research program in acute lung injury and publishing several high impact articles in top tier medical journals, Mallampalli is the principal investigator on eight research grants, receiving $3.1 million in research funding annually. He enjoys the fundamentals of basic research, and is dedicated to discovering new therapies for people suffering from pneumonia and sepsis, ultimately providing patients the best possible outcomes.
Due in part to his research excellence and experience with drug development, Mallampalli pursued entrepreneurial success as a cofounder of a start-up company called Koutif Therapeutics, LLC, commercializing a first-in-class oral ubiquitin E3 ligase anti-inflammatory medication for lung injury. The company has successfully completed investigational studies for the novel therapy with the goal of treating inflammatory bowel disease, severe pneumonia and rheumatoid arthritis.
Mallampalli is enthusiastic about the friendly people and collegiality at Ohio State. Fostering trainees and young faculty has proven inspiring to Mallampalli, who looks forward to helping future generations of physicians and leaders reach their career goals.
Mallampalli has received many accolades throughout his career, including the American Thoracic Society Recognition Award for Scientific Accomplishment and the Harrington Scholar-Innovator Award. He is a member of the American Society of Clinical Investigation, the Association of American Physicians, and the American Thoracic Society as well as a permanent member of the National Heart, Lung and Blood Institute Program Project Review Committee. He has been invited to speak at a number of conferences, served as a visiting professor on several occasions, sat on several teaching, faculty recruitment and mentoring committees, and has served as an editorial consultant for over 50 journals and publications.
A true Midwesterner, Mallampalli attended the University of Wisconsin Medical School, completed his internal medicine residency and chief residency at Hennepin County Medical Center - University of Minnesota and his pulmonology and critical care fellowship at the University of Iowa.