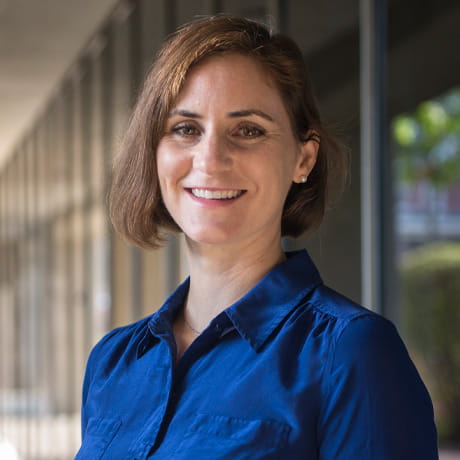 Associate Professor, Institute for Behavioral Medicine Research
Associate Professor, Psychiatry and Neuroscience
Co-Director, Neuroscience Graduate Program
College of Medicine
Institute for Behavioral Medicine Research
Department of Psychiatry and Behavioral Health
460 Medical Center Dr.
Columbus, OH 43210
614-293-3496
leah.pyter@osumc.edu
Research Lab Goals
To improve the mental and bodily health of cancer patients and cancer survivors. To understanding the basic mechanisms underlying disease-induced changes in inflammatory processes in the brain and periphery. Specifically, I use rodent models of cancer to study the immune-mediated effects of cancer on behavior and tissue repair.
Research and Clinical Interests
Cancer behavioral comorbidities
Rhythms
Endocrinology
Microbiome
Research Techniques
Small animal surgery
Protein and mRNA quantification
Immunohistochemistry
Behavioral tests
Current Research Projects
Cancer, Neuroinflammation and Behavior
Depression and cognitive impairments are more prevalent in cancer patients than the general population. This is likely due to a combination of the disease process, cancer treatments, and the stress of dealing with a life-threatening disease. This project focuses on the neuroinflammatory mechanisms by which peripheral tumors alter brain function (depressive-like and cognitive behaviors) in a mouse model of breast cancer.
Cancer and Wound Healing
All cancer patients require tissue repair as part of their treatment process (e.g., surgery, chemotherapy, radiation). However, cancer patients are generally immunocompromised. For this side of our research, we are examining how oral cancer influences treatment-relevant inflammatory processes (e.g., wound healing) in the skin and muscosa of a mouse model.
Education and Training
MS: Biology University of Illinois Urbana-Champaign
PhD: Neuroscience The Ohio State University
Visiting Research Assistant Professor: Center for Wound Healing and Tissue Regeneration, University of Illinois at Chicago, worked with Drs. Phillip Marucha, Christopher Engeland and Luisa DiPietro
Fellowship: Institute for Mind and Biology, Department of Psychology, University of Chicago, worked with Drs. Brian Prendergast and Martha McClintock
Professional Memberships
Psychoneuroimmunology Research Society
Society for Behavioral Neuroendocrinology
American Psychosomatic Society
Society for Neuroscience
Ohio State Behavioral Neuroendocrinology Group
OSU Cancer Comprehensive Cancer Center – Cancer Control Program
Honors and News
Early Career Reviewer at the Center for Scientific Review, NIH, 2015
American Psychosomatic Society Young Investigator Colloquium Scholar ($500), 2014
American Psychosomatic Society Young Investigator Colloquium Honorable Mention, 2013
University of Illinois at Chicago Building Interdisciplinary Research Careers in Women's Health (BIRCWH) Associate Representative, 2012
Press Coverage